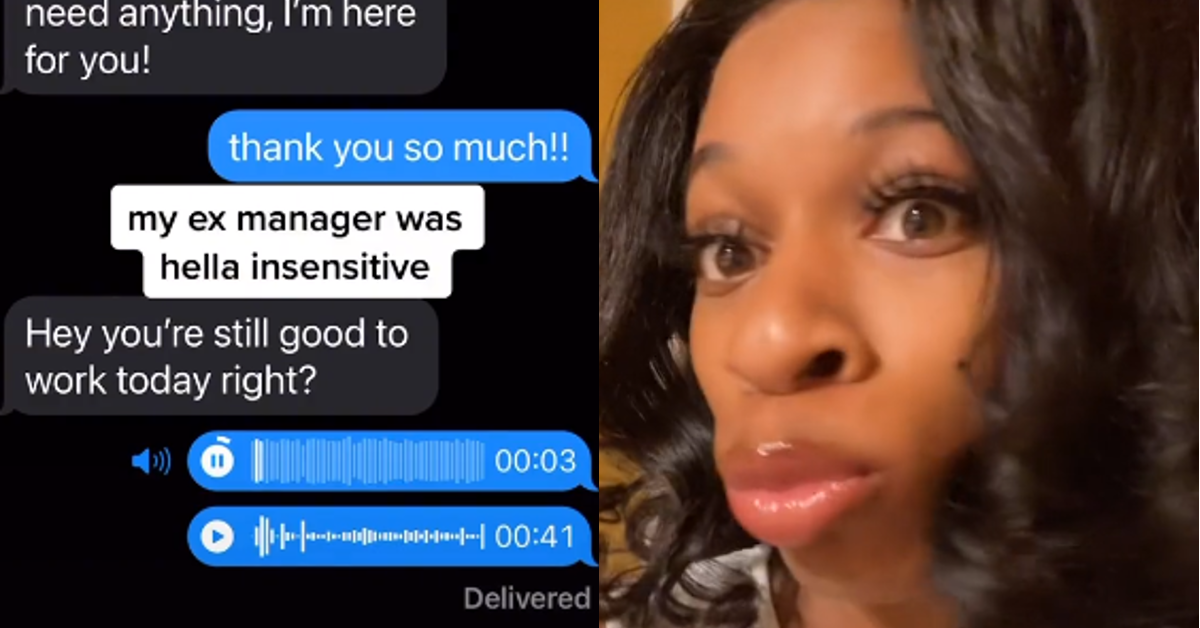 Manager Stuns Woman by Texting Condolences for Her Mom Dying Then Asking Her to Work
Woman gets asked by manager to work the day after her mother dies in viral TikTok.
It's no secret that there are legions of heartless employers out there who will try and guilt trip folks into working in spite of extenuating circumstances that make fulfilling a bunch of tasks for a paycheck seem kind of inconsequential in the moment.
And while there are some employees who definitely try to "game the system" and get caught doing so, there are definitely a lot of bosses out there that make some ridiculous demands from employees.
Article continues below advertisement
Now there are some folks who would argue that an employer calling a worker and asking them to fill a shift on a day off is bad etiquette enough, especially when they try and get a further explanation as to why you can't come in.
But what about a manager that asks you if you're still working your shift the day after your mother dies?
That's what happened to TikTok-er @thatcountryahhblack girl. The 18-year-old posted a text interaction between her and her boss along with the voice notes she sent in response to his "insensitive" message.
The video starts with a message from the man in question that reads, "Hey I heard about your mom passing, I'm sorry for your lose. i can't imagine how you must feel. Let me know if you need anything, I'm here for you!"
Article continues below advertisement
The TikToker responds with, "Thank you so much!!"
The follow-up message from her manager the next day had a different tone, however: "Hey you're still good to work today right?"
The TikTok teen captioned the video with "told y'all that I was gonna quit :)"
Article continues below advertisement

She sent him scathing voice messages as a response: "What kind of question is that? I'm not f***ing back. I will never come back. Who the f*** asks somebody that not even a week after their goddamn mama died?"
The TikToker also commented on how she's dealing with the fact that she's not a completely grown woman yet and she has to adjust to the fact she won't be able to speak to her mother every single day.
Article continues below advertisement

The second voice note continues, "Hell nah, I'm not done," and she then proceeds to blast the fact that Zak only cares about his job and nothing else, not even other people.
She then goes on to talk about racist co-workers and then caps off the message saying, "Would you die knowing you were a good f***ing person? Don't answer that."
Article continues below advertisement

A bunch of commenters who saw the young woman's video praised her for standing up for herself while expressing condolences with her situation: "That was the spirit of ur mother guiding you fr," @cigarettedelivery wrote.
Article continues below advertisement

"This read was EVERYTHING," @caileeneasely penned.
Others just couldn't believe that she was able to find humor even in her anger over the situation, "I would say it in Spanish if I knew how," @cecilyysmithh commented.
Article continues below advertisement

But there seemed to be a lot of folks who really enjoyed the fact that she asked her former boss, Zak: "do you even love yourself?" Hitting someone with cold, self-bettering messaging while highlighting what they did wrong in a visceral response is just fantastic.
Article continues below advertisement