Boss Slammed After Viral TikTok Shows Him Rating Female Employees' Outfits
A viral TikTok from a Houston-based real estate agent caused a bit of a stir, as it depicted their boss ranking the outfits of several women.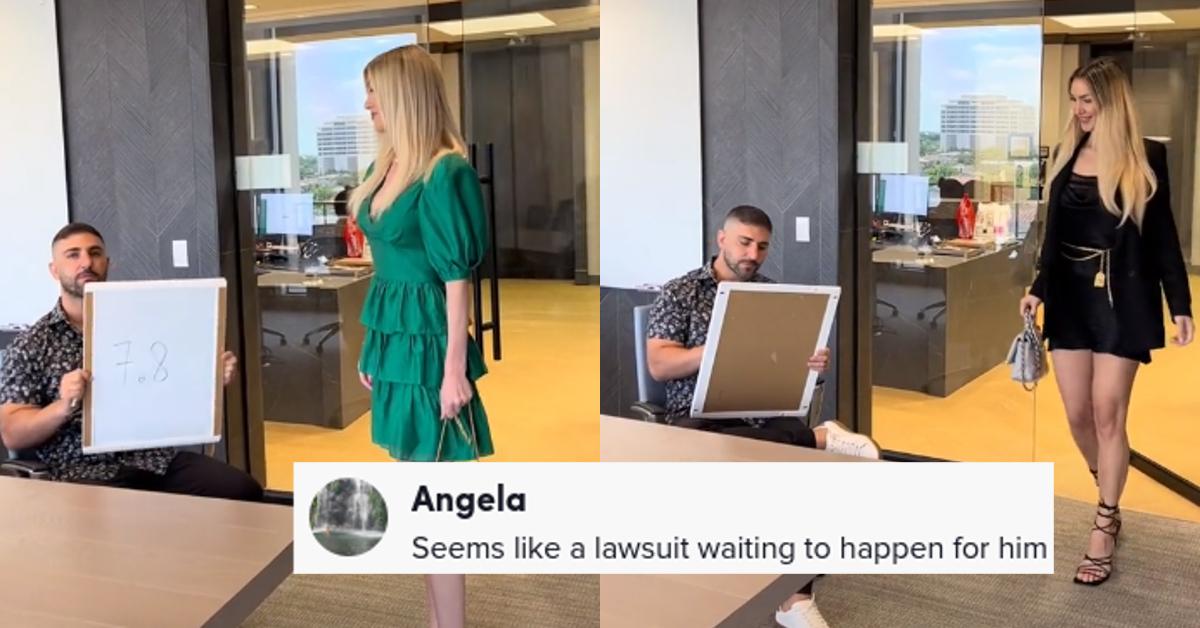 TikToker @aliona.chebac uploaded a clip on the platform which, despite being a joke, has tons of users on the social media application upset.
In it, several women can be seen walking into work as their boss, a mall, holds a whiteboard and a black marker. He rates the women's outfits as they walk in.
"Our boss rates our office outfits" a text overlay on the now-viral video reads. The caption for the video reads: "Which one do you think he's dating?"
Article continues below advertisement
The first woman saunters over to check the board, she receives an 8. The second, who is rocking a green dress gets a 7.8. the third, clad in black, is given a 6. The fourth woman who is wearing light pink pants and a white top is awarded an 8.8.
The fifth person in the video is a man wearing white sneakers, grey pants, and a white polo shirt. He gets a 6.7. The sixth person is another woman, who is wearing black leather shorts and a grey top: she gets a five.
The seventh employee, also a woman, is wearing a black dress. She gets an 8.2. The boss himself is wearing black pants and a dark base-colored, white patterned short-sleeve button-up, and a pair of sneakers with either extremely low-cut or non-existent socks.
Several commenters expressed their shock at the rating system.
Article continues below advertisement
"uh. do you guys not have an HR department?"
"Seems like a lawsuit waiting to happen for him"
Others had their own opinions on who was the best dressed/which was most "appropriate" for work.
"Two deserves a better score and the 8.8 can drop"
"the first one is the nicest however none are appropriate for work except the guy"
"He's dating the 8.8 she was the highest score & her outfit wasn't the best. & she nodded at him like "ooh ok, u better rate me good"
"Uhm is this a gen a thing because many of those pieces, specially shoes wouldn't be allowed in any of the places I've worked lol"
Article continues below advertisement
Aliona Chebac, who uploaded the video said that she would "soon" reveal who he's dating (as of this writing she has not) and responded to criticism of the TikTok.
In a follow up video she showed a "behind the scenes" of the recording with a caption that reads: "Guys no one was obligated to participate. We all had fun filming this. In fact we directed this whole video just have fun in life and don't look to complain about something all the time."
Article continues below advertisement
Many commenters said in the new video that they couldn't understand why so many folks were offended or why people assumed that the women in the video willingly participated in the first place.
"People are so uptight. I wish I worked in a fun place like this. Everything is always so offensive."
"i am not even saying this isn't a fun idea or whatever. but i know at the company i work for someone would be getting in trouble for this."
"So he had already written then numbers, and was not a pro at writing upside down."
Article continues below advertisement
Judging from Aliona's hashtags in the caption for her first post, it appears that the workplace in question is a Houston, Texas-based real estate firm.
Her other TikTok posts show a combination of slow-mo walking shots, and feature responses from TikTok commenters who questioned some of the outfits that she and her co-workers wear.
Article continues below advertisement
Some even quipped that Aliona was attempting to secure a reality TV deal for the real estate firm she worked at: "Girls trying to be the next selling sunset. Don't blame you."
Several pieces have been published discussing the shifting paradigm of what is considered proper "office wear" especially in the wake of the COVID-19 pandemic.

Article continues below advertisement
While ABC News concedes that "even before the pandemic, Americans were dressing more casually at work [however] the time spent in sweats accelerated the shift from 'business casual' to 'business comfort.'"
Forbes published an article that discusses the guiding principles of "business casual" clothing in the office, for many inquiring minds who had to return to work after the panic surrounding COVID-19 died down.

Article continues below advertisement
One of the bits of advice listed is to "Dress in a style that is befitting of your industry," which could be why Aliona stresses appearance as a Real Estate agent in so many of her TikToks.
According to Science Daily: "A recent study of physical attractiveness and how it impacts real estate brokers' pay and productivity shows that the more attractive the real estate agent, the higher the listing price of the home for sale."

A Curbed article from 2012 appears to corroborate this research: "Beautiful agents tend to yield higher closing prices," the outlet writes. The outlet cited a study from Applied Financial Economics, adding "In terms of commissions, pretty agents tend to sell at higher price points but sell fewer properties than their, ah, uglier colleagues."