Woman's Tattoo Goes Completely Wrong, Husband Gets Matching Ink to Show Support
In a viral post, a woman shares her wrong tattoo story and details how she was able to overcome the misstep and love the art. Details here.
Body art has been practiced all over the world for centuries. That said, as society continues to evolve, body art has become common for people from all walks of life — from teachers to essential workers.
Although body art is an umbrella term that covers tattoos, piercings, branding, and permanent cosmetics, the former stands as the most popular form of body art.
Article continues below advertisement
With that in mind, the ultimate goal of securing a tattoo piece is to ensure it is designed and carried out to perfection. However, there are times when tattoo artists make mistakes in their work — we're looking at you O'S–t aka Richard Duncan of VH1's Black Ink Crew: New York.
Unfortunately, tattoo mistakes are also common and one woman has shared her wrong tattoo story on TikTok. Here's the full scoop.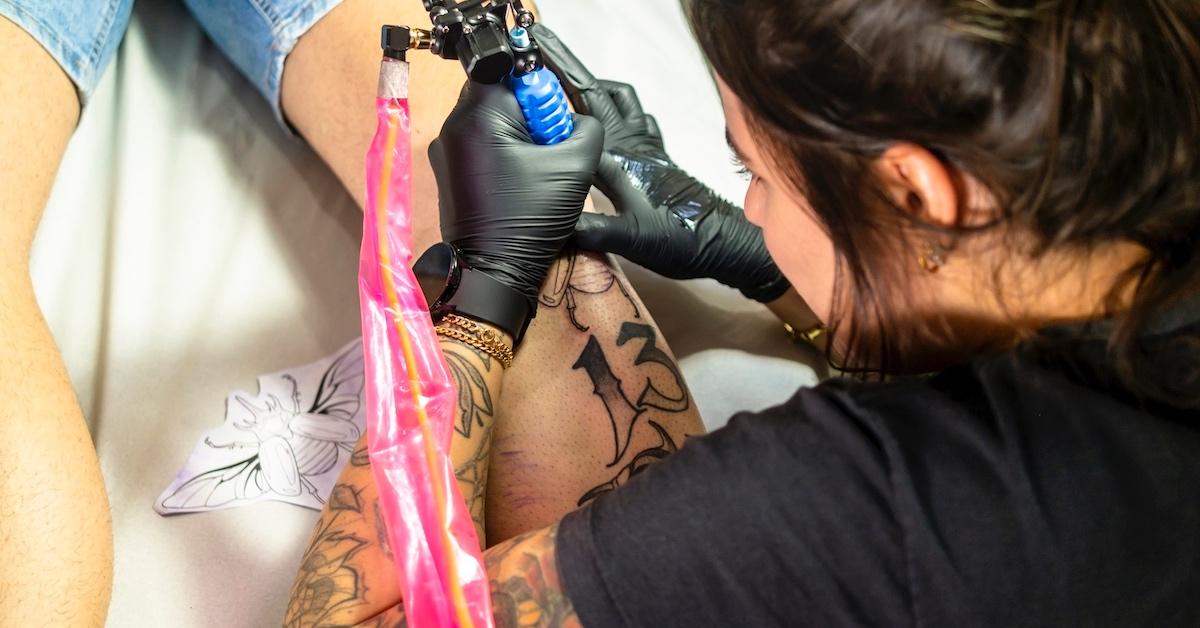 Article continues below advertisement
A woman on TikTok shares her wrong tattoo story.
Please do your due diligence on your tattoo artist before getting work done! In a June 2023, TikTok video, creator Yolanda Diaz (@yolandaadiazz) shared that she had a misstep with a tattoo before.
"To this day we have no idea what went wrong w this tattoo but I'm happy about it 🤍," the video caption reads.
As the video starts, Yolanda shares her story about getting the wrong tattoo and how she's grown to love it.
"If you've had a tattoo or gotten a tattoo, I feel like a universal fear is getting a wrong tattoo, a messed up tattoo, or a s--- tattoo," Yolanda said. "I have had that experience.
Article continues below advertisement
"Occasionally, I'll get questions about 432 and what it means," Yolanda says as she shows her hand tattoo with the numerals. "It literally means nothing. These are three random numbers that were never supposed to be there. It's supposed to be: 4, 23."
Article continues below advertisement
Yolanda continued: "I think I experienced a glitch in the simulation because this is in Zach's (her husband's) handwriting and it's supposed to be '4-23. That's our wedding anniversary. So obviously Zach knew that this is supposed to say 4-23 and he had to write it out and I had to say, 'Yeah I like it. I like the size… do this, change this. I had to OK it.'"
"On top of that, the amount of proofing that goes into actually putting the tattoo on your body is a lot," Yolanda said. "If you ever got a tattoo you know that first they draw it out, make sure you like it there, then they put it on transfer paper, and put it on your body to make sure you like how it's going to look in the placement. Then they send you off to a mirror to look at it in reverse and have you OK it"
Article continues below advertisement
Yolanda shared that she knows that she gave her OK on the tattoo multiple times. So she believes that she experienced a glitch or something weird during the process. She also shared that the tattoo artist knew that the date was the wedding anniversary as well.
Once the tattoo was complete, Yolanda said that the tattoo artist gave her the appropriate aftercare information. However, after Day 2, things went left.
Article continues below advertisement
"On Day 2 of having it covered, I woke up in the middle of the night from a dead sleep," Yolanda said. "I just knew that it was wrong, it was messed up. I don't know why. I ripped off the band-aid and sure enough, I saw 4-32."
Although the tattoo was messed up, Yolanda shared that it's one of her favorites because "Zach got 432 numbers randomly tattooed on his body in her handwriting."
Article continues below advertisement
TikTok users shared that Yolanda's wrong tattoo story is adorable.
Although most folks would be livid that their tattoo artists screwed up, Yolanda decided to take it in stride. That said, TikTok users think that the story is adorable since Yolanda and her husband decided to make the best of it.
"It was weird how it played out, but I'm glad we made the best of it," Yolanda's husband commented.
"Zach is so sweet for that, sorry about the experience but glad it turned into a great story for y'all," another user commented.
What would you have done if your tattoo artist messed up?