The WWE Just Made the Lana-Rusev-Lashley Love Triangle Weirder With a Diva Pregnancy
The Lana-Rusev drama is one of the WWE's main, if not super Maury Povich-esque storylines, and it only got weirder with a pregnancy announcement.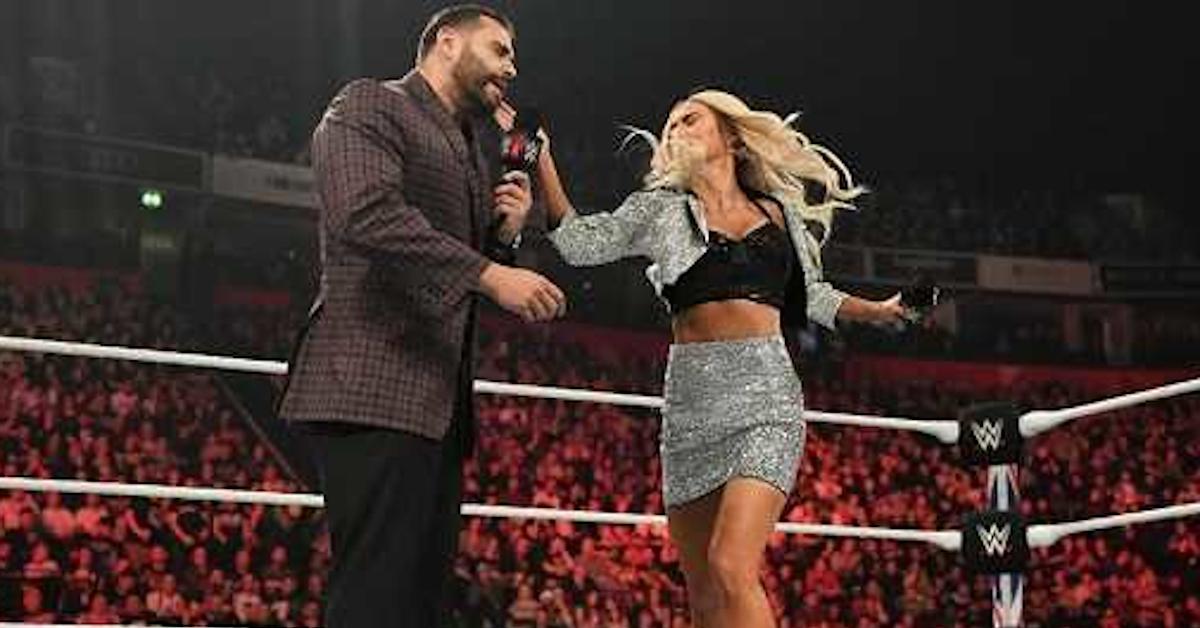 The Rusev-Lana storyline took a turn for the adulterous recently when the Bulgarian Brute's wife walked out with Bobby Lashley and proceeded to make out with the dude in front of a live audience. Cheating storylines are nothing new in the world of pro-wrestling, which is probably why fans weren't that shocked to see the organization pull this narrative move. Things got even trashier.. errr... complicated when Lana announced she's with child.
Is Lana really pregnant with Rusev's baby or is it just a WWE storyline?
Article continues below advertisement
As low-brow as this narrative might be, it's one of the WWE's most popular storylines. This clip of Lana and Bobby Lashley leaving Rusev "crushed" and broken in the ring is one of the organization's most watched recent videos: it amassed over 7 million views in just two weeks.
On a recent episode of RAW, Lana took to the ring to announce that she and Bobby Lashley finally went all the way. You know, like you do on a nationally broadcast television dedicated to athletic entertainment.
Article continues below advertisement
In addition to Lana lauding Bobby's bedroom exploits in a 5-minute praise session for their "Sexiversary," she also said that she was 9 weeks pregnant. Since she and Bobby have only been going steady for 7 weeks, that means the kid belongs to Rusev. Speaking of which, he cut Lana's monologue short to come into the ring and share his own opinions on the microphone for a bit.
His big revelation? That he's a sex addict, which may have contributed to the downfall of their marriage. Just in case you thought it couldn't get any stranger, Lana then toodle-oos out of there by saying she was never pregnant in the first place, and she was only saying that to Rusev to mess with his kid.
Article continues below advertisement
She admitted to not being pregnant while on the walkout ramp and finished her dastardly "head game shocker" by smooching it up with Bobby, leaving Rusev to stand awkwardly in the ring worrying about his sex addiction.
Article continues below advertisement
The whole love triangle sub-plot may be a train wreck that people can't look away from, but it's receiving a lot of negative feedback from longtime WWE viewers. Some fans just believe it's trashy, poorly written, and/or doesn't really make much sense. Others are upset because the entire storyline seems designed to make Rusev look like an absolute moron... something the pro-wrestler takes umbrage with.
The Bulgarian Brute said that the drama is one that he's not only "OK" with, but one that he intentionally collaborated with and contributed ideas to. In an interview with SunSport Rusev said: "It's a collaboration. There's adjustments that we make, but that's just life. We're committed to our characters on TV, so we just have to make slight adjustments, but we're professionals and we're coping with it."
Article continues below advertisement
He continued: "It's great, I think we are in the best storyline currently going on and the best storyline that's been around for years. It's getting a lot of views and a lot of eyes on it. Some people like it, some people love it, but at the end of the day, it's the hottest storyline going on."
Ryback, who's got his own history with the WWE, believes that it's a power move from management to try and push Rusev into a compromising position during contract negotiations.
Article continues below advertisement
While Rusev admits the storyline isn't ideal, he says that he's making the most of it and isn't too bothered by the whole thing: "My goal is to be healthy, that's my first-and-foremost. It doesn't matter about storylines or things like that. One day you ride a tank but the next day, you do nothing but main event dark matches so it's a big wave, you just gotta ride the wave and do the best with anything that is given to you."
Article continues below advertisement
He concluded by saying, "You gotta enjoy everything you do, and you gotta control what you can control because some things you can't, and there's no point being mad so whatever I can control, I do, and if not, I'm just having a blast with it."
While it seems kinda twisted to put the real-life married couple against each other on the show, Rusev and Lana seem to be coping with it quite well.
The Bulgarian superstar has said that if a mixed gender tag-team match-up opportunity presented itself to him, he'd probably pick Asuka to go up against his wife and Bobby Lashley: "It's gotta be Asuka, she's definitely my favorite woman superstar and I think she's the best on the roster."
Anyone down to see that bout?