Don't Try This at Home: the Yoga Pose That Gave a Woman a Debilitating Stroke
Yoga's a great exercise regimen, however, like any type of fitness routine, one needs to be careful for over-extending too far beyond their physical limits.
A Maryland woman suffered a stroke induced in part by a physically demanding yoga technique.
Anyone who's ever clanged and banged in a weight room like a good bro will have at least one, "I almost passed out" story. It usually involves deadlifts and a certain feeling of anger. The weights sit there, mocking you, and you feel every little thing you can't conquer in your life being absorbed by them. So you head over to that bar and try to pull it.
Article continues below advertisement
A few things can happen as a result. You might realize it's too heavy, offload a bit, and then go again. Or, you might actually maintain good form, pull off the lift, and feel like Superman. Third, you could perform the lift incorrectly, go through with it, mess up your back, and pass out. Even the most seasoned pros, when trying to hit their max, end up either vomiting or having blood shoot out of their nose. It isn't pretty.
Article continues below advertisement
To perform the move, yogis need to extend their neck, drop their hips back so the pelvis is parallel with the neck, and arch their lower back. The pose engages the core and is a total-body-workout nightmare. If you're able to pull it off, you not only have some serious mobility, but an all-around strong body.
Article continues below advertisement
Leigh managed to complete the maneuver and obviously felt really stoked. However, after doing so, she was unable to move her left arm. It spaghetti'ed all over the the place when she tried to put her hair into a ponytail, and her vision soon started to blur.
Article continues below advertisement
She thought that she just aggravated the slipped disc in her neck, an injury she sustained in her early 20s, and then went about her life. A couple of days later, while looking in the mirror, she saw that the pupils in her eyes were two different sizes. That's when she started to worry.
After visiting the hospital with her husband, Kevin, doctors performed an MRI on Rebecca's neck. The results were shocking: she learned she had suffered a stroke after performing the headstand.
Article continues below advertisement
To say Rebecca is an atypical stroke victim would be an understatement: she doesn't smoke, regularly exercises, and was a fastidiously healthy eater. It wasn't until doctors performed a CTA scan that they ascertained the cause.
Article continues below advertisement
Her right carotid artery, a vessel responsible for delivering blood to her brain, actually tore while performing the difficult yoga move. This resulted in a blood clot which traveled to her brain and resulted in an aneurysm. Six weeks later, Rebecca was still feeling the effects of her injury. She lost 20 lbs, couldn't get out of bed, endured horrible headaches, and was extremely sensitive to bright lights.
Article continues below advertisement
In an interview with the Daily Mirror, Leigh said, "The pain it caused my eyes was excruciating. My usually bright, sunlight-filled house was kept completely dark for the first few months." Before her injury, the yogi ran a mobile sunless tanning company. "The stroke caused massive head pain, unlike any headache I had ever experienced before … the nerve damage made any sort of light unbearable."
On top of all that, there was a "whooshing" sound in her right ear for three months. The source of the noise? Rebecca's blood trying to pass through her artery and travel up and into her brain.
A month after suffering her stroke, Rebecca was back on the yoga mat, but decided to take things slowly.
Article continues below advertisement
"I simply sat on my mat in lotus pose and listened to my breath. I slowly led back up to simple stretches and the poses that felt most safe to me. I knew that if I didn't get back to my practice relatively soon after my stroke, I never would," Rebecca said.
Six months later, her cartorid artery is completely healed, but Leigh says she knows she'll never be the same.
Article continues below advertisement
"I know I will never be where I was before 100 percent," Leigh said. "I was about 75 percent back to where I was before my stroke … the fact that I can touch my toes is enough to make me smile," Rebecca said.
The stroke also affected her speech, Rebecca still can't speak for more than a few minutes at a time until she experiences a "tingly sensation" between her elbow and hand.
Article continues below advertisement
Working out is a very arduous experience for Rebecca, as well. The second she feels any strange sensation, she recalls her scary experience. "It's very hard to recover from something so scary that came out of nowhere. You think you're doing everything right and then when something like this happens, it's hard not to think that it can happen again."
She still maintains her Instagram page and posts regularly, encouraging fans to continue practicing yoga, but to do so with health at the forefront and not always pushing past physical limits to the point of causing oneself harm. Long-term damage isn't worth a wonderful Instagram photo.
Article continues below advertisement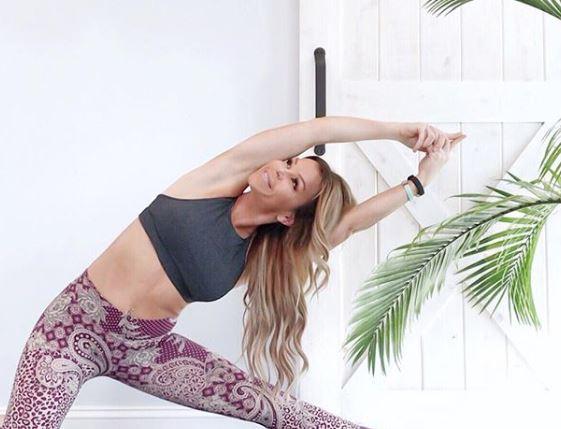 "I wanted to share my story so that something like this doesn't happen to any other yogis. I had never heard of it happening before it had happened to me. If I had read of just one incidence of something similar, I would have known that a stroke was a very real possibility when I was experiencing my symptoms … that it wasn't my neck, my herniated discs, or my nerves. It was my brain gasping for its life."