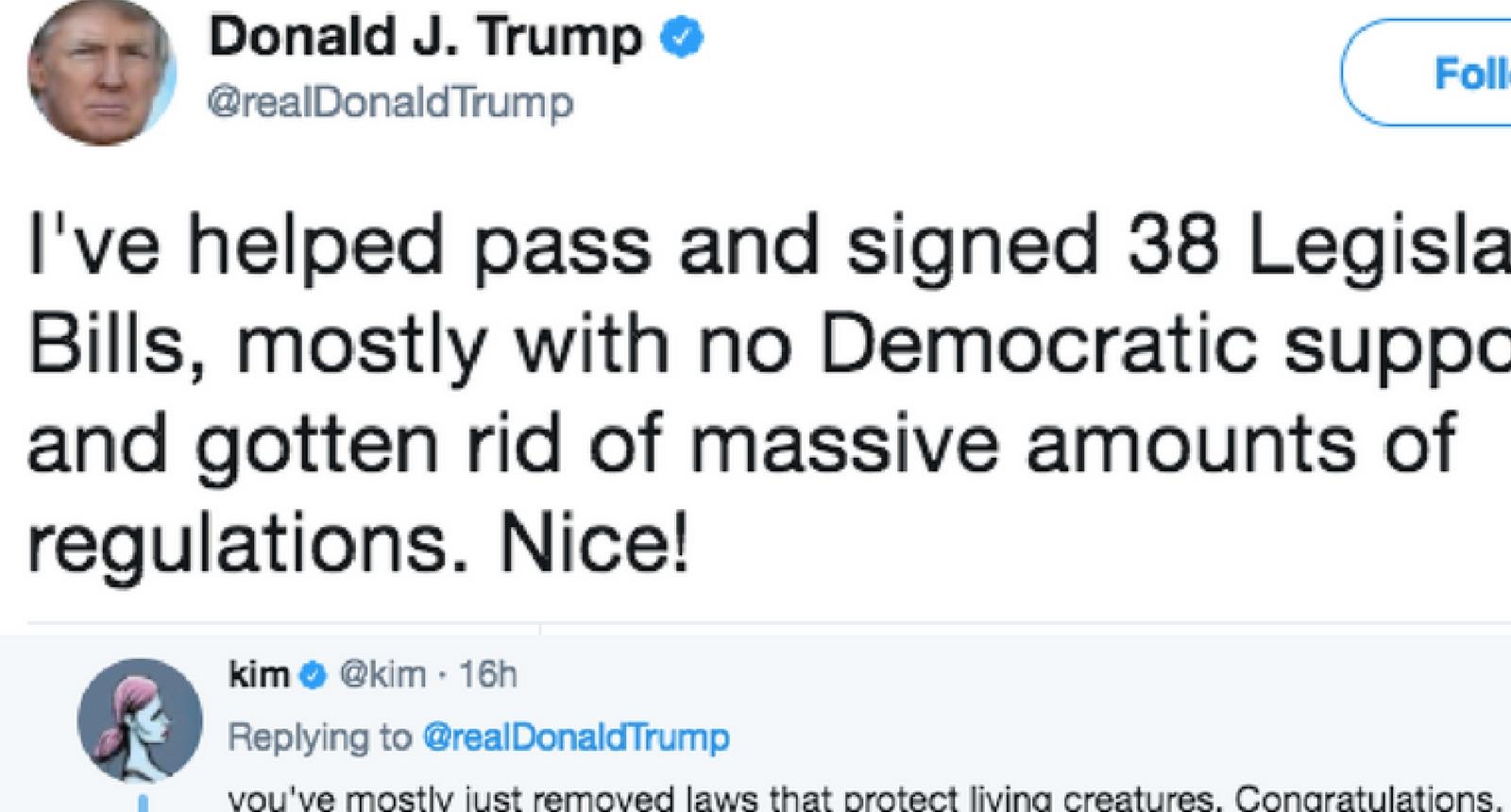 Trump Just Bragged About Himself On Twitter--And Twitter Wasn't Having It
By Mike Walsh

Updated
Donald Trump sure loves to pat himself on the back. This past week, he took to Twitter to give himself some major props. It's almost as though his entire administration is not completely mired in scandal and potential crimes!
I've helped pass and signed 38 Legislative Bills, mostly with no Democratic support, and gotten rid of massive amounts of regulations. Nice!

— Donald J. Trump (@realDonaldTrump) June 23, 2017
You know who doesn't like that, other than reality and truth? The good people of Twitter!
The Internet went ahead and applied their own fact-based checks and balances to our humble President's digital victory lap pretty quickly.
Not sure if you are lying or if you just don't have a clue what a Bill is. You have actually signed 38 EXECUTIVE ORDERS. These are not Bills

— Jack Schofield (@jackschofield) June 23, 2017
Your tweet shows that, as "president", you don't have a clue what you are doing. It's not a surprise that you have got so little done. pic.twitter.com/aS4Z8DGXVD

— Jack Schofield (@jackschofield) June 23, 2017
Praising yourself = sad & desperate
Ending self praise with "Nice!" = high fiving yourself after masturbating

— Pep Rosenfeld (@peprosenfeld) June 23, 2017
His face tho! He's soooo important in his own mind!! Lol

— Evey Hammond (@aymiejharris) June 23, 2017
Except that the regulations that this administration got rid of were essential to protecting the environment and checking Wall St excesses.

— Anirvan Ghosh (@anirvanghosh) June 23, 2017
Trumpist morons have to get past the defeat of Hillary and take a hard look at their lives. Things aren't really changing and they know it.

— Patrick Mahoney (@17281posse) June 23, 2017
Literally every single major legislative effort you've had has FAILED DRAMATICALLY!

— Jules Suzdaltsev (@jules_su) June 23, 2017
Just keep em comin, Twitter!