Poster Featuring Martin Luther King Jr. And Donald Trump Takes Internet By Storm
A protester brandishing a sign reflects what a lot of Americans are hoping Donald Trump will do: stop talking and start working.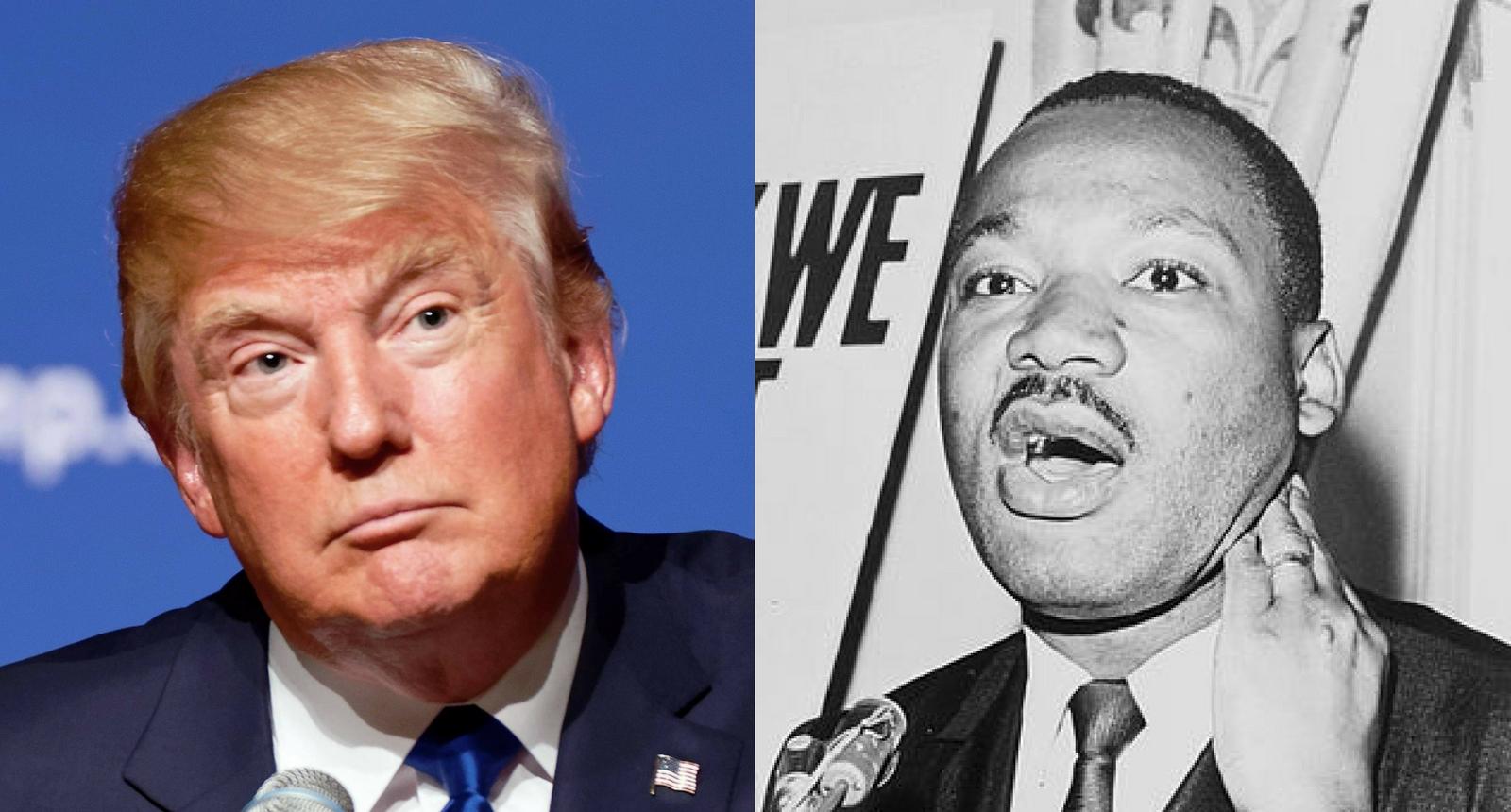 With newly-emboldened white supremacists openly spewing hate, both online and in public spaces, people are drawing parallels to the civil rights era of the 1950s and 60s. Many blame President Trump for the recent escalation of overt racism. After the deadly protest in Charlottesville, Trump was hesitant to denounce the white nationalist groups responsible, instead pointing fingers at "very bad people" on "both sides" of the Virginia protests.
Article continues below advertisement
So... who better to silence Trump than Martin Luther King, Jr.:
Article continues below advertisement
The powerful image had many wondering who the artist was:
Article continues below advertisement
The artwork was created by Haitian artist Watson Mere, and is titled "My Brothers Keeper."
Mere created the poster to honor this year's Martin Luther King Day:
Article continues below advertisement
Watson Mere, an artist of Haitian descent with no formal training in art, has been creating art since he was a young child. Until age four, Watson experienced a delay in his speech and could not verbally communicate. His teachers introduced him to art in order to help him fully express himself. This was his beginning.
When Watson was 11, he was introduced to the computer program, Microsoft Paint. This became his medium.
Watson finds inspiration from the love, struggles, happiness, and pain of the people of the African diaspora. Each piece is designed to spark the viewer's imagination as to interpret the work of art that stands before them. With the screen as his canvas and the mouse as his "brush", Watson meticulously transforms social issues like race, poverty, and religion into extraordinarily rare and unique works of art.This is his passion.
"I hope [my art] allows people to think. I want to inspire them - make them contemplate something. I want to give people something to consider that they don't see on a daily basis. I want to help them think and use their imagination."
Article continues below advertisement
You can see some of Mere's artwork in this video:
Article continues below advertisement
Some didn't like the original tweet's wording, but believed the image was worth sharing:
Article continues below advertisement
Perhaps there's still hope:
Article continues below advertisement
Article continues below advertisement