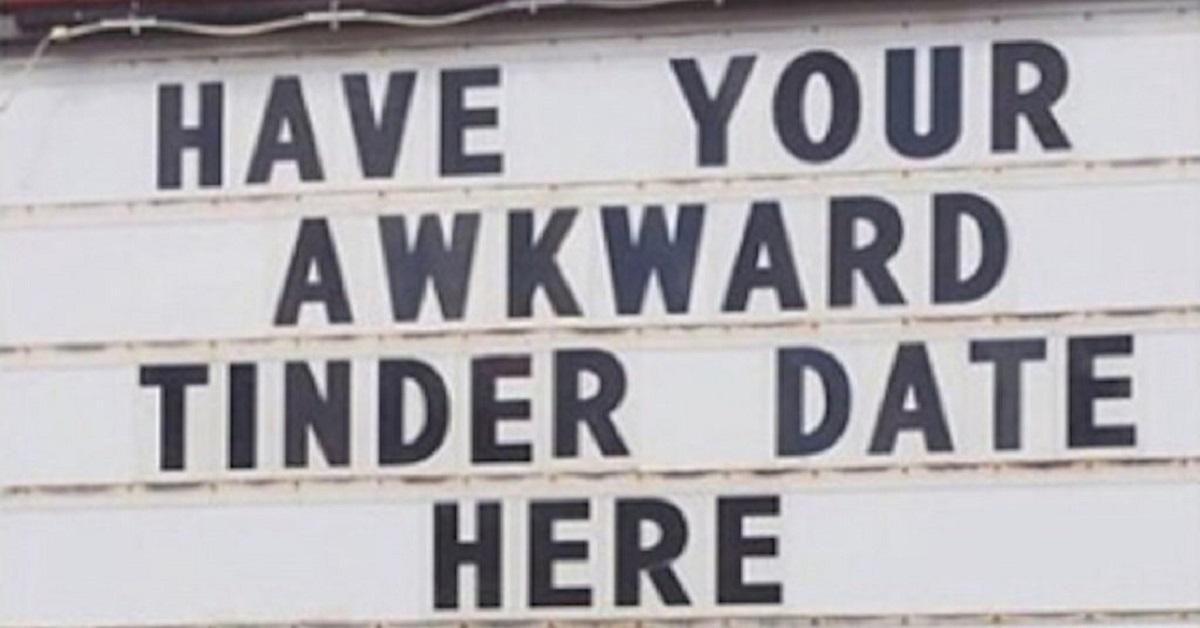 These Awkward Tinder Dates Will Make You Feel Better About Your Own Love Life
By Mustafa Gatollari
First dates are nerve-wracking experiences. When I look back to all of my first dates, I was literally an octopus trying to be whatever it was a person wanted. "Is this what you want for you to like me? No? Is this what you want me to be?" It's disgusting and humiliating. Even if I convince someone to like me on the first date, months down the road the real me comes out, whether I like it or not.
Now, it was pretty embarrassing for me to admit all that. Trust me, I could go deeper into all the ways I'm a terrible human being that'll make both you and me cringe even more.
But if cringing is what we're going for here, then look no further than these horrible Tinder experiences.
Puke-tacular.
I'll try and keep this relatively short and sweet. Not sure how well I'll convey this but it was a tough one. This first date was going reasonably well up until 11.She hadn't eaten dinner beforehand and on the date had had 3 large glasses of wine. She went to the toilet and after 10 mins I knew something was amiss, either vomiting or run away.After 20 mins I asked my friend via Facebook if she thought I would be a bad person if I left but she said I should ask someone to check the toilet. I disregarded that and was out the door but couldn't bring myself to fully commit to going home. I felt guilty incase she was choking on her own puke.Went and asked the girls next to us to check, and right enough she was in there throwing up. Ended up getting another drink and waiting for her to come out for an hour in total.We eventually got out of the bar and she thought she'd fallen asleep on the toilet but didn't realise the length of time. We went our separate ways. The first thing she said to me the next morning via WhatsApp was "all I can say is lol".
This guy who met up with the wrong girl thinking it was an entirely different girl.
Last month I had a date with a girl, lets call her "NOT-SO-CUTE". She was tall and blonde, but I just wasn't feeling it personally. I tell her over texts that I didn't feel like we should see each other again. She says no worries and then sporadically sends me random snaps and texts the following few weeks, but nothing emotional.Last Thursday I start talking to this really cute girl, lets call her "VERY-CUTE". Both of these girls have extremely similar names and they both are the same age (them=22, me=27). I leave things on Saturday with "VERY-CUTE" where I'm expecting a text in the afternoon. So I get this text from "NOT-SO-CUTE" that just says, "Hey!" while I'm out mountain biking. I assume that it's actually from "VERY-CUTE" and I get excited and setup a date that night. She is down and has to run some errands and help with a friends b-day party, but she is free later. Ok cool.Coincidentally, the real "VERY-CUTE" has a snap showing a birthday cake, which I thought made sense. The time comes near and the girl calls me! It's actually "NOT-SO-CUTE" calling me, but I mistake it for "VERY-CUTE" and I don't know how it happened but she just laughed at the inside-jokes that "VERY-CUTE" and I had together and just went along with it. I thought nothing of it and we were only on the phone for a few minutes basically just saying that we'd get at the bar in like 20 minutes.So I get ready and walk to the bar by my place. I see this blonde girl sitting at the bar. The intended date is actually a brunette . No one else is really here. I walk past her, but look back and see that it's "NOT-SO-CUTE"! I'm fucking shocked and say "Hey, what are you doing here?". She replies "oh heyyy". Then I say that I'm actually meeting someone here and she looks shocked, but then I quickly realize that I fucked up and pull out my phone real quick and notice that "VERY-CUTE" hasn't texted me back since Friday night (today is Sunday). Internally, I'm like "fuuuuuuk".So I sit down and say something like, "oh ahahaha nvm". Meanwhile the 2 bartenders are giving me weird glances cause it's super awkward. Somehow she plays it cool and we basically just take off from where we left it at last month. We both drink 1 beer since I finished my quickly and then she offered to drive me home. I got in and then said bye once we got there and off I went.Here is another thing - they are both in the same sorority and are good friends! I verified this by scrolling down "VERY-CUTE" facebook feed and the 3rd pic down was with her and a few other sisters from the sororoity. I then get a text from "NOT-SO-CUTE" asking why I first opened up with "Why are you here?" I haven't replied yet cause I don't know what to do. I'd figure I would just leave it be. I still don't know why the hell "NOT-SO-CUTE" texted me that day randomly when I literally told her that we should not continue, but alas. Should I just tell here I meant to meet up with her friend? Sounds kinda bashful.I hooked up with a previous girl 2 months ago from a sorority and lo-and-behold she also belongs to the same one, but I don't think they know each other since there are like 100+ members it seems. Fortunately, I don't go to their school and don't really talk to this girl anymore.In other news, "VERY-CUTE" has ghosted me despite her initiating practically everything from the start. This is the only part of the story that made sense to me.
It's a dog eat dog world.
Worst morning ever, holy shit.So, I've been somewhat regularly seeing this guy and stayed at his house last night, he left for work around 5 this morning and I slept in. His dogs got out when I had gone out to my car, and one didn't fucking come back for 2 hours. I had to tell this guy that I lost his fucking dog and drive around his neighborhood in a panic. Nearly had to meet his mom as well, but thankfully the dog showed up right before she got there. Luckily he was super understanding and the dog apparently does that sort of often, but I felt so fucking terrible.