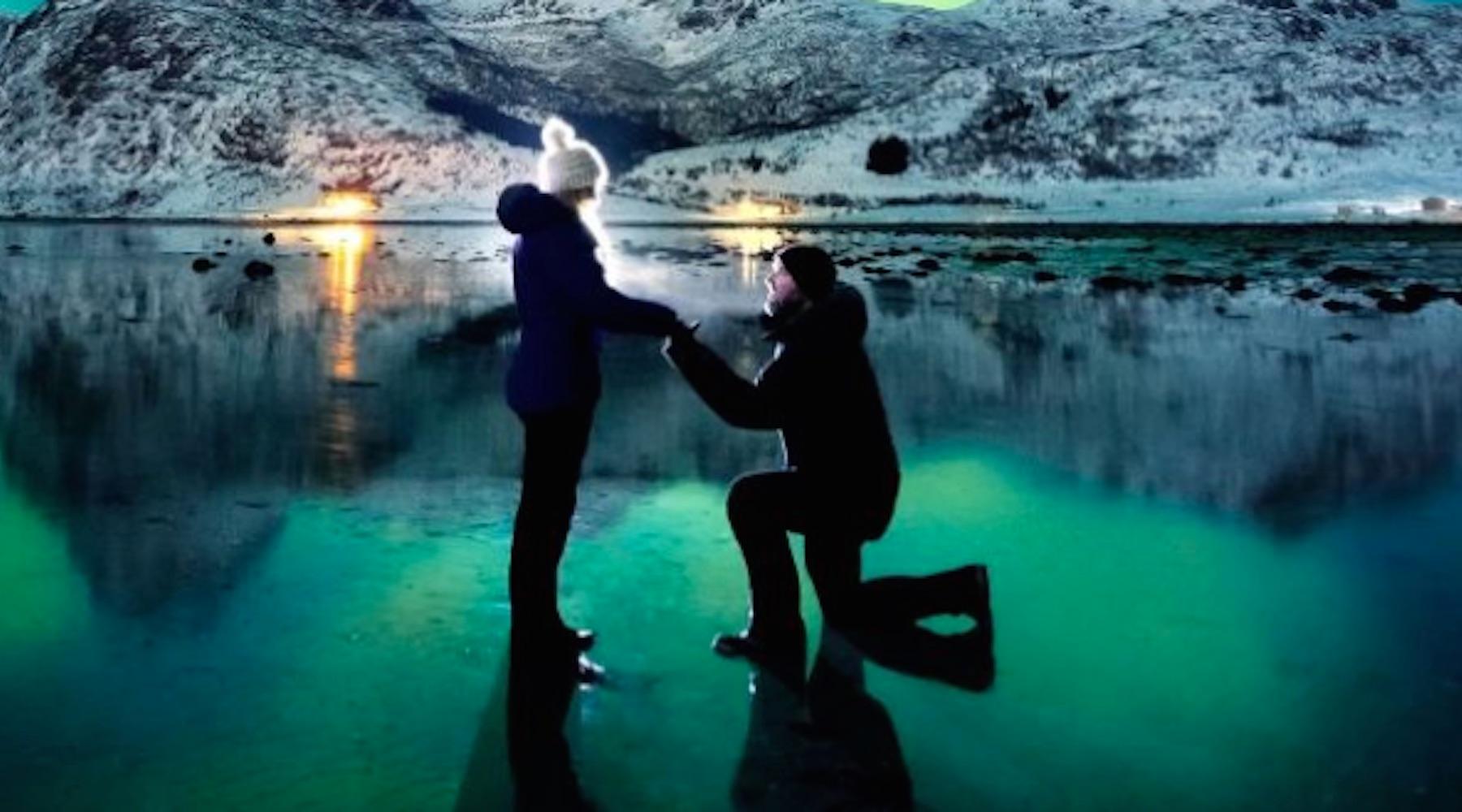 This Couple Got The Northern Lights To Show Up For The Most Magical Proposal Ever
By Aimee Lutkin
Dale Sharpe has been wanting to marry his girlfriend, Karlie Russell, for five years. That may seem like a long time to wait when you're sure about someone, but it seems like Dale had an elaborate plan in mind for the perfect moment. And honestly, it paid off. Both he and Karlie are landscape photographers.
According to The Daily Mail, they Australian couple travels quite a bit. In fact, they've traveled to see the Aurora Borealis 30 times, which is more often than I've been to New Jersey. Nine months ago, Dale planned to pop the question during a trip to the Arctic Circle under the Northern Lights, saying, "I hadn't heard or seen anyone do it before, and I wanted to do something different from everybody else."
Unfortunately, it didn't work out. Karlie threw the ring away before he could.
The $4,000 engagement ring was hidden in a bottle of moisturizer. Dale had told Karlie the bottle was very expensive and belonged to his mother, thinking that would keep it safe until the big proposal. Nope. On the flight from the Faroe Islands to Iceland, their luggage was overweight, and without Dale realizing it, Karlie tossed the moisturizer and its romantic contents in the trash. He didn't even know until much later while looking for the ring for their big moment. He saved up and bought another ring, and tried to wait for the seven year anniversary of their relationship. But he told the Daily Mail that on that night, the lights were just too beautiful to resist.
And look at them:
Dale set up a flashlight to give them an otherworldly glow, then asked Karlie to come take a selfie with him. She readily agreed, and the camera was set on a timer. She was completely shock when he went down on one knee. "I kept talking over him, saying what are you doing, what are you doing," says Karlie, "He was trying to get the words out but, because I was in complete shock, I tried to talk over him."
The couple says that though they take photos, they don't have any of their own images hanging up in their home. But, Dale says, "But this is one image that we want to keep for ourselves, and hang up on the wall." Well, obviously none of us can top this engagement photo, but it does inspire me to go see the Northern Lights. Who knows what could happen out there?