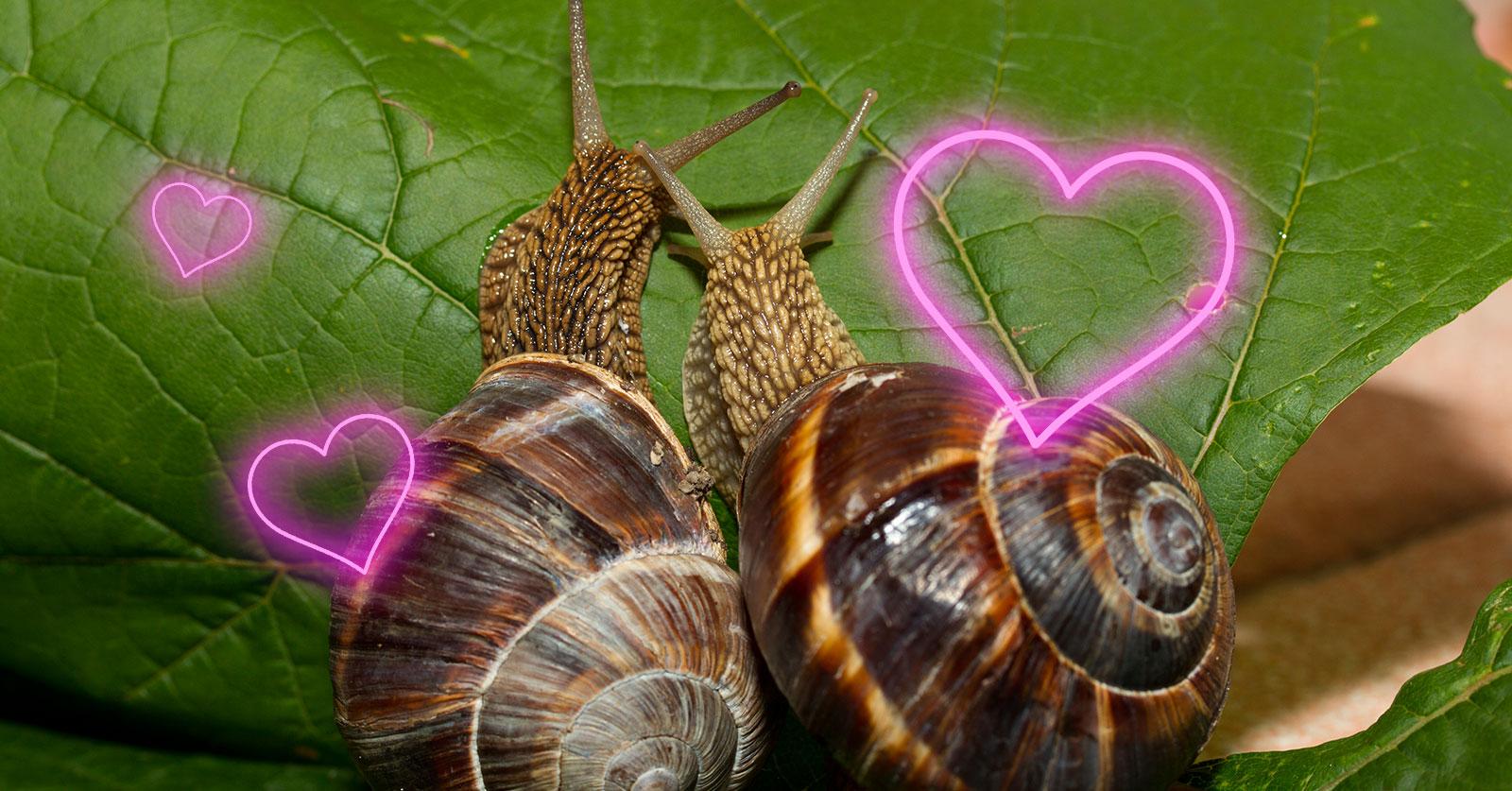 Scientists Searched The World For This Snail's Mate Only To Land Him In A Love Triangle
Last November, a snail named Jeremy set off a global search when researchers realized he had a rare genetic condition that made it almost impossible to mate. Jeremy's a "lefty" snail. Not his politics, his actual body. The swirls on his shell run counterclockwise, and his genitalia is on the left side. That's bad for snail sex, because the vast, vast majority of his species has their no-no parts on the right. Jeremy wasn't matching up with anyone.
Why were these scientists so interested in Jeremy's love life? Well, he was originally found slurping around a compost pile, but after he was found, there was keen interest in determining the gene that makes Jeremy's shell swirl the other way.
But there's only so much research you can do on a single snail. They needed to make more Jeremys. The team at University of Nottingham put out a call under the hashtag #snaillove and soon two different contestants were submitted to this episode of Slug Connection. You might be able to see where this is going.
Article continues below advertisement
Things seemed to be going well with Lefty, a snail discovered by an enthusiast in nearby Ipswich. They were flirting, which in snail mating rituals means "gentle biting." But no mating happened. A second snail named Tomeu with the same genetic development was introduced to both Jeremy and Lefty, this one flying all the way from a snail farm in Spain.
Then, tragedy struck. NPR reports that a love triangle has developed, and Jeremy was left on the outside looking in. Lefty and the newcomer started humping like crazy, and now there are 170 snail babies as a result of their furious mating.
Article continues below advertisement
Of course, it doesn't make any difference who is humping to the researchers, who just need to check out some new left-side shell babies. There are even more eggs waiting to hatch. Both Lefty and Tomeu are able to produce eggs, as snails are simultaneous hermaphrodites. Convenient for them, but scientists have taken pity on Jeremy. Lefty has returned to Ipswich and they're crossing their fingers that Jeremy finally gets some action.
Article continues below advertisement
And after all that, none of the babies have counterclockwise shells! They will likely only appear in future generations. At least they'll all be in the lab together...and also related. Incest is only okay if it's for science and between freaky snails, am I right?