The dating scene has gotten so rough that even people who are world-renowned for their attractiveness are having a tough time out there. A young couple who are well-known on social media is demonstrating how there is no amount of hotness you can possess that will protect you entirely from heartbreak and public embarrassment.
Yanet Garcia is a weather girl on a show in Mexico called Hoy. According to the New York Post, she accrued a lot of new fans while covering this year's World Cup. Her ambition is to expand her career as an actress and model.
As you can see, she's a babe:
She also kinda seems to have a sense of humor about herself.
Yanet, 26, has been dating a 23-year-old pro-gamer named Douglas Martin. While Yanet far outstrips him on Instagram, Douglas has millions more followers on YouTube.
So it was to YouTube he went to announce that he and Yanet had split. Or more accurately, he dumped her. The reason?
To play more video games.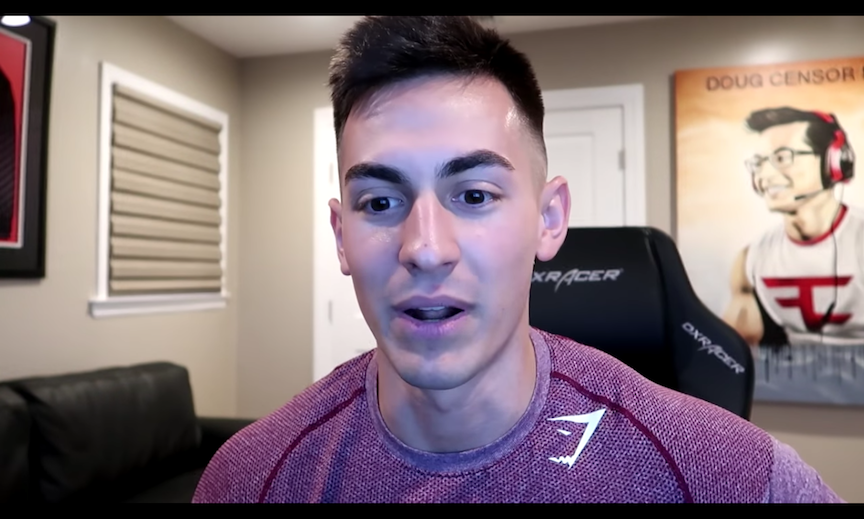 In the video, Douglas says things have change between him and Yanet since she moved from their apartment in NYC to Mexico City to work on Hoy. He does say, "Yanet is an awesome girl, she deserves the best. She's beautiful, she's smart, she was an awesome girlfriend."
He at least recognize that he's losing a prize. But he seems to have very little self-awareness about how the rest of his reasoning sounds.
"I'm playing Call of Duty full-time now," he says. "I'm literally sitting here every single night from 7 p.m.... sometimes until 5 a.m.... playing Call of Duty."
"I'm on a contract. It's not like I don't want to do this, this is the career that I want. I want to win a ring, I want to win a world championship, what I want in my life at this very moment is to compete in Call of Duty because I love it so much. I'm going to do whatever it takes to be a champion."
"There's only 24 hours in a day and I just didn't have enough time to do what I needed to do."
You know what, fair enough. It is apparently possible to make video game playing a career. Douglas is only 23, and this is what he wants. He is probably not the right guy for someone who lives in another country with completely divergent interests.
Frankly, Yanet deserves attention in her relationship anyway. I think once you hit your teen years, there's no excuse for sitting around watching your boyfriend play video games. Get yourself a grown man, Garcia!
Sadly, she seems upset by the breakup, tweeting to her fans that she's heartbroken and thanking them for their support.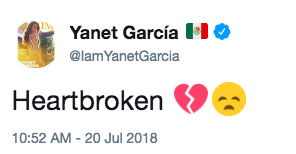 She also wrote what some are calling a subtweet, in Spanish, which translates to, "Never listen to the advice of a person who has not done anything good with his life."

Damn, girl, say how you really feel.
People do seem to be pretty supportive of Garcia in all this, even if they really, really love Call of Duty. But the vast majority of comments are people shooting their shot with Garcia:
Something tells me she won't be single for long.