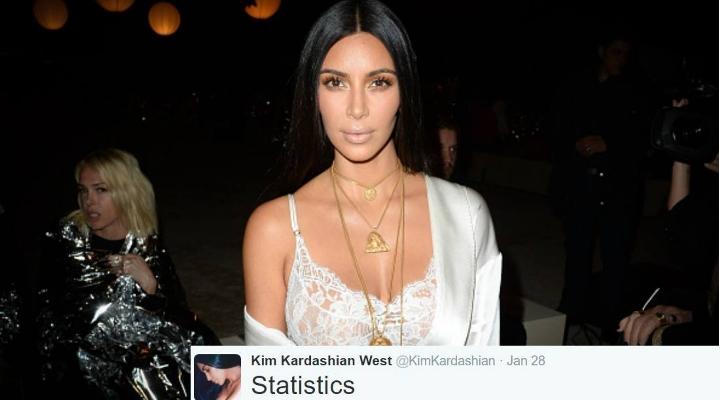 Kim Kardashian Shut Down Refugee Ban Arguments With A Single Tweet
By Mustafa Gatollari
When you think of the Kardashians, you probably think of reality TV shows, plastic surgery, selfies, and basically anything and everything pop culture. Their name has become synonymous with over-publicized drama. So much so that it's easy to disassociate them from reality and not view them as actual people, but caricatures of human beings.
But at the end of the day, celebrities, yes, even the Kardashians, deal with the same feelings that we all do on a daily basis, they just deal with them while riding in private jets and rolling around in cars that cost hundreds of thousands of dollars.
When it comes to political statements, America's favorite celebrity family is probably the last group of people you would think would make an insightful commentary or argument.
But Kim's latest tweet where she simply posted the word "statistics" with a simple graph really says all one needs to know about the temporary refugee ban.
At the top, the graph reads, "Number of Americans killed annually by:" with a list including lawnmowers, being hit by a bus, and falling out of bed. All of those kill more Americans a year than "Islamic jihadist immigrants," which only accounts for two deaths annually. The greatest number on that list is 11,737, and that falls under "Being shot by another American."
Being ethnically Armenian herself, Kim has a strong connection to the plight of refugees and displaced people.
Her tweets also call into the question the true motives behind the temporary ban of refugees from the targeted countries.
People are now applauding "political Kim" and are in love with the simple yet powerful message she tweeted out.
Of course, people were quick to insult Kim, but make no mention of the stats she posted.
But he was promptly dealt with.