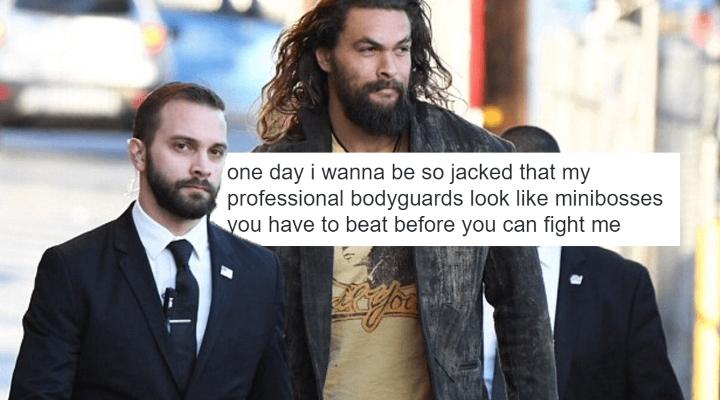 This Picture Of Jason Momoa And His Pint-Sized Bodyguards Put A Smile On People's Faces
By Omar Rimawi

Updated
Anyone who follows Game of Thrones' Jason Momoa knows that despite the intense roles he's repeatedly cast for, the guy himself is one of the down-to-earth celebrities off-screen.
At 6'4" and a lean on screen 214lbs, it's understandable why he can easily go from this:
Like other celebrities, he does need the occasional bodyguard escort to protect him from fans and drunk guys in Tapout shirts that swear they can armbar him to submission. The thing is, if you're a famous person that's towering over your bodyguards and that photo happens to make its way onto the net, well, you're going to get a few memes and some funny commentary.
Jason momoa is so tall and jacked that sometimes it looks like he is body-guarding his bodyguards.

— Shahzeb Saleh Zada (@shahzebsalehzad) January 31, 2017
Source:
@IcecreamGenius couldn't the same effect be achieved by getting the muscle suit from SpongeBob, and hiring people that are shorter then you.

— Russell (@StrongerStrange) January 28, 2017
Source:
Still 20 weeks to go until the new season of "Game of Thrones" hits. But pretty soon, the actor will have a whole new crazy fanbase to deal with. The Hawaii-born hunk stars as DC Comics superhero Aquaman in an upcoming standalone film, set to be released in December 2018.
Momoa previously starred as the character in 2016's "Batman v Superman: Dawn of Justice," and will reprise the role in "Justice League," which will hit theaters later this year. 
The 37-year-old recently talked about the most challenging aspects of filming "Aquaman." "The fights on this were like nothing I've never done," he explained. "There's so many, and we're also 'underwater,' on these wires. So you're doing stuff that your body's not used to... The acting parts I love. I'll do that for free."
We can't wait to see the finished product.