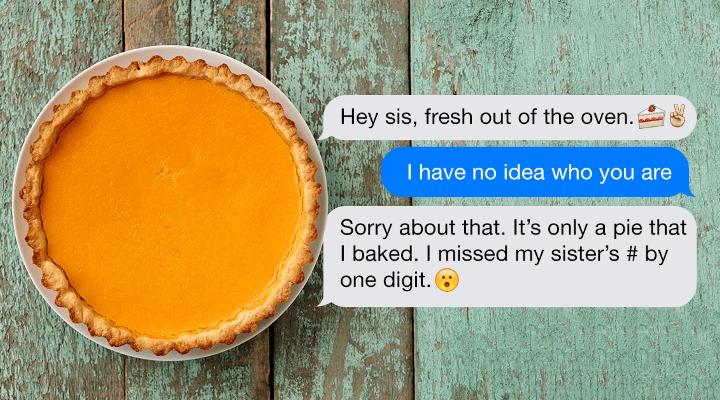 Guy Gets Text From A Wrong Number And Ends Up With Amazing Pie Recipe
By Omar Rimawi
Advances in technology have led to less frequent wrong number calls and texts,. Occasionally, in order to use an app, users are still prompted to input a phone number, either manually or via a contact lookup. This is where mistakes tend to happen.
When Imgur user thehosssauce received a text from a stranger who thought they were messaging their latest kitchen creation to their sister, this image prompted him to not end their exchange by just texting back 'wrong number.'
The initial exchange was cordial enough.
And here's where things took an excellent turn. After asking for the recipe, the stranger was more than happy to type it out in its entirety, complete with cooking instructions.
Formatted so it's easier to read, the recipe is:
1- 9" Keebler Graham cracker ready made pie crust.
2 cans of carnation sweetened condensed milk.
5 lemons, 2 limes, 4 large eggs.
Melt 1/4 stick of butter and baste the pie shell. Bake it at convection setting 325° for 15 minutes. Zest the lemons and the limes. The zest will be mixed with the meringue later.
Seperate your room temperature egg white and yokes. Be careful not to get any yolk in with the whites. Juice the lemons and the limes. Use some of their pulp with meringue.
Mix egg yolks with condensed milk. Add lemon and lime juice. Add mix to pie shell and bake at 325° for twenty minutes. Whip egg whites on high speed by themselves, without sugar until they start to peak.
Add granular sugar and zest until they stand on their own and to taste. Use convection setting @450° until meringue browns nicely. Let cool for 1 hour then transfer to your fridge for another 2 hours. Enjoy.✌
In a post, thehosssauce said that he's currently traveling for work, but that he would be baking the pie using the wrong number recipe and will text a photo of the end result to his mystery Rachel Ray.