Your Subway Sandwich Is Only 50% Real Chicken, According To DNA Tests
What's in Subway Chicken? At least half of it is something other thank chicken according to a DNA test.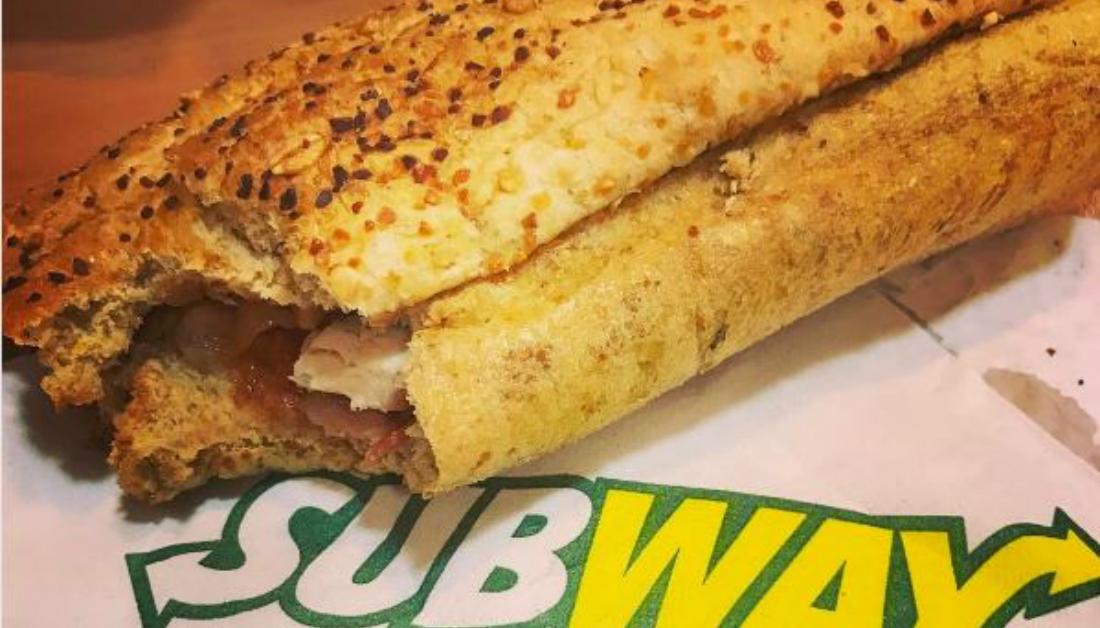 I've noticed for a long, long time that all of Subway's sandwiches tend to taste exactly the same. Chalk it up to the bland, tastes-like-lab-grown ingredients that they let you choose from, or their equally flavorless bread or mayonnaise coated tuna, and any number of sad looking stuff they have at their disposal, but I'm never excited about eating Subway.
Article continues below advertisement
In fact, I started a rumor on my college campus years back that all of the the meat at Subway is turkey-based except for the Tuna. The ham is turkey. The grilled chicken is ground-up turkey with just chicken flavoring. The roast beef is actually turkey...all of it.
I had all of my friends convinced because, they too, noticed a "sameness" about all of the food they got from the sandwich giant. And although I was blowing smoke back then, it turns out that I was on to something.
Article continues below advertisement
Because a recent DNA test conducted by CBC Canada on two Subway sandwiches showed that only half of the meat in their chicken was actually chicken.
The tested the Grilled Chicken breasts and Chicken Strips in a Sweet Onion and Chicken Teriyaki sandwich; the breasts contained 53.6% chicken, the strips only 42.8%.
Article continues below advertisement
Subway Canada were quick to refute the tests results, on account of them sounding pretty damn disgusting, saying their chicken is 100% all white breast.
"SUBWAY Canada cannot confirm the veracity of the results of the lab testing you had conducted. However, we are concerned by the alleged findings you cite with respect to the proportion of soy content. Our chicken strips and oven roasted chicken contain 1% or less of soy protein. We use this ingredient in these products as a means to help stabilize the texture and moisture. All of our chicken items are made from 100% white meat chicken which is marinated, oven roasted and grilled. We tested our chicken products recently for nutritional and quality attributes and found it met our food quality standards. We will look into this again with our supplier to ensure that the chicken is meeting the high standard we set for all of our menu items and ingredients."
Article continues below advertisement
It's not like the rest of the "meat" is filled with garbage or dead people though: it was packed with soy. Not what you want to hear, but the stuff won't kill you.
Article continues below advertisement
Interestingly, the same test was conducted on McDonald's and Wendy's chicken sandwiches.
Wendy's packed 88.5% chicken and McDonald's Grilled Country Chicken sandwich had 84.9% actual chicken. Both restaurants insisted that they use 100% grilled chicken breast pieces in their sandwiches with blends of herbs, seasonings, and spices.
Maybe this was Subway's thinking when they decided to pack their sandwiches with soy:
So needless to say it's not uncommon to have results like this among the fast food chains, but Subway will definitely feel the most heat due to their "Eat Fresh" slogan to inspire healthy fast food eating. (h/t cbs los angeles)