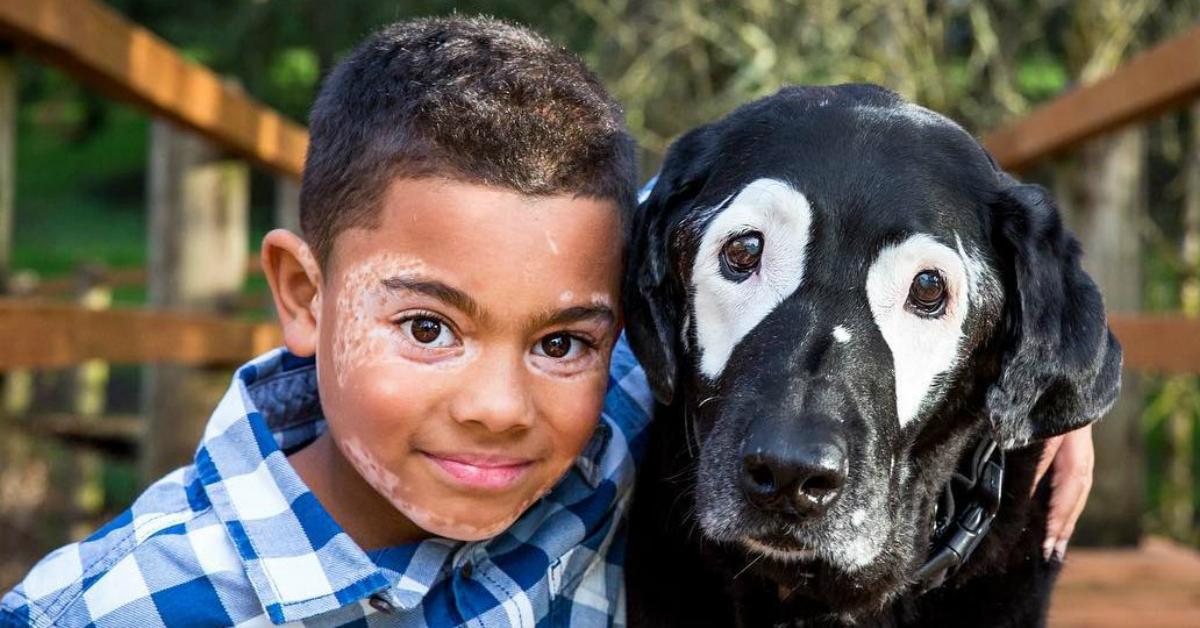 Boy And Dog With Same Rare Skin Condition Become Instant Best Friends
By Mustafa Gatollari
There's something undeniably beautiful about the bond between a young kid and their dog.
I admittedly get a little choked up whenever I see a kid and an animal as best friends, hanging out at the park or playing outside. I guess I get kind of jealous in a way because I didn't have that kind of relationship as a child. You know what I mean: Living out in the country with my trusty canine companion at my side.
Instead, I settled for "micro-connections" with animals. Small pockets of time I got to spend with dogs or cats where I'd give them all my love for a short amount of time, living out what could've been when I was a young child.
And seeing this heartwarming meeting between Carter and Rowdy is a touching reminder of that magical bond.
The 8-year-old boy from Arkansas was diagnosed with Vitiligo, a skin condition responsible for loss of skin pigmentation.
A condition that Rowdy the dog suffers from as well.
Thanks to a generous crowdfunding campaign, Rowdy and Carter were able to arrange a meeting and the two had an instant connection. Even though the labrador is pushing 14-years-old, he wasn't diagnosed with vitiligo until 3 years ago - the same time Carter was.
According to Carter's mom, Stephanie Adcock, Carter struggled with his vitiligo until he saw Rowdy's pictures online.
"I used to pick up Carter from school from kindergarten and first grade, and the first thing he would say is that he hates his face and hates his skin. I read that Rowdy had vitiligo and I was blown away, and when I showed Carter he was so excited to see a dog that was famous for his vitiligo," Adcock said in an interview with KATU.
The GoFundMe campaign helped both Carter and a little girl named Ava meet Rowdy in person.
The only issue is that Rowdy is unfortunately getting up there in age, something his owner is concerned about.
"I feel like he has so much more work to do, but his health is definitely more of a senior dog," Niki Umbenhower said.
Niki hopes that her pup has plenty more left in the tank to help others feel more at ease with their skin condition, like he's done for Carter, who's made a "complete 180" according to his mom.