Arnold Schwarzenegger Roasts Troll For Using Slur About Special Olympics Players
Arnold Schwarzenegger went off on a Facebook commenter who used a slur to describe the Special Olympics.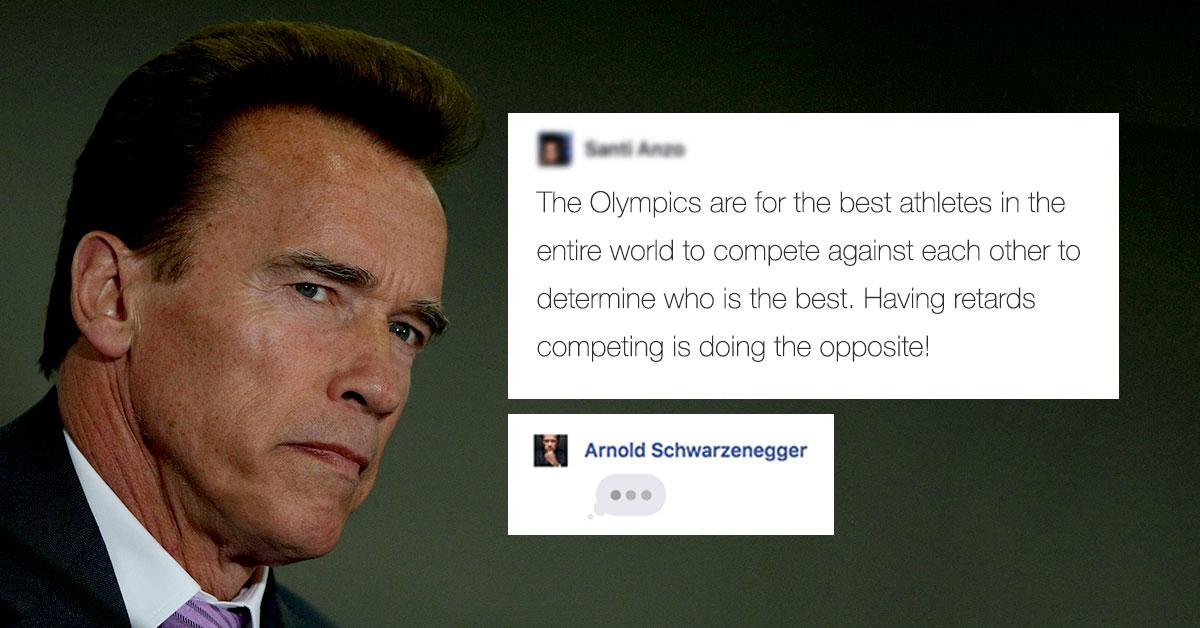 Arnold Schwarzenegger has been in the news a lot lately as a result of his feud with President Donald Trump. If you didn't know, President Trump called Schwarzenegger out on Twitter over ratings for The New Celebrity Apprentice since the movie star took over as host. Schwarzenegger has since left the show, and now spends his time calling out Trump for his low approval ratings.
Article continues below advertisement
But when he's not battling with the President on Twitter, Schwarzenegger is helping out with the Special Olympics. Eunice Shriver Kennedy, Schwarzenegger's mother-in-law, helped to create the sporting event back in the 1960s, and last week, Schwarzenegger attended the 2017 winter games in Austria.
On Thursday, Schwarzenegger posted this video of himself with a group of medal winners to his Facebook page.
Article continues below advertisement
The caption read: "So inspired by the athletes I'm meeting at Special Olympics World Games 2017 in Austria."
Article continues below advertisement
But after posting the inspirational message, a troll showed up to ruin everything. But don't worry, as this screenshot shows, Schwarzenegger was quick to put him in his place.
Article continues below advertisement
The individual wrote: "The Special Olympics makes no sense. The Olympics are for the best athletes in the entire world to compete against each other to determine who is the best. Having retards competing is doing the opposite!"
In his response, Schwarzenegger championed the Special Olympics:
Article continues below advertisement
"As evil and stupid as this comment is, I'm not going to delete it or ban you (yet) because it's a teachable moment."
"You have two possible paths ahead. Right now, I guarantee you that these athletes have more courage, compassion, brains and skill — actually more of every positive human quality than you."
Article continues below advertisement
"So take their path — you could learn from them, and try to challenge yourself, to give back, to add something to the world. Or you can stay on your path, and keep being a sad pitiful jealous internet troll who adds nothing to the world but mocks anyone who does out of small-minded jealousy."
"I know that all you really want is attention, so let me be clear. If you choose to keep going this way, no one will ever remember you."
Article continues below advertisement
The original comment has since been deleted, taking Schwarzenegger 's reply with it, and showing that although he's getting older, Schwarzenegger still hits hard.
More from Distractify