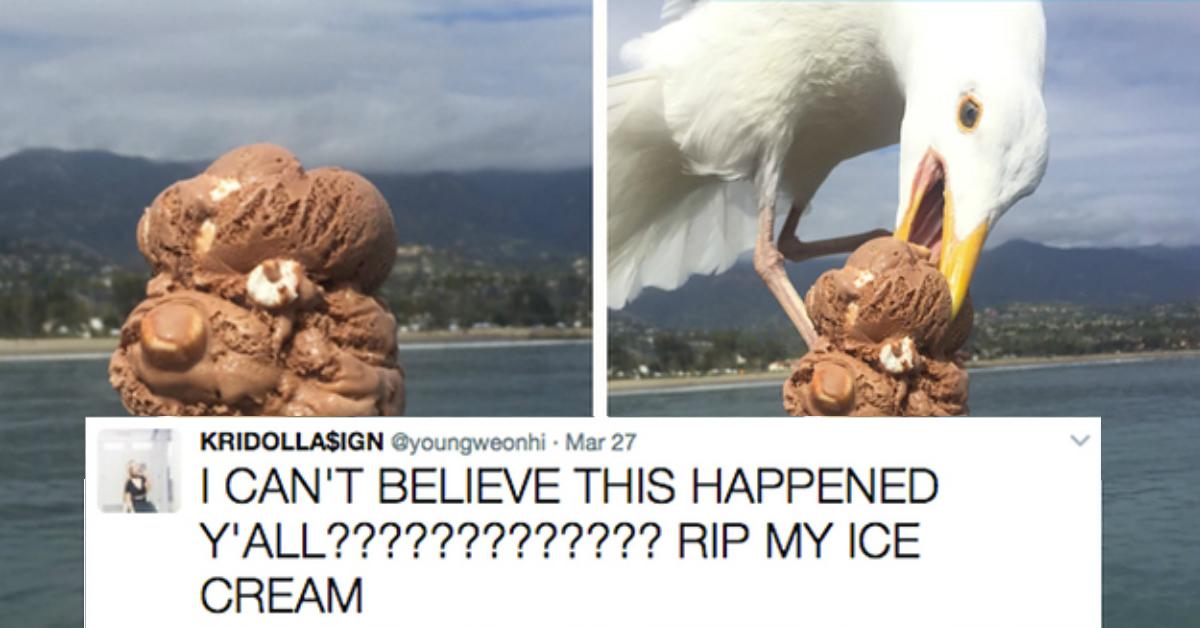 Seagull Photobombs Girl's Picture While Stealing Her Ice Cream Cone
By Mustafa Gatollari

Updated
Sometimes it's easy to forget that animals can't help stealing food. I mean, it's basically in their nature as a means of survival to look for opportunities to eat when they can, right?
Let's be real. 100% of what they do is pretty much motivated by food and self-preservation. So yeah, I could be mad at my sister's cat for taking my pizza off the dining room table when I stepped into the kitchen to get some crushed garlic, but who's really to blame here? The animal that doesn't know when, or if, it's going to have a meal in the future? Or the human (AKA, me) that was dumb enough to turn his back on a delicious slice, all the while knowing a pizza thief was lurking about?
And if you've ever experienced an animal attack on unsuspecting food, then you know how rare of an occurrence it is: more often, it happens when you're not looking.
But this girl not only managed to see the moment her ice cream cone was attacked by a seagull, she actually caught it on camera.
Kris, a UCLA student, was just minding her own business one day, hanging out with her family in lovely Santa Barbara.
She bought herself an ice cream cone, as one does, and was all set to enjoy it.
When suddenly, disaster struck in the form of a ravenous bird.
She relayed the traumatic experience to BuzzFeed:
"People think I was hand feeding the bird but it LITERALLY swooped in and took the ice cream cone right away. It flew off with it in its mouth but there's no real grip on ice cream so it fell into the ocean. I was just like 'oh' and walked backed to my family and said 'A bird just swooped on my ice cream' and I didn't even KNOW I had this picture. I was just laughing at the table with my family and my cousin asked if I got a picture and I checked my camera roll and there it was and I was in pure shock." 
Twitter loved Kris' photo so much it started spreading like wildfire and getting the meme treatment.
Apparently, the seagulls on that bridge have evolved to attack ice cream cones. That's right: this wasn't an isolated incident.
Remember, friends: Guard your ice cream and french fries when you go to the beach or boardwalk, because seagulls don't mess around.