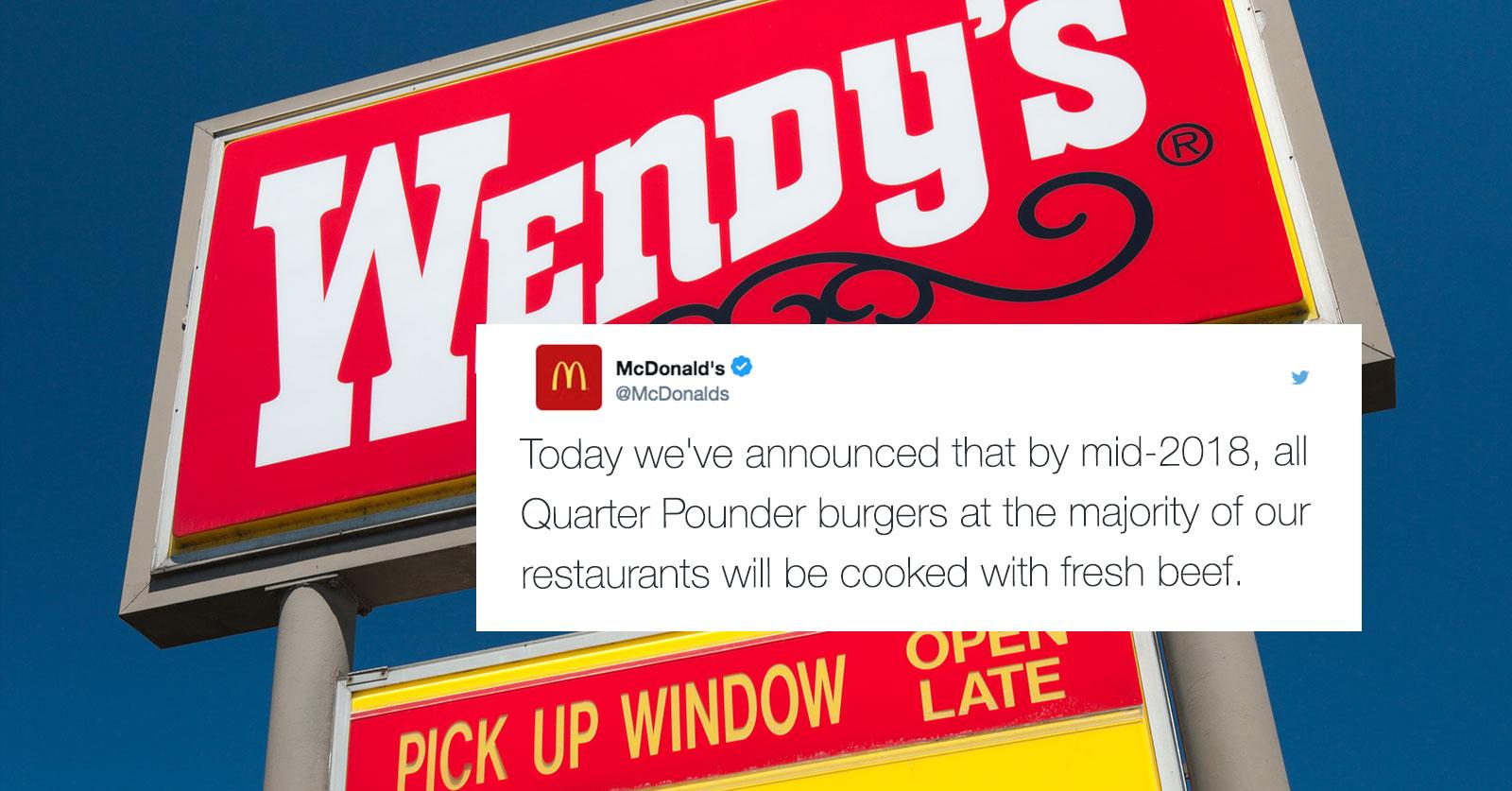 Wendy's Is Trolling McDonald's On Twitter And We're Eating It Up
By Mark Pygas
The woman that runs Wendy's Twitter account, Amy Brown, is a social media genius. Back in January, she went viral after deciding to destroy a guy who said their burgers are frozen. As you may know, the restaurant has used fresh beef since they were founded in 1969. After those tweets went viral, people started asking to be roasted, and Wendy's obliged.
And now, Wendy's is at it again. But this time, they're going after bigger prey. McDonald's announced on Twitter yesterday that they'll also start using fresh beef, but it comes with a few asterisks. It'll only be for their quarter pounders, and not at all locations.
Yes, Wendy's is well aware of just how savage they are.
Whataburger even got involved.
People were shocked by the savagery on display, but we've come to expect it from Wendy's.
Ah, the sweet taste of a good burn.
In an interview with Mashable, Brown, who has been working at Wendy's since 2012, offered up some advice for those wishing to slay the social media game. "I think both as a brand and a human being trying to use Twitter, authenticity goes a long way. And, of course being funny doesn't hurt," she said. Easier said then done, my friend.
Wendy's chief concept and marketing officer, Kurt Kane, added in a separated interview, "We want to be likable and sassy. We don't want to be seen as sarcastic and rude. But we walk a fine line. Sometimes we get it wrong in tone... Twitter has become a star player for us. It lets us connect with customers directly and have a direct conversation. It flips the media advantage that McDonald's has over us."