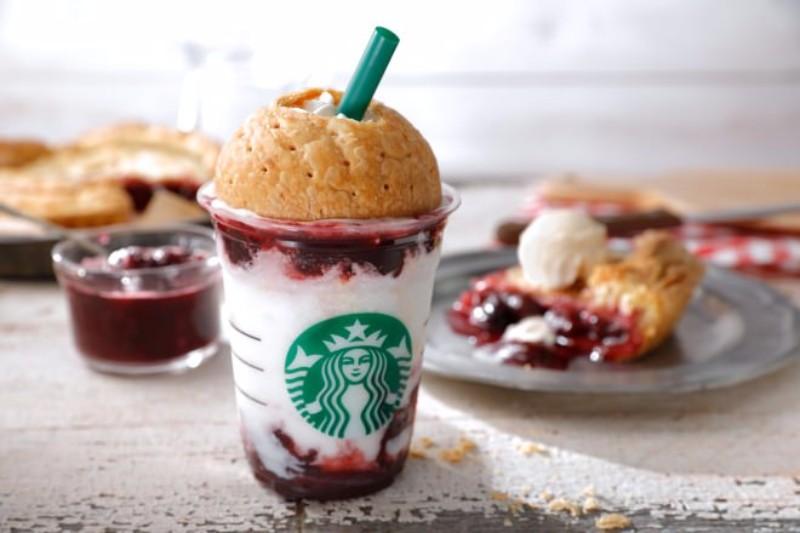 The Starbucks American Cherry Pie Frappuccino Is Here, Complete With Crust
By Mark Pygas
If there's one country that beats America in terms of crazy comfort food, it's Japan. Last year, McDonald's in Japan decided to dump chocolate over their French fries and it turned out to be so amazing that Americans started making their own.
And now, Starbucks in Japan is beating us at our own game, too. The chain took to Twitter to announce a new Frappuccino, American Cherry Pie, which comes with crust and all.
RBB Today reports that the lid is indeed made out of crust. Which sounds delicious, but also helps to get rid of some of that plastic. The beverage is made up of blended vanilla-flavored creme, pie crumbles, and cherry compote. It's also topped off with some whipped cream, of course.
The special Frappuccino goes on sale for a limited time only and will be available from April 13 to May 16. And it's only available in Japan, sadly.
People are pretty excited about the whole thing, while those of us outside of Japan are sad that we won't be getting it.
When asked whether that particular frappuccino will make its way stateside any time soon, a Starbucks spokesperson said, "We don't have plans to release the American Cherry Pie Frappuccino in the U.S. right now, but as always we continue to listen our customers' feedback and look for opportunities to bring fan favorites from around the world to the U.S."
We've also been told that though the Pumpkin Spice Latte is a staple for us in the U.S., the Japanese stores feature a Crispy Sweet Potato Frappuccino for fall. We'll just be over here salivating at the thought.
Since you're probably already buying your ticket to Japan, why not check out these amazing cheesecakes they sell over there as well?