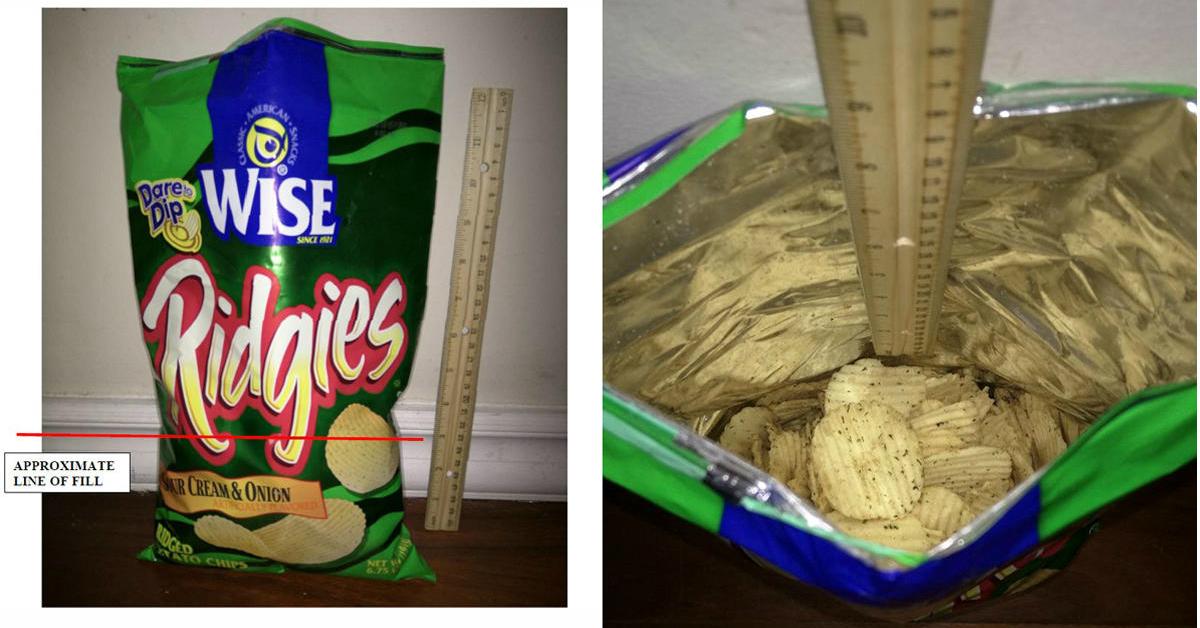 Customers Angry Over 'Misleading' Chip Bags Are Suing For Getting Bags Of Air
Back when I was a child and I'd unabashedly eat junk food without the slightest shred of guilt, I used to have really high standards for the garbage I was shoveling into my body.
Article continues below advertisement
I started becoming appalled when I noticed that chocolate bars were getting smaller and smaller with each season, and I noticed some bags of Big League Chew were much lighter than others. The greatest and most egregious junk food transgression, however, has to come on the part of chip manufacturers everywhere: those goddamn bags of air.
I'd become disgusted (but not enough to not eat the chips) whenever I'd open a bag and see that it was over 70% filled with air. I'd always huff and puff and complain to my mom or siblings or anyone patient enough to listen that it should be illegal for people to do this to my precious chips. I've often said I wanted to sue the bastards for doing so.
Article continues below advertisement
So I'm happy these two brave souls decided to launch a lawsuit against Wise chips for putting so few chips in their bags.
Article continues below advertisement
If you live on East Coast, then you've definitely come across Wise brand chips. If you go to any bodega, they're the ones that come free with your sandwich order, along with a can of soda.
The Bronx and DC Plaintiffs are saying Wise packages their chips in bags with excessively misleading "slack-fill."
Article continues below advertisement
They're disputing that the actual amount of chips in the bag cannot be determined because their packaging is opaque, so customers can't fairly see the amount of food they're getting for their money.
Article continues below advertisement
Photos included in the law suit show rulers placed in bags of Wise chips, show that the bags are filled only a third of the way.
Article continues below advertisement
"When competitors fit more potato chips into the same size bag that Defendant uses, it proves that some of the empty space in Defendant's Product bags is in excess for potato ship manufacturing and shipping," the lawsuit says.
They even compared the amount of "slack fill" in their bags to other leading brands./ Non-Wise chips, like Lays Ruffles brand, were filled to 2/3 the bag's capacity.
Article continues below advertisement
The Plaintiffs are looking for $1,500 per violation as per the D.C. Consumer Protection Procedures Act.
Article continues below advertisement
That's not all, they've included a court order demanding that Wise Foods repackage their chips to no longer mislead customers.
If you've ever had a bag of these bad boys, then you're all too familiar with the crazy amount of air in them.
Article continues below advertisement
Article continues below advertisement
Just search for it on Twitter and you'll see plenty of complaints like the ones above. Although I'm clearly happy these two people have decided to carry the torch for the rest of us and make Wise chips answer for their crimes.
But then again, I'm not exactly normal per se. Anyone think that this lawsuit is a frivolous one?
More from Distractify