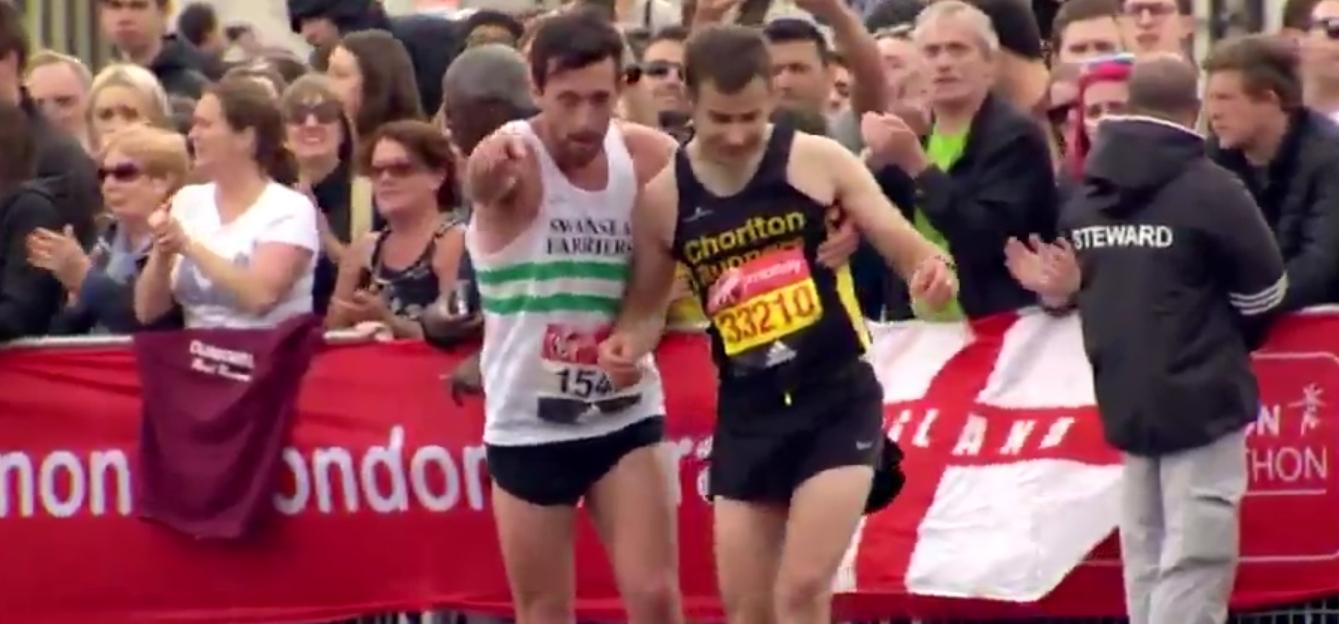 London Marathon Runner Gives Up Personal Best To Help Exhausted Competitor Over The Line
By Mark Pygas
Yesterday was the London Marathon, and it won't be remembered for the records set, but the moment selfless competitor Matthew Rees sacrificed his own time to help an exhausted runner he didn't even know over the line.
Just a few meters from the finish line, Rees stopped running to carry David Wyeth, who was shaking from exhaustion, over the finish line with the help of a race steward. The moment was luckily captured by BBC News, who later shared the inspiring moment on Twitter.
It's fair to say that people were pretty inspired by the moment. Wyeth, the man helped over the finishing line, was running in memory of my uncle, Alan, and raising money for the hospice that cared for his uncle in his final days. His fundraising page has been bombarded with donations, far surpassing the original goal of £1,000 ($1,300) and raising over £8,000 ($10,000).
Twitter has also been flooded with messages of support.
Both men spoke with Radio 4 on Monday, with Rees saying he was planning on a sprint finish for a personal best, but then saw Wyeth struggling.
"I came round the final corner and I saw David's legs give way underneath him. I thought forget my sprint finish and just went to help him get over the finish line. I got him up and told him we were going to make the finish. The few seconds didn't matter to me to help someone up. "
Wyeth said that he's recovering well, and that he'd been fine for the first 20 miles but suddenly started struggling.
"I was so well prepared! I had done everything right in preparing for London. For the first 20 miles I was in great shape. I realized my legs were going beneath me and I couldn't go in a straight line. I was on the floor and the next thing I knew, Matthew was in my ear encouraging me to get up."
This is the definition of sportsmanship.