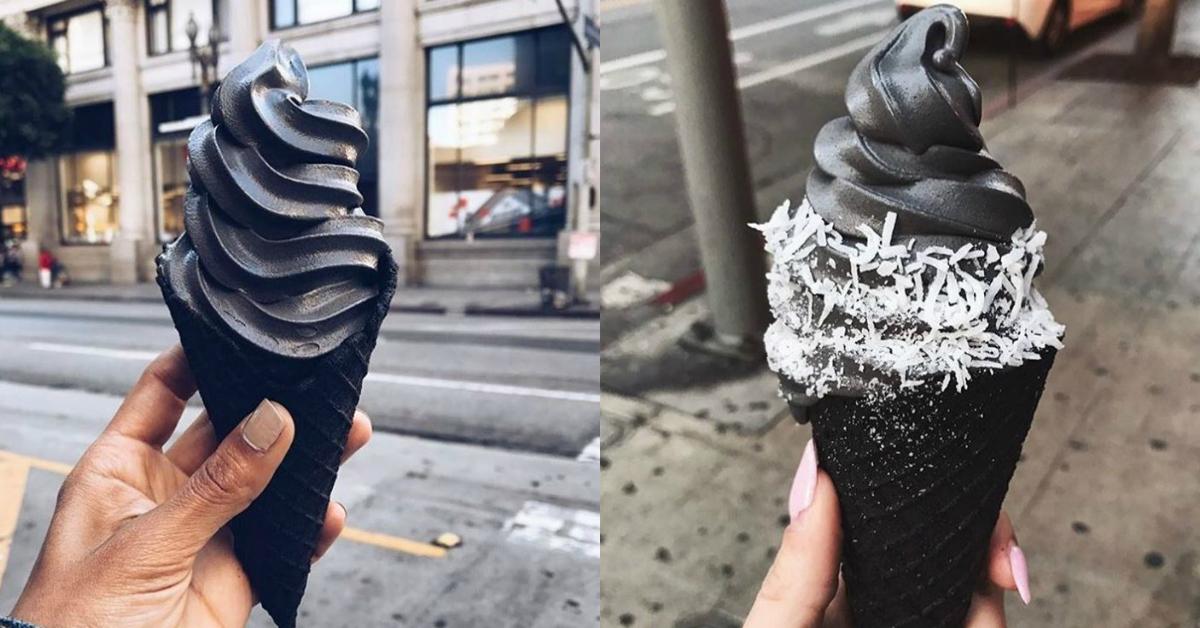 You Can Now Buy Goth Ice Cream That's As Black As Your Soul
A new ice cream trend, "goth ice cream," has people trying this oddly strange looking black ice cream.
I was never really into goth music, unless you count Nine Inch Nails as goth, which it pretty much is. Then yeah, I'm totally goth.
Article continues below advertisement
I do have to admit all the doom and gloom stuff held a certain appeal for a little kid who was always treated as an outsider anyway, being named Mustafa and all. So anything macabre or dark immediately captured my attention.
Scary movies? Check. Metal music? Double check. Black Labrador Retrievers? Triple friggin' check because they were cute and brutal.
Article continues below advertisement
So I can totally understand the appeal of this goth ice cream.
Article continues below advertisement
It's exactly like a Black Lab, or an honest-to-goodness Viking (not a Larper, I'm talking Leif Ericsson here) wearing a Rainbow Brite t-shirt. It combines an unapologetic childhood delight with a dark twist, perfect for a gloom-loving individual like myself.
You can nab one of these midnight-hued frozen confections, complete with a matching cone, at the Little Damage Ice Cream Shop in Los Angeles.
Article continues below advertisement
This is totally the ice cream that Edgar Allen Poe would eat after finishing a particularly macabre story about tuberculosis or Civil War era ghosts.
Article continues below advertisement
Now you'd think this confection would pack some sort of intense dark chocolate flavor, but it's actually Almond Charcoal.
Article continues below advertisement
That's right, "activated charcoal" apparently helps heighten the flavor of the ice cream. I'm stuck in stinky old New Jersey right now, not LA, so I can't try one of these charcoal ice cream cones for myself. But if it tastes as good as charcoal removes blackheads from my nose, then I'm down to eat it. The ice cream, I mean, not my blackheads. That'd be gross.
Although these cones are all about doom and gloom and angsty brooding, Little Damage will still let you dress your cone up with colorful toppings if you like.
Article continues below advertisement
If you're dying to try a super dark ice cream cone but aren't anywhere near Los Angeles, don't fret.
Article continues below advertisement
Morgenstern's NYC has a black coconut ash flavor, and there are some stores that even sell squid ink ice cream. So there's more than one way to show the world that your moody choices extend all the way to the desserts you eat. Because it's kinda hard to look goth while sipping a Unicorn Frappuccino.