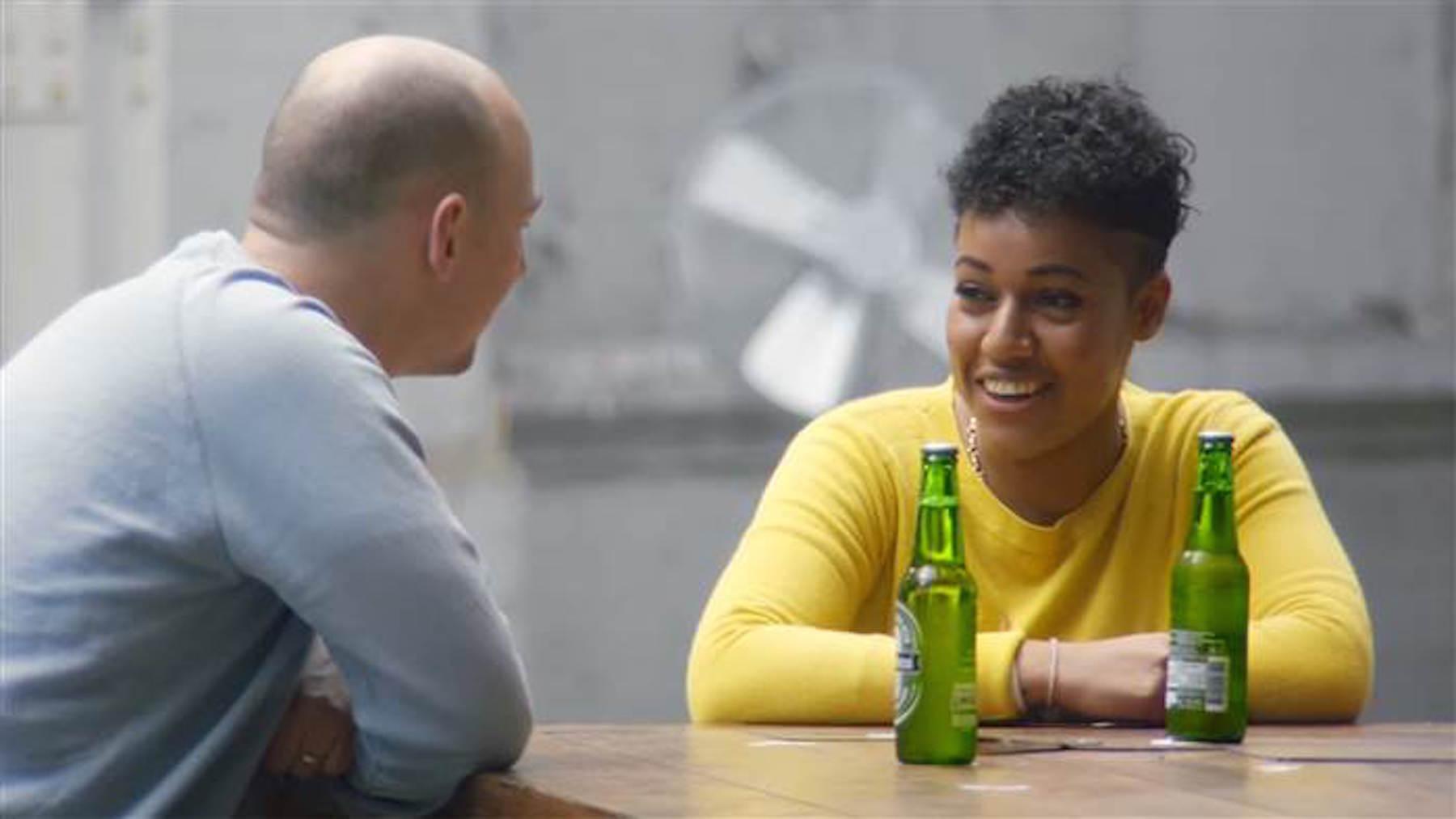 A New Heineken Ad Is Trying To Get People To Talk About Politics
By Aimee Lutkin
Ever since Pepsi released an ad with Kendall Jenner that seemed completely tone deaf to our current political climate, companies have seen an opportunity to one up each other with how progressive they can appear in advertising campaigns. Since it doesn't seem like ads are going away anytime soon, they may as well have a positive message beyond, "Give a cop a soda, protestors!"
Heineken has now entered the fray with its new "Open Your World" campaign. As part of this campaign, the Dutch beer maker has partnered with The Human Library, a group which hosts events where people can be "borrowed" for conversations. The variety of people involved means that if there's a type of person you've never met or understood, you might be able to find them at an event and gets some answers to questions you've had. Their philosophy seems to be that talking face-to-face is the best way to open people's hearts and minds. Heineken's philosophy is that they may as well drink a beer while they're at it. A Heineken beer. Not a less friendly beer. Only Heineken.
The partnership is being promoted by this short film, or advertisement, in which three pairs of people with wildly opposing viewpoints are introduced, then instructed to build a bar together as an ice breaker. When the bar is complete, they're shown a video that reveals what a distance they're at ideologically. Then, they're given the option of sitting down and talking about their differences over a beer or leaving. The three pairs are a feminist and a man who describes himself as part of the "new right," a man who thinks climate change is a hoax and a man who doesn't, and a man who thinks transgender people are bad and a transgender woman.
It's honestly hard to tell if these people are actors and I haven't been able to find an answer to that question. It seems as though the people with more conservative or hateful views come around by the end of the commercial, to a degree that some people are expressing skepticism about.
It may also be carefully edited to extract the more offensive parts of their conversation, if it was real. Maybe after a few sips, things devolved into a screaming match, which is what happens whenever I try to have a conversation with my crazy uncle. It's also hard to know what these people thought they were signing up for when they agreed to this, but I felt particularly worried for the transgender woman, who was having her very identity questioned rather than just her belief in the ozone layer.
But again, if this is real, it does seem like everyone was able to approach each other in a respectful and friendly way. It would be nice to be able to confront people who spew hateful things at you anonymously online in a controlled environment, just to see if there's a human inside the troll. Also, buy Heineken!
Guess they got to me.