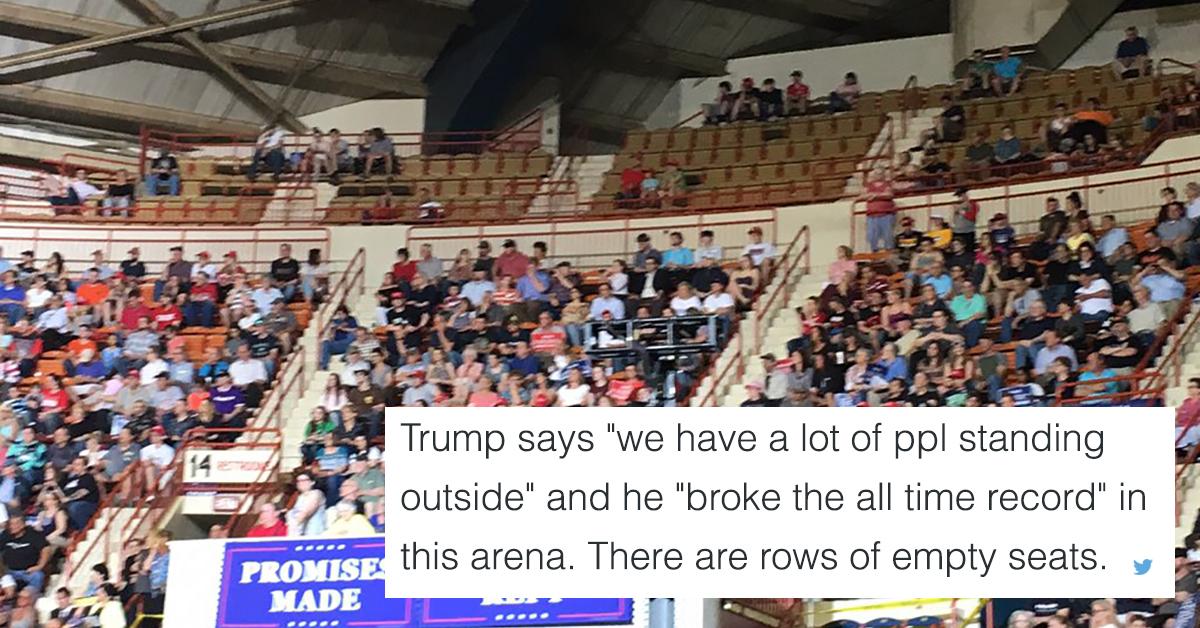 Journalist Shares Photos Of Empty Seats After Trump Said His Rally 'Broke All Records'
By Mark Pygas
President Donald Trump held a rally in Harrisburg, Pennsylvania, on Saturday evening, a place he described as "just rotting... a war zone" during his presidential campaign. He seemed to change his mind last night, describing the city as a "wonderful, beautiful place." The event, which marked his 100th day in office, took place at the same time as the annual White House Correspondents' Dinner, an event which presidents usually attend. Back in February though, Trump declined his invitation via Twitter.
As we've all come to know, President Trump is obsessed with ratings, consistently arguing that his Inauguration attracted the largest audience in history, despite figures to the contrary. And last night was no different, during his speech, Trump claimed that the rally broke the "all-time" record for the arena that seats 7,000.
But Jonathan Tamari, a Washington correspondent for the Philly Inquirer, seems to think otherwise. After the claim, Tamari shared several photos of empty rows.
"Large and loud but not quite capacity crowd as Pence arrives," Tamari wrote. "Several rows open at top of arena, and some space on the floor."
Those empty seats? In his speech, President Trump claimed that fire marshals wouldn't let some people in.
"Thank the fire marshals. They have a lot of people standing outside. We really maxed out. We broke the all-time record for this arena. We broke the all-time record."
But in a reply to Tamari's photo, Associated Press journalist Marc Levy claimed that no one was waiting outside during the event.
Following criticism of his tweet, Tamari explained that while the crowd was big, Trump's claims went too far.
And later clarified that the images were taken as Trump was giving his speech.
The local fire department is yet to comment on whether they stopped people from entering the arena.
Ratings aren't everything, Donald.