Student Shares Totally Inappropriate Signs She Spotted All Around Her Middle School
A school in Seabrook, Texas tried to be hip with these signs around school but failed miserably.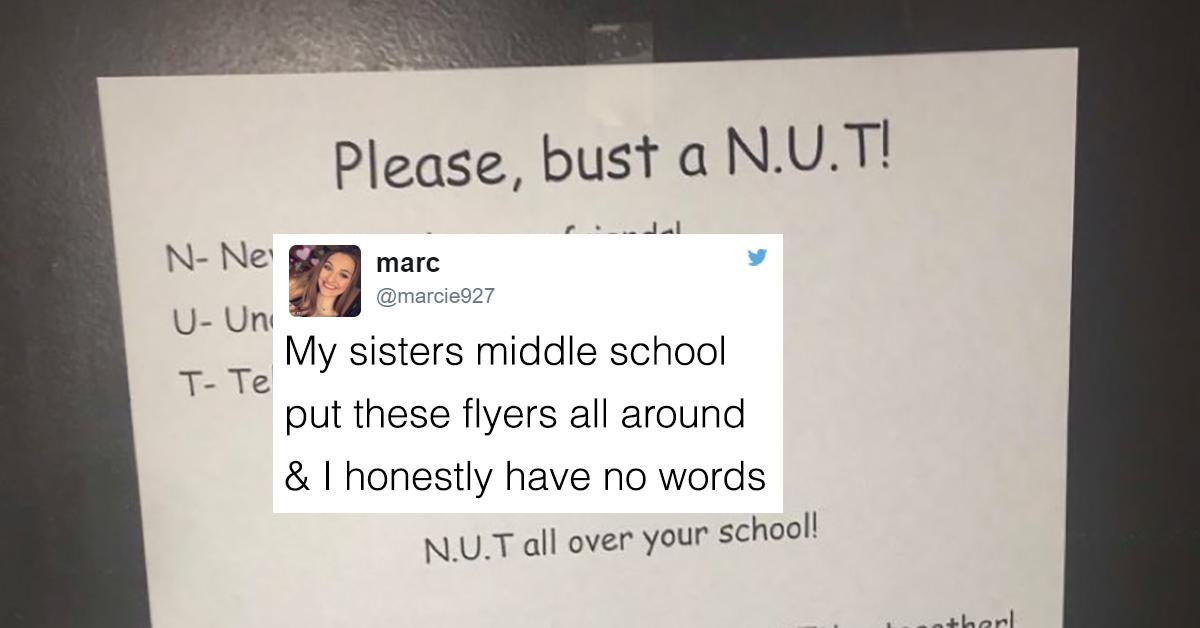 Schools are always trying to keep up with the times. Getting through to kids and making learning look cool has never been a bigger challenge. Especially when you're competing against things like video games and movies. It also doesn't help that everyone is glued to their phones. So in many attempts to look cool to kids, schools have tried to make themselves look like just one of the crew.
School administrators don't have a great track record when it comes to keeping up with the modern lingo. In fact they're better off just sitting things out cause kids aren't dumb, they see right through it. Just take the Seabrook Intermediate School in Texas, where one student recently shared a sign she spotted all around the school with her older sister, who subsequently shared it on Twitter for the world to enjoy.
Article continues below advertisement
Bust a N.U.T, people. It's not clear whether the sign is from staff, or an elaborate prank by a student, but Twitter found it hilarious either way. It was enough to get the attention to the school to say they're investigating the mistake but either way it seems the damage was done and it'll now live on the Internet forever. Cause that's what happens when everyone has a phone -- things are saved in our favorite Internet database for us to laugh about for the next 100 years.
Article continues below advertisement
Article continues below advertisement
Article continues below advertisement
Article continues below advertisement
Hopefully this is just a prank. If not the school really has some explaining to do. You'd think they'd at least run something like this by some of the younger teachers first cause even someone who is half way up with the times would realize this was a no go. We can't wait to see the responses and complaints they get at the next parent teacher conferences.