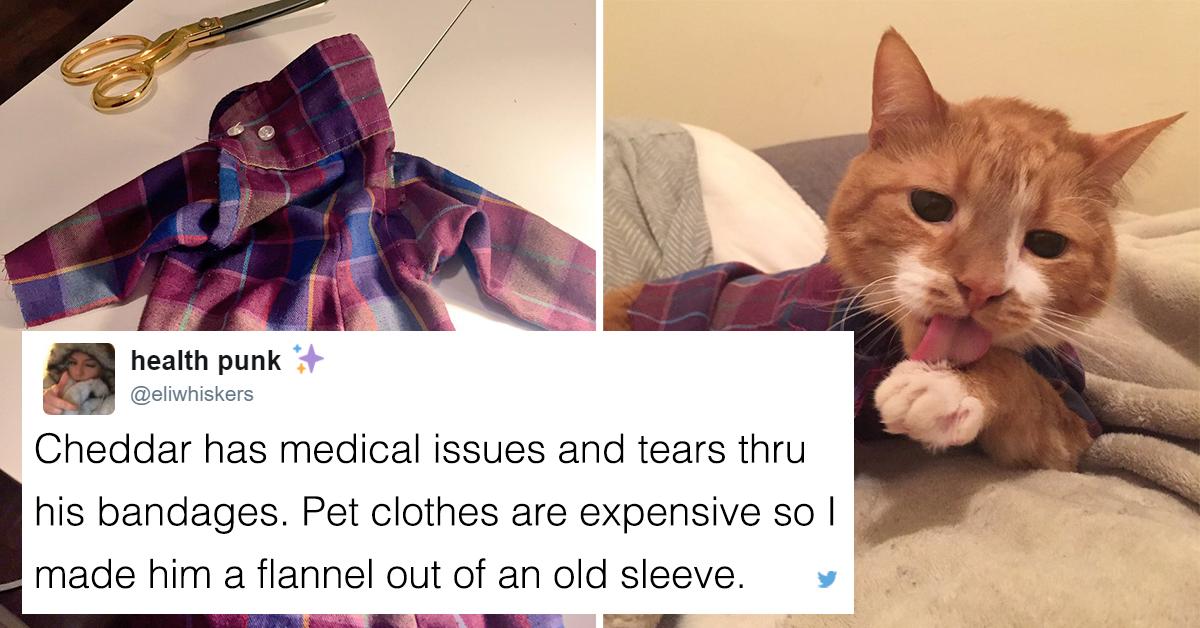 This Woman's Cat Doesn't Like Wearing Bandages So She Made Him A Flannel
By Mark Pygas
We will go to great lengths to make sure our pets are pampered and taken care of. Cause after all they're part of the family and we hate seeing them in distress. That's why vet visits, especially ones that require surgery, are so tough on pet owners cause watching our friends hurting isn't easy. Since animals can't tell you whats hurting, sometimes you just have to roll with it. Bandages and things like dog cones can drive some animals wild to the point they refuse to eat and sleep.
Nykol Tolstych is a fashion designer and cat mom to Cheddar, who has 17 allergies and skin issues. His medical issues mean that he has to wear bandages to prevent him from picking at his skin, but like any cat, he tears through them in hours. So she had to come up with a creative solution for the bandage hating feline.
Tolstych decided to come up with a more viable solution by taking the sleeve of an old shirt and making Cheddar a fancy flannel shirt. She shared the photos on Twitter, where they've since gone viral with over 50,000 retweets. Just look at how spiffy he looks. She should start a fashion line:
It's fair to say that people are in love.
And yes, he has nightwear, too. Just too cute.
TOO. FREAKING. CUTE. Get this little thing a magazine spread cause he's got the good looks. We could totally see Cheddar as a lumberjack model for some manly branded men's bodywash. Make it happen people!
Cheddar dresses better than most guys. It's awesome to see him accept this as a solution to the bandages. It just goes to show the great lengths pet owners are willing to go to for their animals. We're wishing Cheddar a speedy recovery!