Reminder: WiFi Baby Monitors Are Super Scary
Some WiFi connected baby monitors are susceptible to hackers who prey on frightening and threatening young children in their bedrooms.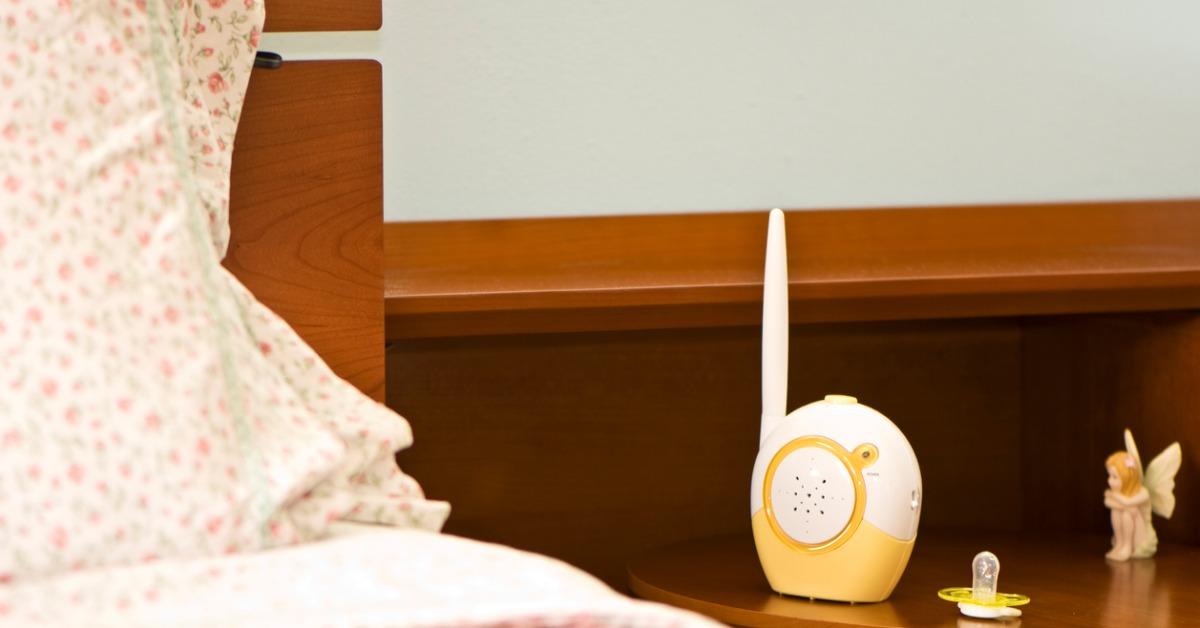 These recent stories about hackers exploiting security flaws in WiFi-connected baby monitors might get you re-thinking whether or not you want to put these high-functioning pieces of tech in your home.
It's understandable why someone would want a "smart" baby monitor: the ability to see your kids no matter where you are in the house, or maybe if you're at work and want to see them going about their baby business, is enticing.
Article continues below advertisement
The "parenting" market has a certain command over other types of consumer goods, and it's because of a simple premise: you'd do/pay anything to make sure your baby is safe and happy, wouldn't you?
So why wouldn't you spend a little extra money on a superior baby monitoring experience? There's WiFi-connected refrigerators and washing machines, why shouldn't your baby monitor beam signals to the internet, too?
It turns out that there's some pretty good reasons why not: because people can hack them. And there have been a few stories on the internet about what happens when hackers meet baby monitors.
It's not an easy way to case your house for security flaws or to see when no one is home so they can rob the place. They're doing it to freak out your children.
Article continues below advertisement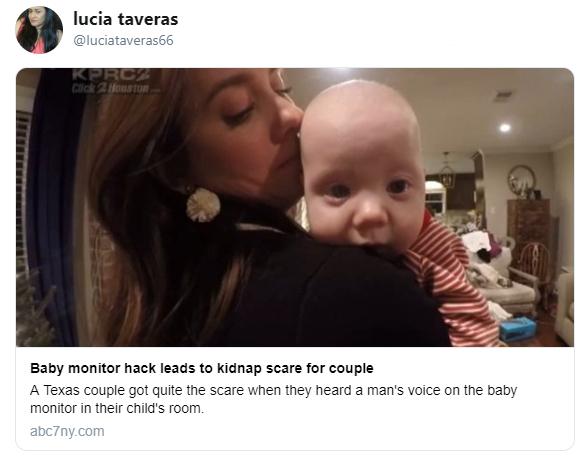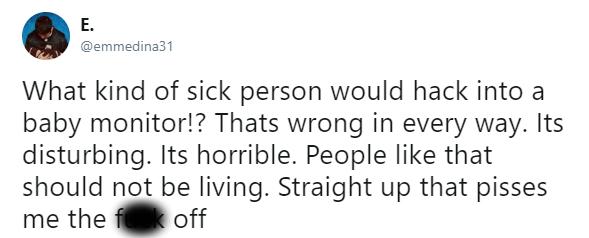 Article continues below advertisement
Ellen and Nathan Rigney of Harrison County, Texas, experienced the horrors of baby monitor hacking firsthand. The couple had a system of Nest camera monitors to watch their baby, Topper, from "every angle."
Nathan even joked with his wife about it being a CCTV system, and she would watch and listen to their 4-month-old with an iPad and audio monitor. Normally, the only sounds that would be coming from Topper's room were his own coos and cries.
But one night they heard the typical beeping from the monitor going off, an alert that parents might be familiar with: there was noise coming from the room. What followed wasn't the voice of their baby, but a strange man saying sexually explicit things.
When the couple turned the light on in their room to investigate the voice, the monitor in that room turned on, and the voice said, "Turn off the light," followed by, "I'm going to kidnap your baby — I'm in your baby's room."
Article continues below advertisement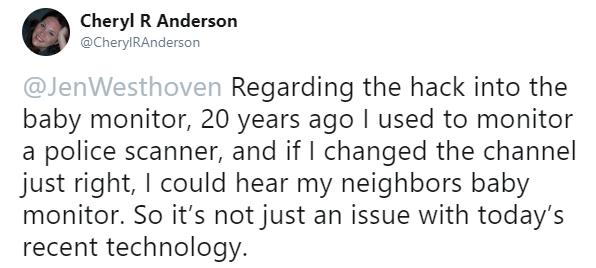 Article continues below advertisement
Scared beyond belief, Nathan bolted to Topper's room and discovered their baby was totally safe. It was Ellen who remembered previous stories about baby monitor hacking.
They quickly disconnected the Nest camera system and called the police to report the horrifying incident. They've since replaced the WiFi-enabled baby monitor camera system with a new one that operates on a closed circuit.
Some users pointed out that it was possible to pick up old-school baby monitor frequencies with radio/police scanner, so hacking is technically nothing new. But that means you'd need to be in a pretty close vicinity to "hack" those old-school radio baby monitors.
But with the WiFi ones, anyone in the world with an internet connection and the right skills and tools can start spying on your baby whenever they want.
Article continues below advertisement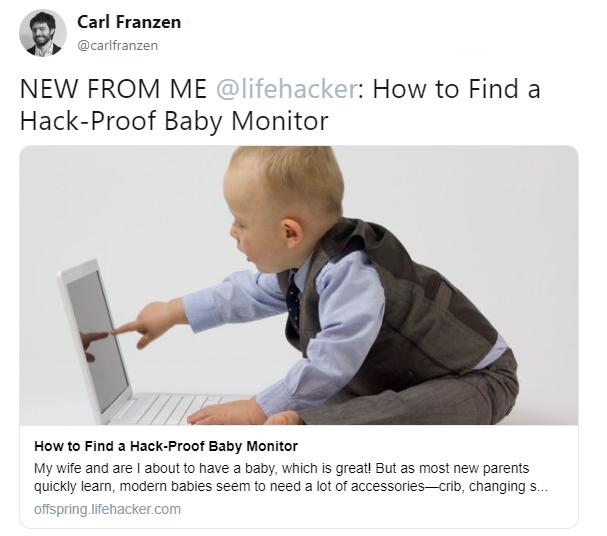 Article continues below advertisement
So if you're in the market for buying a baby monitor, what kind of technology should you look for? Carl Franzen at Lifehacker put together this handy-dandy guide that'll guide you through all of your options. It also weighs the pros and cons of each type of device, so you'll know which baby monitor is the best for you.
Franzen staunchly advises parents not to purchase "older" analog technology monitors.
As for digital baby monitors, he goes on to say that, although they're a bit more secure, the most stalwart of hackers have proven able to bypass their security protocols, so you may want to stay away from those as well. The same goes for the WiFi and internet-connected baby monitors — most of the baby monitoring nightmare stories that have popped up in the news recently involved WiFi-enabled devices.
Article continues below advertisement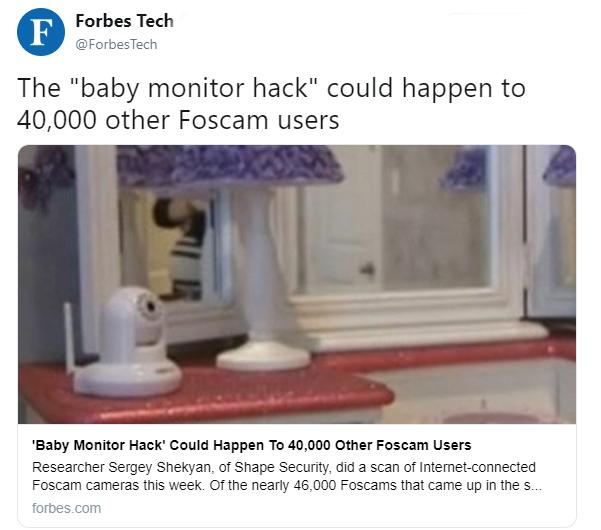 Article continues below advertisement
I was happy to discover the one Franzen selected after his research is the same one my wife picked up: the Infant Optics DXR-8. It offers a bunch of cool features, like a user-replaceable rechargeable battery (in case you forget to charge it in between having kids or want to re-gift and the original battery dies out) as well as interchangeable optical lenses. But then there's the question of security.
Because it packs a 2.4 Ghz FHSS wireless standard, it's pretty safe against hackers/snoopers. Franzen went on to say anything with this wireless standard or DECC built in should be a safe bet.
A standard that could've helped stay-at-home mom Jamie Summitt avoid the creepiness that befell her and her family with their FREDI WiFi monitor.
Reading her story in this chilling Facebook post is the kind of unnerving thing you'd see on a Lifetime movie, except it's way scarier because there's no soft lighting, cheesy production qualities, or Tori Spelling.
Article continues below advertisement
"This afternoon I had the app pulled up and was watching Noah sleep in the bassinet in our room. I was in the living room with the only two people who had access (or so I thought) to the monitor. All of a sudden I noticed out of the corner of my eye that the camera was moving...and it was panning over to our bed. The exact spot that I breastfeed my son every day. Once the person watching realized I was not in bed, he panned back over to Noah asleep in his bassinet."
Summitt went on to say her wireless router connection was encrypted, so people's suggestions that the should've used a password weren't exactly helpful.
Wild stuff. If you're planning on getting a baby monitor, I'd strongly suggest Franzen's advice (I'm pretty happy with the one that I got, and so is my wife).