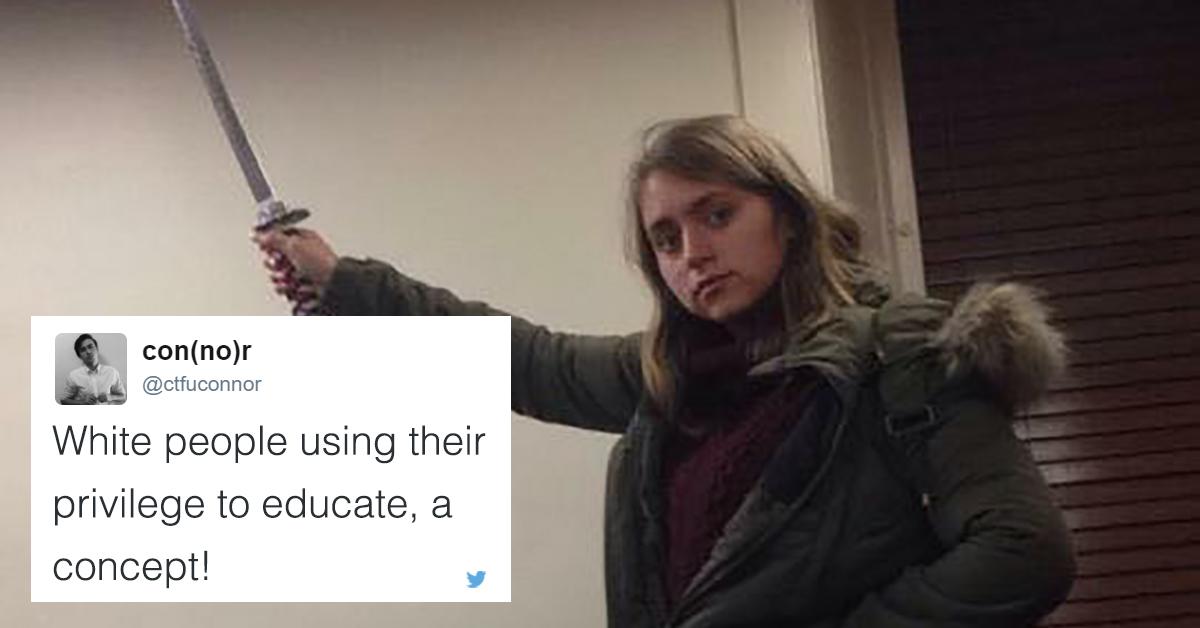 Student Posts Photo Of Herself With Sword After College Locks Down Over Glue Gun
By Mark Pygas
Earlier this month, Colgate University in New York shut down for several hours after a suspected shooter was reported on campus. SWAT teams descended on the campus only to discover that the "gunman" was an African American student with a glue gun. Thankfully, he was unharmed, but the university admitted that it had made "mistakes, some significant" in their handling of the situation.
The next morning, the campus security director, Bill Ferguson, was placed on administrative leave. After the lockdown, students and staff had a meeting in which many stated that they believed the college had overreacted because of the man's race.
"The words from the administration at that meeting: 'It was probably racially motivated,'" Lundt told Buzzfeed. "How, after that entire hour in the chapel with members of our community talking about how they were affected, are you going to turn around and dismiss all of their experiences with a 'probably'?"
In the aftermath of the incident, student Jenny Lundt decided to share a photo of herself carrying a sword on the campus to make a point about what she calls "white privilege."
In a caption alongside the photo, Lundt adds:
"THIS is what white privilege looks like. This is me, only one year ago on this very campus, running around the academic quad with a fucking sharp metal sword. People thought it was funny. People laughed- oh look at that harmless, ~ silly white girl ~ with a giant sword!!"
"Today, a black man carrying a fucking glue gun shut down my ~prestigious liberal arts college~ for 4 hours. The limited information that was released put all black men on this campus in danger and at risk of being killed. That is the reality of the institutionalized racism in the United States. If you think for even a second this wasn't profiling, ask yourself why this sword is still in my room and has not ONCE made anyone uncomfortable. No one has EVER called the police on me. Understand that there are larger forces at play than this one night, and this once instance of racism. This is engrained in our university and our larger society. White Colgate students, we need to do better."
The post quickly went viral, with more than 16,000 shares, and many supporting Lundt's message.
While others were more critical.
"Maybe this is more about gender profiling rather than race," one commenter wrote. "People like to focus on race, yet gender never gets brought up. Let's face it. Females, not always, but a lot of times are perceived as less threatening than males and that's just the way it is."
Another commenter added:
"Well a gun is more dangerous than a sword and the lack of information was the problem."
Since the post went viral, Lundt posted an update with more of her thoughts...
"If every white person reading my posts commits to doing better in their own lives, we can create a paradigm shift that can ripple through all of our communities and the world," she writes. "We need to do better to uplift the POC in this country and that is on us."