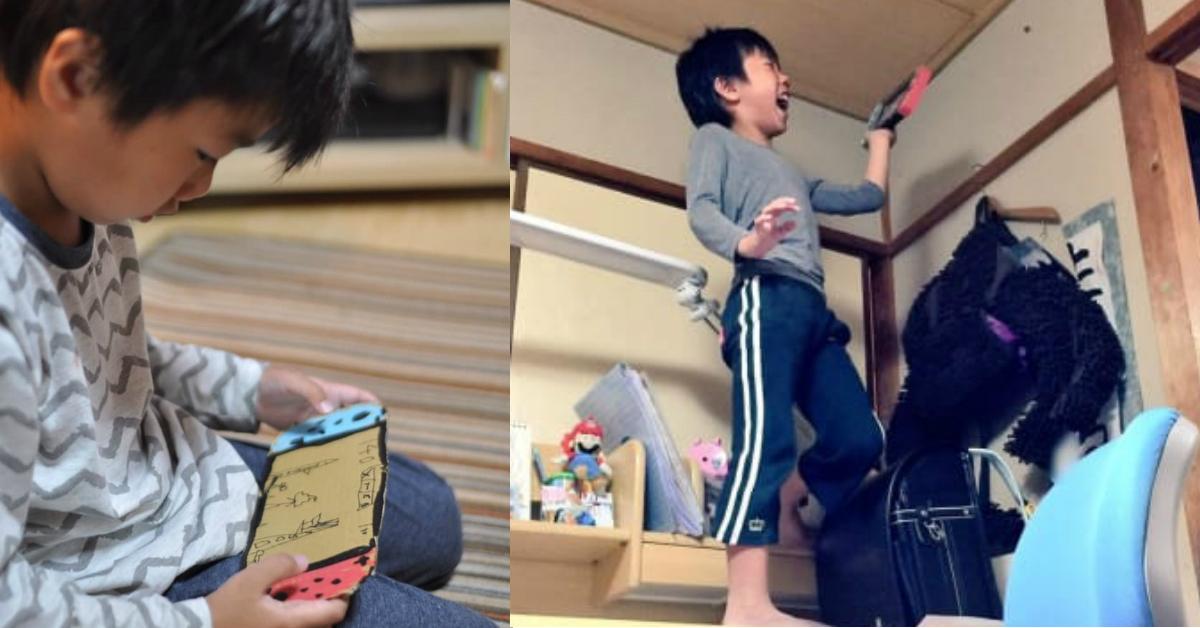 Father Replaces Son's Cardboard Video Game Console With Real One As A Surprise
By Mustafa Gatollari
I'm kind of a curmudgeon. I get down in the dumps about life a lot and these bouts of depression happen at some of the worst possible moments, like when I was recently on vacation in Miami with my family. I'd get out of it every time, but it's something that I struggled with every single hour.
Like, I'm jogging along a gorgeous beach, the weather is amazing, my family's incredible, and the air feels great, people are smiling all around me, I have no responsibilities to worry about in the moment but I still have to manually force myself to have a good time. I literally have to pretend to have fun for minutes and minutes to get going, until I have eventually just have fun with the fact that I'm so miserable for no reason... Which weirdly makes me start to feel better.
What really got me out of my funk, however, was seeing how happy my young son was at this little kid's water park. At first he was kinda scared, but after he started running around and splashing with the other kids, he lifted his hands into the sky and just started screaming out of happiness. He couldn't process his joy. He ran to me, kissed my leg, then went back into this weird, primal happy dance that I can't even begin to describe. I have to admit, I started crying a bit and it made my entire vacation so worth it because, as corny as it sounds, being partly responsible for that amount of joy made me feel really, really good.
Which is why this story about a young boy who built his own video games out of cardboard and paper warmed my heart so much.
Kazutoyo is a 6-year-old boy from Japan who's super, duper creative. He's also really into electronics and video games.
So much so that, for a while now, he's been in the habit of making his own out of whatever he could get his hands on. Like this Playstation Vita.
Or this laptop gaming set up.
His father, Mohikan, has been chronicling his son's creativity in expressing his love for videogames for a while.
Kazutoyo's latest creation was a Nintendo Switch that he made out of cardboard.
Due to Mohikan's financial situation, his family couldn't afford to buy their son video games. Mohikan said in an interview with BuzzFeed that Kazutoyo casually asked for a Nintendo Switch after it came out, but said that it would take a while for them to save up to afford it.
"Right after Switch became popular, he started casually asking for it. He seemed to be aware of our family's financial situation through our 'family meetings,' and never threw a fit about having it."
As a side note: Mohikan seems like a really awesome dad. His family holds "family meetings" once a month to discuss a monthly goal for the kids to accomplish.
Kazutoyo asked Santa for a Switch and expected to get it during Christmas time. In anticipation of the gift, his grandmother bought him a Switch console cover.
He used the cover as a stencil to make a homemade Switch out of cardboard. After seeing how excited his son was about a little old Switch cover, and how resourceful he was in making one out of cardboard, Mohikan bit the bullet and made the decision to go out and get him the real thing.
While Kazutoyo was taking a bath, his father put the real Nintendo Switch in the cardboard version and waited for his reaction.
People on Twitter were touched by the tale.
For Mohikan, the joy on his son's face was worth going from store to store find a Switch and stretch his family's budget.
Well ain't that just beautiful.