People Are Furious About These Body Shaming Ads For The New 'Snow White' Movie
If you've seen the latest ads for the new Snow White movie, you may have noted that the photo of a more heavy set Snow White being called 'no longer beautiful' was bound to end poorly for the company that took out the ad.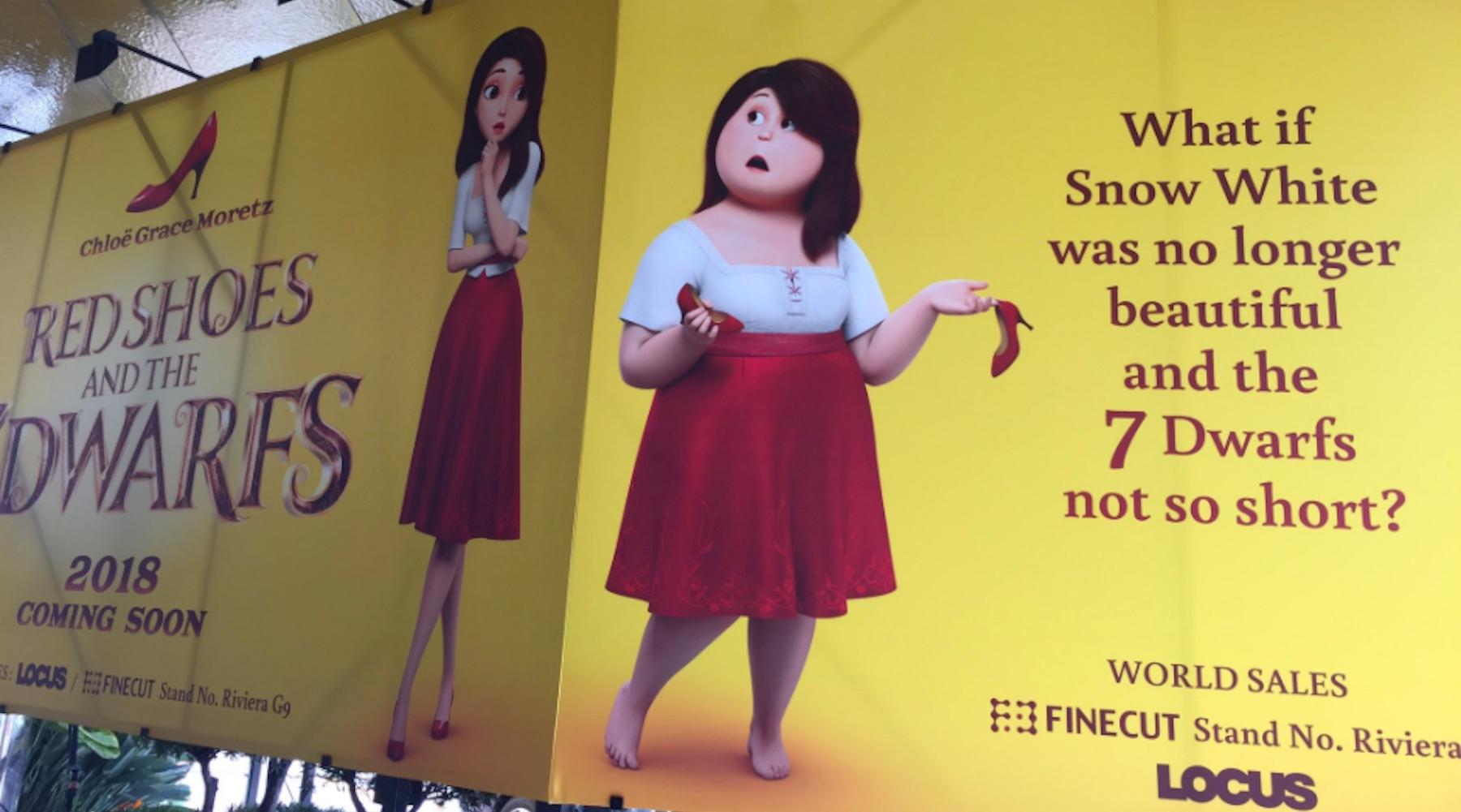 Body-shaming is pretty rampant in today's society, so much so that a term has been coined to be used when describing the action. In case you were wondering, that term is 'body-shaming.'
A new film titled Red Shoes and the 7 Dwarfs from South Korean animation company Locus Creative Studios was slated to come to the United States, with a voice performance by actress Chloe Grace Moretz. But ads for the film that recently appeared in Cannes are infuriating people, as they seem to equate beauty with being thin and tall.
Plus-size model and all-around bastion of body-positivity Tess Holliday tweeted pics of the offending ads on Tuesday, asking how they made it beyond the marketing team:
Article continues below advertisement
On the company's website, the story is slated as a moral tale, explaining that the "seven handsome princes" were transformed into "seven ugly dwarfs" because a curse is punishing them for being "disrespectful" to other people. Their quest? To get a kiss from the most beautiful princess in the land!
The "twist" is that the woman considered the most beautiful in the land gets shorter and heavier when she removes her red shoes. And judging from some of the trailers, that's not the only weird thing about it.
Like in this one, when a dwarf lustfully grabs the sleeping woman's shoes, and slams her violently on the ground as she's unconscious:
Article continues below advertisement
Here, they perv out on her while she walks around in underwear:
Article continues below advertisement
Tess Holliday wasn't the only person who noticed the ads that read, "What if Snow White was no longer beautiful and the 7 dwarfs not so short?" What if, indeed. What if Belle were ugly and the Beast wasn't a beast? What if Sleeping Beauty was awake? These are the questions that keep me up at night.
Article continues below advertisement
Article continues below advertisement
But at least one huge Chloe Moretz fan is waiting to form their own opinion, and perhaps shell out fifteen bucks for this movie:
Article continues below advertisement
Moretz has started responding to the controversy on Twitter, writing, "I have now fully reviewed the mkting for Red Shoes, I am just as appalled and angry as everyone else, this wasn't approved by me or my team." But she insists the story isn't what it looks like:
Article continues below advertisement
I guess if you really want to know, you have to go see it. But beware: you may just be giving money to something that's as bad as it looks.