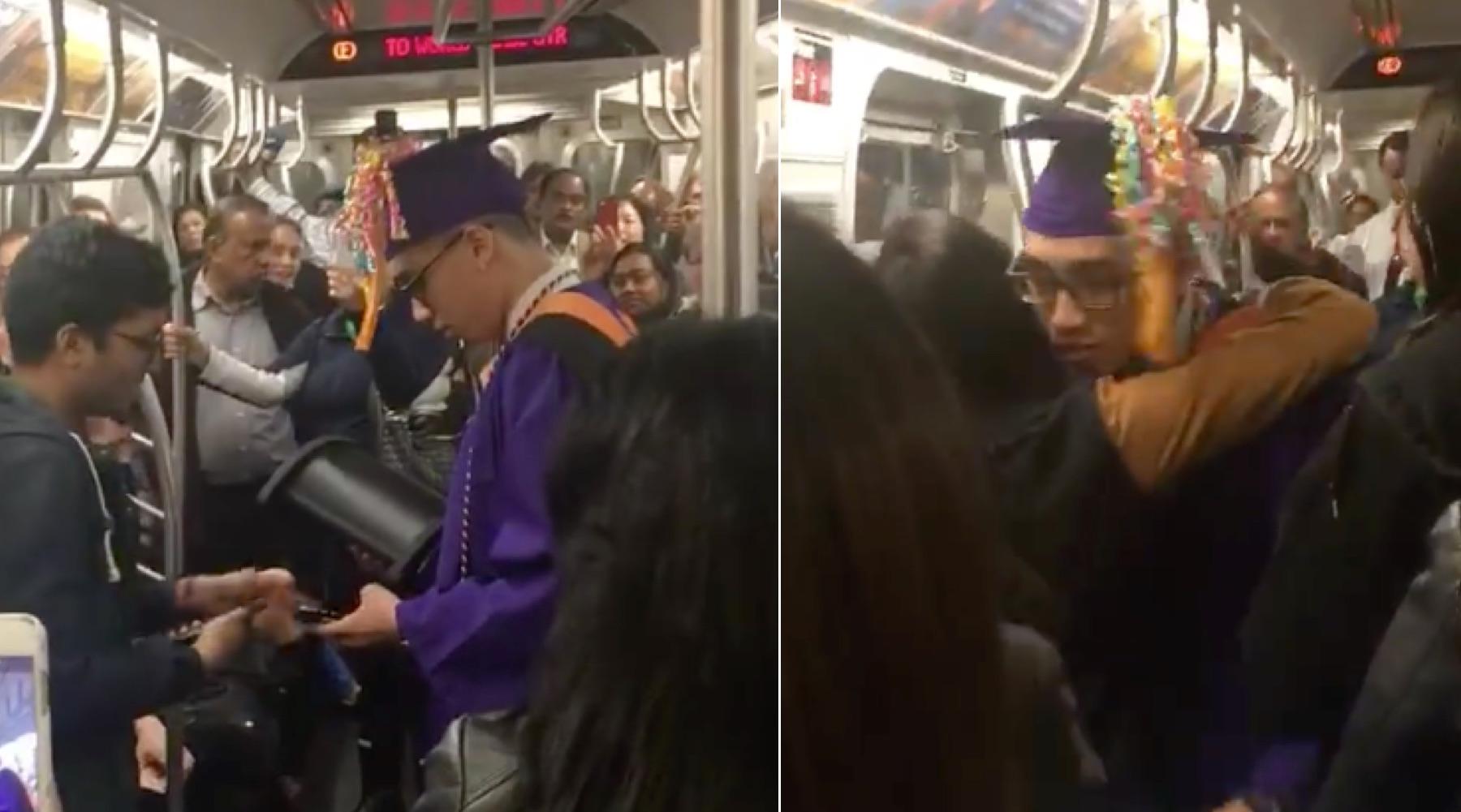 Student Trapped On Train During His Graduation Ceremony Gets Surprise Celebration
Former high school student Jerich Marco Alcantara missed his commencement ceremony at Hunter College's Brookdale campus on Tuesday, after getting caught in a delay on the E train. Alcantara told Select All that he had opted out of the second ceremony at Radio City Music Hall later in the day, because that one had a two ticket limitation for family, and he wanted as many people as possible to be there.
In fact, many of his friends and family members were traveling with him to the earlier ceremony when they finally admitted they weren't going to make it.
Article continues below advertisement
"I was on track to be at my commencement at 9:15 a.m., but the delays altogether ended up taking almost three hours," Alcantara said. "After 45 minutes, I knew I was already late, but I kept hoping that I'd at least make it to walking the stage."
Most kids would throw down their clapboard hat and sulk at this point, but Alcantara rallied and ended up giving everyone on the train with him a very memorable experience:
Article continues below advertisement
Train goer Naduya Afzal posted a video on Tuesday of Alcantara in his full graduation regalia, getting a makeshift "diploma" from a friend on their cell-phone while the most high school song of all plays over a loudspeaker: "Good Riddance (Time of Your Life)" by Green Day.
It's an oddly touching private ceremony witnessed by two dozen fascinated strangers, that ends with Alcantara hugging and kissing the people traveling with them. Presumably they're not just more strangers, but who knows.
He even offers onlookers a copy of his diploma, saying, "If you want a copy of my diploma, turn on your AirDrop." It seems like a few people took him up on it, if hesitant questions about how to turn AirDrop on are any indication.
Article continues below advertisement
If you're thinking of doing something similar, be warned that magical New York City moments like this can't be planned. "It wasn't so much an idea, but something that just happened," said Alcantara.
"Everyone was getting antsy and impatient, so I figured I'd lighten the mood by thanking everyone for coming out. That led to applause, and the rest just followed."
Article continues below advertisement
Eventually, the family did make it above ground, but they were too late. The real ceremony had ended. Though this kid has bad luck with public transportation, he has good luck with friends.
"So I missed the commencement, but after the auditorium cleared out, my close friends threw me my own little graduation," Alcantara said.
Another one? "It was a great time," he added.
It's disappointing to miss a big life touchstone like graduation, but at least Alcantara hit a different milestone early on: going viral. Congrats!