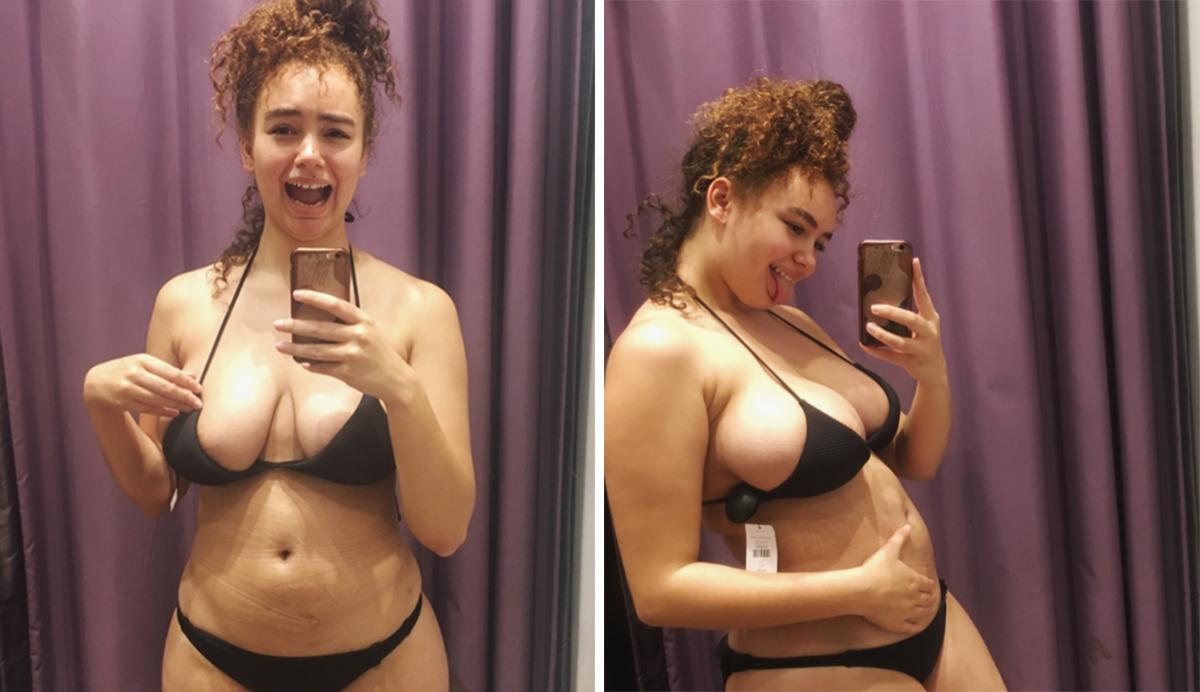 Plus Size Model Reveals Just How Difficult It Is For Women To Go Bikini Shopping
By Mark Pygas
It's summer, which means that it's far too warm to wear much at all. But for anyone on the bigger side, and especially for women, it can be quite stressful to find a bathing suit that fits properly. Shopping for jeans is hard enough, and now you have to find a tiny piece of fabric that's capable of keeping everything where it should be.
Plus size blogger and model Sonny Turner is tired of it too, and recently took to Instagram to voice her displeasure with the swimsuits of high fashion retailers.
"Changing rooms can be scary places. I am wearing the largest size from one of the most popular high street stores sells in bikinis which is 12-14. High street store bikinis do not cater for women of my body type. Majority of online stores don't either."
"No one gets it so for any upcoming designers I got come tips for you. Big breasts need underwire for support. For a youthful lift we need cup sizes that correlate to bra sizes and they need to go past DD."
"We need cups that actually cover more than our nipple. We need cups that bring our boobs together so there's not a massive gap in-between them. We need straps that aren't so tight it's as though our neck is about to snap off. We need bikini bottoms that don't give us wedgies when we walk. We need string bikinis that don't expose our vagina lips. We need swimsuits that fit over our hips without dragging the neck of the costume down, causing neck ache."
"We deserve more choice in the selection for our body type that isn't just the generic black swimsuit with a kimono. Yes, believe it or not not, some of us actually want a thong bikini, the whole section doesn't have to be highwaisted."
"We're gonna need you to stop using models with fake boobs that aren't a real depiction of what the bra would look like on our real droops ones. It's not fair that we can't wear cute swimwear just because we are built differently. We deserve to talk into a store and pay £10 for a nice bikini without breaking the bank and our body confidence."
"#everyBODYisbeautiful bottom line is: MAKE CLOTHES FOR ALL SIZE & BODIES."
The message resonated with a lot of people, considering that the average American woman is now a size 16, according to one study. Turner's post has acquired more than 14,000 likes in a day, with one commenter saying:
"I know the feeling. I decided on a high waist 50s retro but most designers think females don't have big natural boobs!"
While another added:
"PREACH! I am not plus size but even as a 0/2 US feel like there's something wrong with me because every bathingsuit I try on goes up my butt or doesn't cover my boobs. Even the full pieces!"