Guy Gets Temporary Henna Tattoo He Will Probably Regret For Years To Come
Guy gets temporary Henna Tattoo that he will regret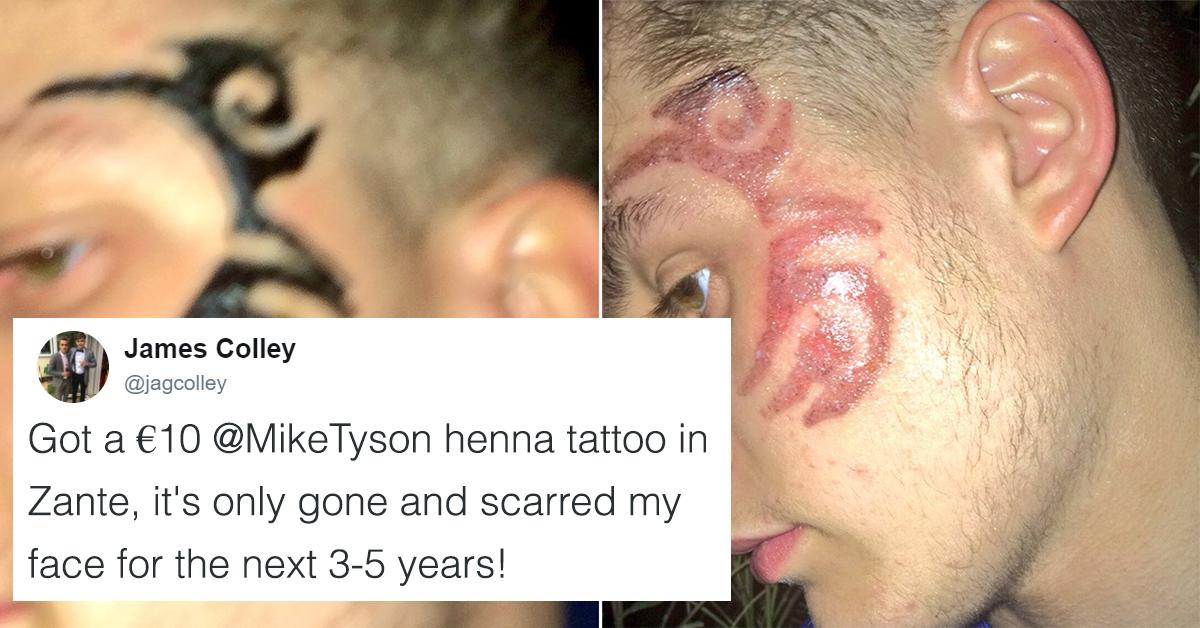 Henna tattoos may seem like a good idea while you're on vacation, but as Twitter user James Colley from Cardiff, Wales, recently learned, it's still important to do your research first. During a trip to Zakynthos Island, Greece, he decided to get a Mike Tyson henna tattoo that he'll probably be regretting for a while. I am sure he saw The Hangover 2 and thought, Hey if Stu can get that tattoo then so can I. Looked pretty cool on him right? Well there were a few minor details that I think he was forgetting about...
Article continues below advertisement
While the henna used by most professionals is a natural brown coloring that will fade in a few days, some less reputable tattooists simply use cheap black hair dye, which is advertised as black henna. Black hair dye contains paraphenylenediamine (PPD), a chemical that is banned from use on skin in the European Union because it can lead to severe burns on some people.
Article continues below advertisement
In 2015, Mary Bates of the United Kingdom, then 16, got a tattoo on her leg that led to similar scarring while in Turkey. She was told by doctors from St. Albans Hospital, Hertfordshire, that the scarring could stay with her for the rest of her life.
Dr. Christopher Flower, Director-General of the Cosmetic, Toiletry and Perfumery Association, warned those who seek Henna tattoos to go to reputable artists.
Article continues below advertisement
"Having a so called 'black henna' temporary tattoo presents a significant risk of a very nasty adverse reaction to the tattoo itself."
"It also increases the risk of either not being able to use most hair dyes in the future or having a bad reaction to them if the warnings are ignored."
"The advice is clear, please avoid so-called 'black henna' temporary tattoos."
Most people on Twitter didn't seem to have much sympathy, though.
Article continues below advertisement
Article continues below advertisement
Article continues below advertisement