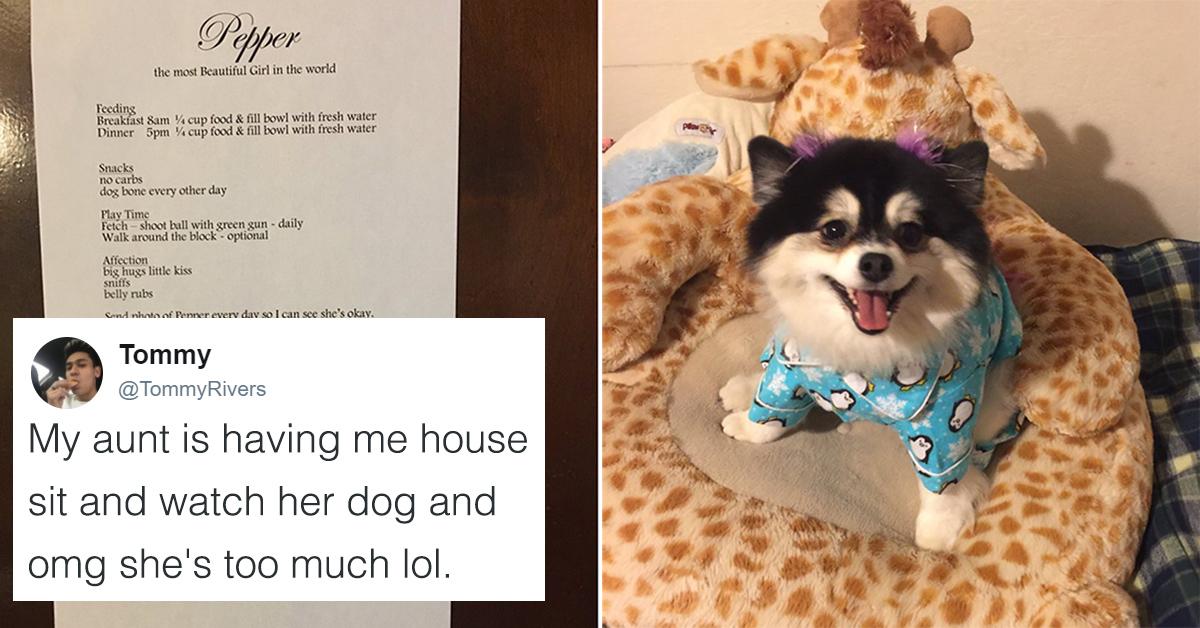 Woman's Hilarious List Of Rules For Dog Sitter Is Too Pure For This World
By Mark Pygas

Nov. 18 2019, Updated 2:32 p.m. ET
People love their pets.  Sometimes, people love their pets more than their own spouses and children.  Hey, sometimes who can blame them, pets can give affection and be such an important part of someones life and dont come with some of the negatives like putting people down and bringing up nonsense and drama.  Some people take their pet loving to an extreme and do some pretty crazy things, like cat ladys and the like.  Others think that it is totally normal and that pets should be treated just like any other human because they are living things and important parts of people lives, the same way that any human would be. 
When people give their pets to others to watch, it brings a whole new level of trust and sometimes, craziness.  They have rules that need to be followed, no matter how ridiculous.  Their pets are accustomed to a certain lifestyle and must be treated accordingly, at all costs.  Some are more descriptive than others and some are more trusting than others when it comes to this.  Some will just enjoy themselves and know their pets are in good hands while others will be on the persons every move making sure that nothing happens to their precious pet.  
Any pet owner will know that you get pretty protective of your tiny fur babies, especially when you leave for vacation and leave them in the hands of a pet sitter. Twitter user Tommy Rivers recently learned this when he agreed to look after his aunt's dog, Pepper. The notes she left him were pretty detailed, and you can be the judge on how warranted...
Article continues below advertisement
Article continues below advertisement
And yes, she has pajamas... 
Article continues below advertisement
The people of Twitter are kind of in love...
Article continues below advertisement
Pepper's like "you best know I'm the most beautiful girl in the world".

— Rachel Hawkins (@ourrachblogs) July 11, 2017
"Dont you hate her cuz you aint her"

— ChiChi🍓🍉🍒 (@keysnippleclamp) July 11, 2017
Article continues below advertisement
To be fair she does look like an excellent dog.

— Ability Drain (@AbilityDrain) July 11, 2017
the purple tail is seeenndddiiinnnggg me

— titus andromedon (@majoreuphoria) July 11, 2017
Article continues below advertisement
Everyone involved in this tweet is perfect

— vegan mortensen (@TrinAndTonic) July 11, 2017
Pepper is too precious for this world.