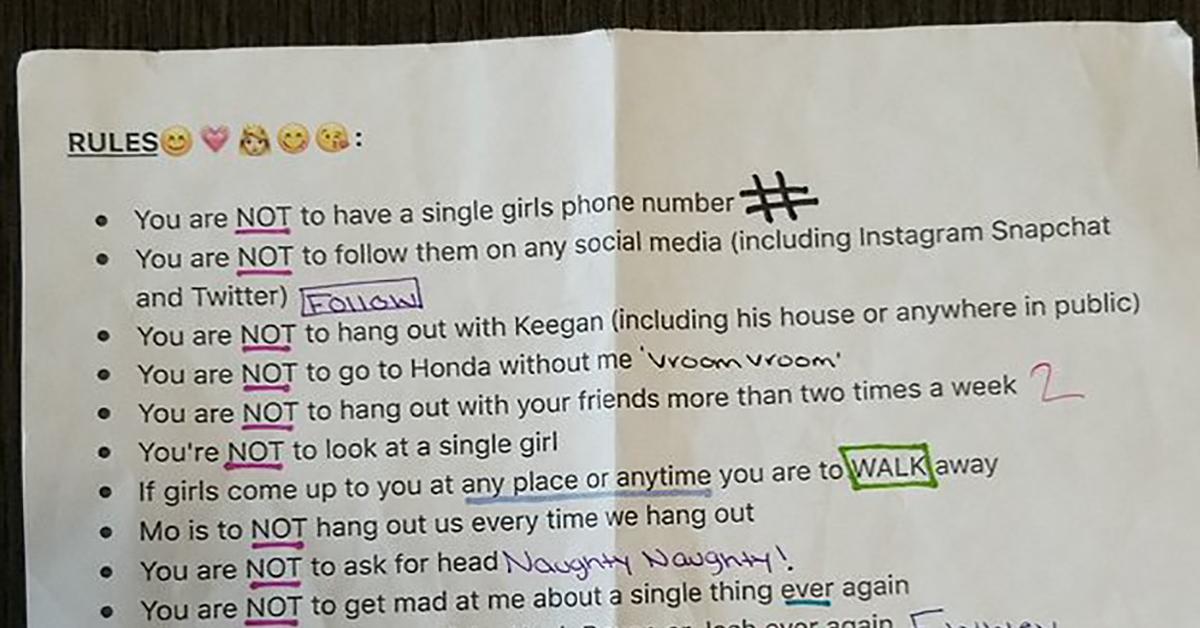 Guy Shares Crazy List Of Relationship Rules He Found In A Used Car
By Mark Pygas

Mar. 8 2019, Updated 12:17 p.m. ET
Relationships can be tough. When you're trying to figure out how to live with someone and be the personification of their ideal of love, you're eventually going to run into some road blocks. The thing with love though is that because it's the only thing in the world that truly matters, it's understandable when people get a little crazy over it.
But there's crazy and then there's psychotic, and the line between them isn't fine at all.
Article continues below advertisement
Now we've seen some pretty crazy boyfriends and girlfriends in the past. And honestly, you can't help but laugh and feel sorry for the person on the receiving end. Twitter user Kale Keyes recently bought a used car, and discovered a list of rules a seemingly very possessive girlfriend wrote for her boyfriend...
Article continues below advertisement
"You are NOT to look at a single girl."
"You are NOT allowed to drink unless I am with you."
"If I say jump, you say 'how high princess'"
"You are NOT to go to Honda without me."
The man can't even look at cars without her permission! Now we know why he left it behind in his old car. And Twitter is trying to work out what warranted this insanity. But most people seem to agree that this is an abusive relationship. As funny as it is to laugh at how out-of-touch with humanity another person is, this guy clearly wasn't shacked up with someone who had his best interests in mind.
Article continues below advertisement
I wouldn't think so, if he cheated, they probably wouldn't be together anymore. It seems that the woman is just abusive

— ⓒⓗⓘⓚⓘⓝ (@BaconAwesomness) August 10, 2017
Article continues below advertisement
She demanded all those things then had the audacity to say "DO NOT EVER ASK FOR HEAD" Lmaoooo

— Jay (@MrJayBenz) August 9, 2017
Literally no one is acting like that- stop reaching

— j (@ddhannibaI) August 10, 2017
Article continues below advertisement
She's an abuser and that relationship is toxic

— Marta Crawley (@heartpleaces) August 9, 2017
There were some people who didn't think that the note could possibly be real: how does someone so bent and twisted actually exist? I mean it's one thing to think those things in your head, you could quell those thoughts and take a step back and realize you're bonkers, but if it's real, then I've got only one piece of advice for the dude: get out of there!