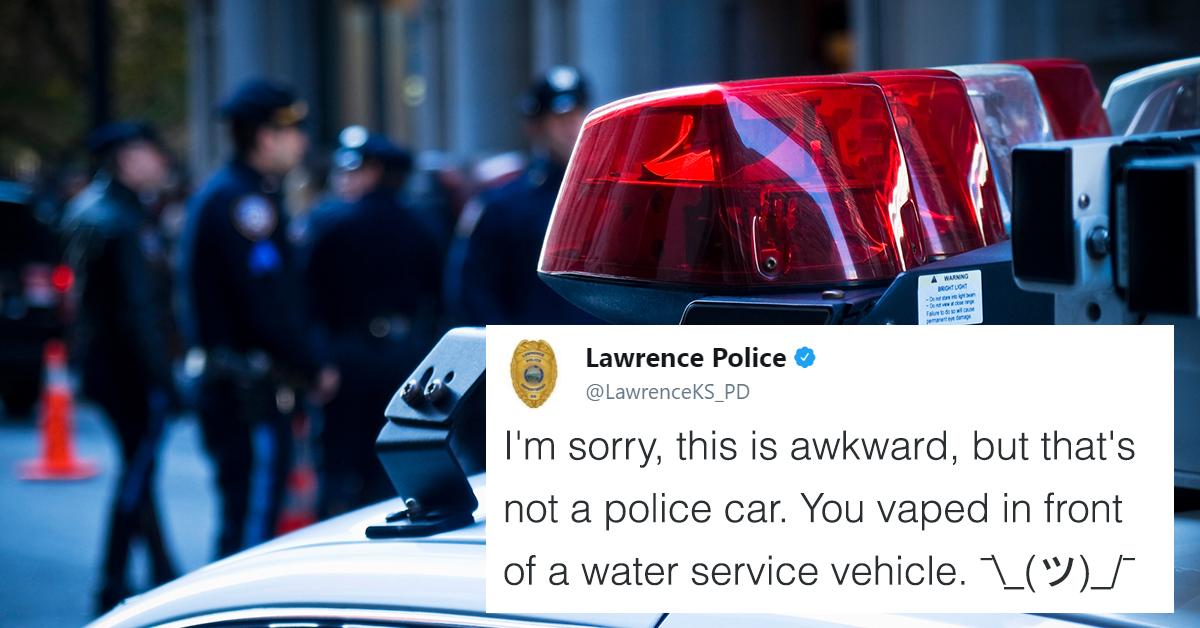 Vaping Teens Who Tried To Mess With Police Get Trolled On Twitter
By Aimee Lutkin

Updated
Being a rebel looks and feels cool, so of course everyone wants to engage in some civil disobedience now and again. I'll refrain from making a reference to Cybill Shepherd's autobiography though and stick to the topic at hand: sometimes going out of your way to look like a rebel can backfire miserably, something that these youngsters learned the hard way when they started getting silly with their vaping contraptions as a means of antagonizing local law enforcement. Well, their attempt at antagonizing the po-pop, anyway.
A group of teenages from Lawrence, Kansas., are getting roasted online for seemingly trying to take on the local police department in a Twitter war and spectacularly losing. Someecards reports that the group of teens took a video vaping in front of what he thought was a police car. 
Then one of them posted it, tagging the police department's social media account. The tweet has since been removed, but one Twitter user saved it for the history books...
Lawrence's police department retweeted the post, pointing out that the vehicle wasn't a police car, but a water service vehicle:
I'm sorry Blake, this is awkward, but that's not a police car. You vaped in front of a water service vehicle.
¯\_(ツ)_/¯ https://t.co/ecn6aVHstX

— Lawrence Police (@LawrenceKS_PD) August 19, 2017
Twitter found the whole thing pretty hilarious. 
Do you do requests, Blake? Maybe a fire truck, next ... or perhaps a municipal land tax assessor vehicle

— Bryan Passifiume (@BryanPassifiume) August 19, 2017
At least they have a sense of humor about it. 
I was thinking garbage truck or police Segway 🤔

— Blake Albert (@BlakeAlbert228) August 20, 2017
There's something about vaping that just opens someone up to ridicule, whatever the reason, the cops here seemed to capitalize on that. It might also have something to do with the fact that the teens thought they were being cool with their teensy weensy "rebellious" act, but ended up looking really stupid at the the end of the day. It also doesn't help that they ended up vaping in front of a water service vehicle and, you know, not the cops as they originally planned.