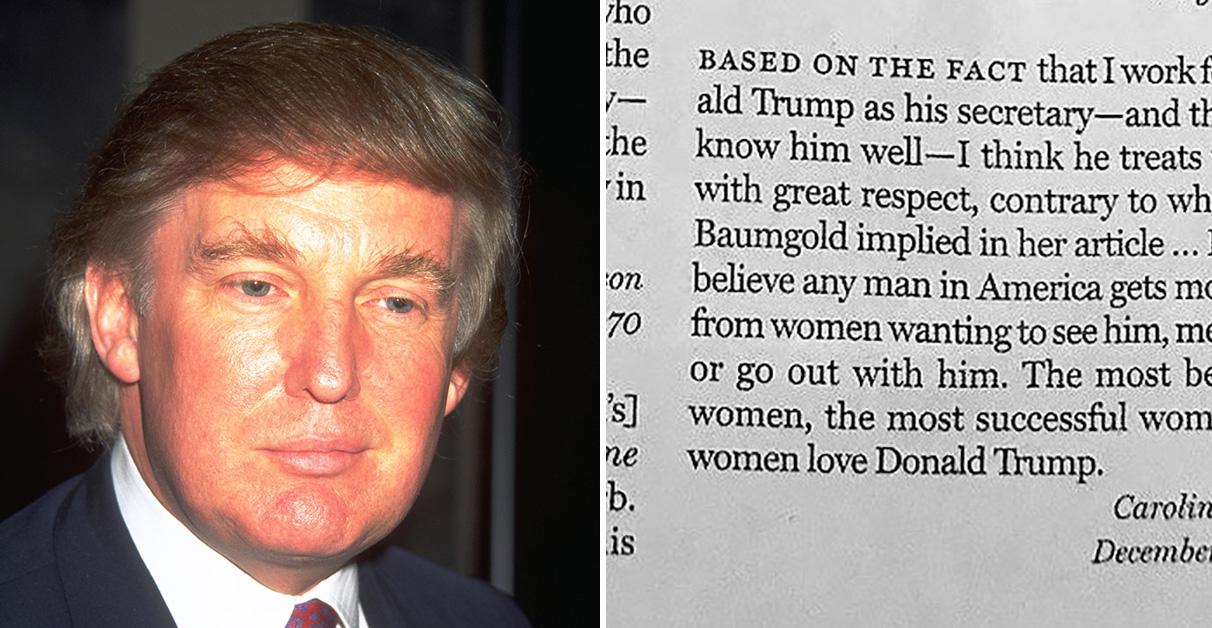 People Are Convinced Donald Trump Pretended To Be His Secretary In A Bizarre 1992 Letter
Back in 1992, a woman claiming to be Donald Trump's secretary, going by the name of Carolin Gallego, wrote into the New York magazine, defending Trump against an article by one of the magazine's writers, Julie Baumgold. We've known Trump to be unpredictable, and at times borderline unstable. So it wasn't a huge shock to most people when reviewing the letter.
Article continues below advertisement
The letter recently resurfaced online because people are convinced it was written by the now-President Trump. Why? Let's just say that it's in his style we've seen all too often the last two years. We'd have believed you if you said it was a Trump tweet.
Article continues below advertisement
"Based on the fact that I work for Donald Trump as his secretary—and therefore know him well—I think he treats women with great respect, contrary to what Julie Baumgold implied in her article … I do not believe any man in America gets more calls from women wanting to see him, meet him, or go out with him. The most beautiful women, the most successful women—all women love Donald Trump."
Carolin Gallego December 7, 1992
Article continues below advertisement
Just look at that last sentence. It's worth noting that Trump's assistant for years was a woman named Norma Foerderer. She retired in 2005 and was replaced by Rhona Graff.
To top it off, Trump's personal lawyer Michael Cohen told the Washingtonian that he doesn't recognize the name as someone who had worked for Trump.
Article continues below advertisement
This wouldn't be the first time Trump has pretended to be someone else. In 2016 the Washington Post reported that Trump would call media outlets under the names "John Miller" and "John Barron," to give quotes and insights about himself. In 1990, Trump testified that he used those names "on occasion."
Twitter seems convinced, though.
Article continues below advertisement
Article continues below advertisement
Article continues below advertisement