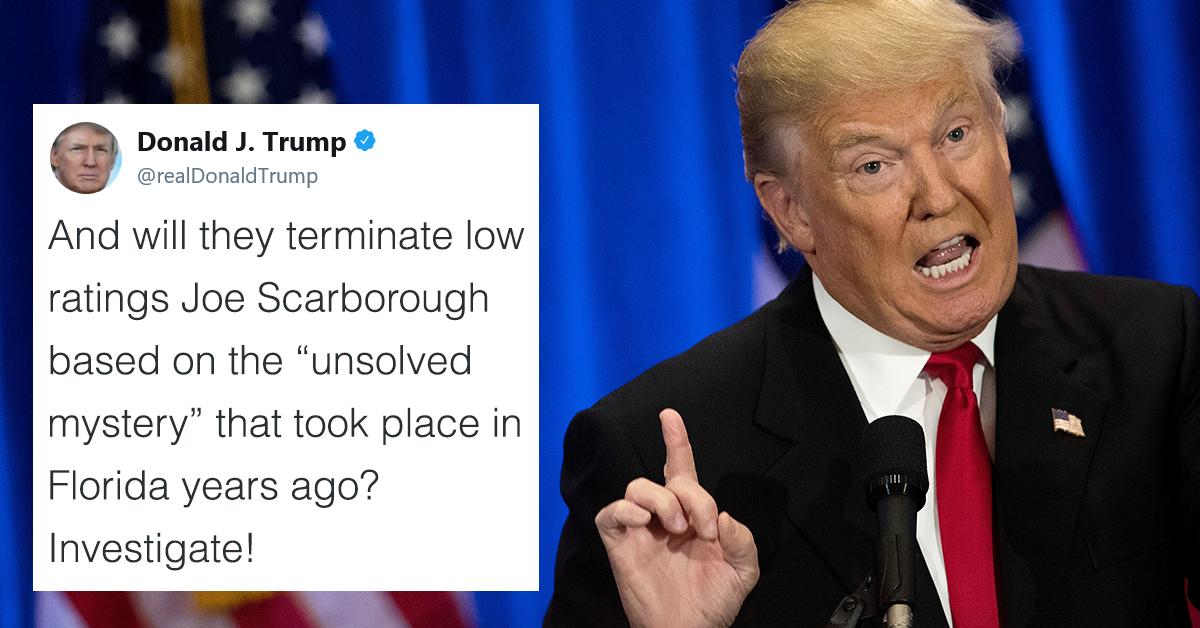 Trump Just Implied That Joe Scarborough Murdered A Staffer, But 'Morning Joe' Is Having None Of It
By Mark Pygas
President Donald Trump had a pretty active day on his Twitter account Wednesday. Not only did he retweeet three anti-Muslim videos from a far-right British group, at least one of which turned out to be fake news, he then proceeded to slam British Prime Minister Theresa May when she criticized him for doing so.
But that wasn't all. President Trump also seemed to accuse Morning Joe co-anchor Joe Scarborough of murder based on the "'unsolved mystery' that took place in Florida years ago."
The "unsolved mystery" that President Trump seems to be referring to is the death of Lori Klausutis in 2001. According to the Tampa Bay Times, the Scarborough staffer was found dead in the then-congressmen's office after suffering from an abnormal heart rhythm.
But despite the medical examiner determining that Klausutis had lost consciousness and fell, slamming her head on a desk, and police ruling out any foul play, the death has led to rampant speculation by conspiracy theorists.
Social media seemed shocked to see the president get on board with a conspiracy theory.
In a statement to New York magazine on Wednesday, Scarborough's co-host and fiancé, Mika Brzezinski, said "the president crossed another deeply disturbing line."
"I'll speak for Joe and myself here because Joe has stated that responding to President Trump's tweets are a waste of his time. Today the president crossed another deeply disturbing life. With his attack on Joe this morning, the chief law enforcement office of the United States of America advanced a false conspiracy theory to intimidate the press and cause a chilling effect on the First Amendment," she said. "Joe and I are not intimidated and his bizarre behavior contravenes both the Constitution and basic moral judgment. This is all we are going to be saying on the matter. We continue to focus on more pressing issues like the nuclear conflict with North Korea. We hope the president will do the same."
And on the show Thursday morning, Brzezinski again slammed the president on behalf of Scarborough, who has vowed not to reply to Trump's tweets.
Though Scarborough did briefly break his Twitter silence to say that President Trump was "not well."
And just because Scarborough isn't replying to Trump doesn't mean he can't retweet other people...