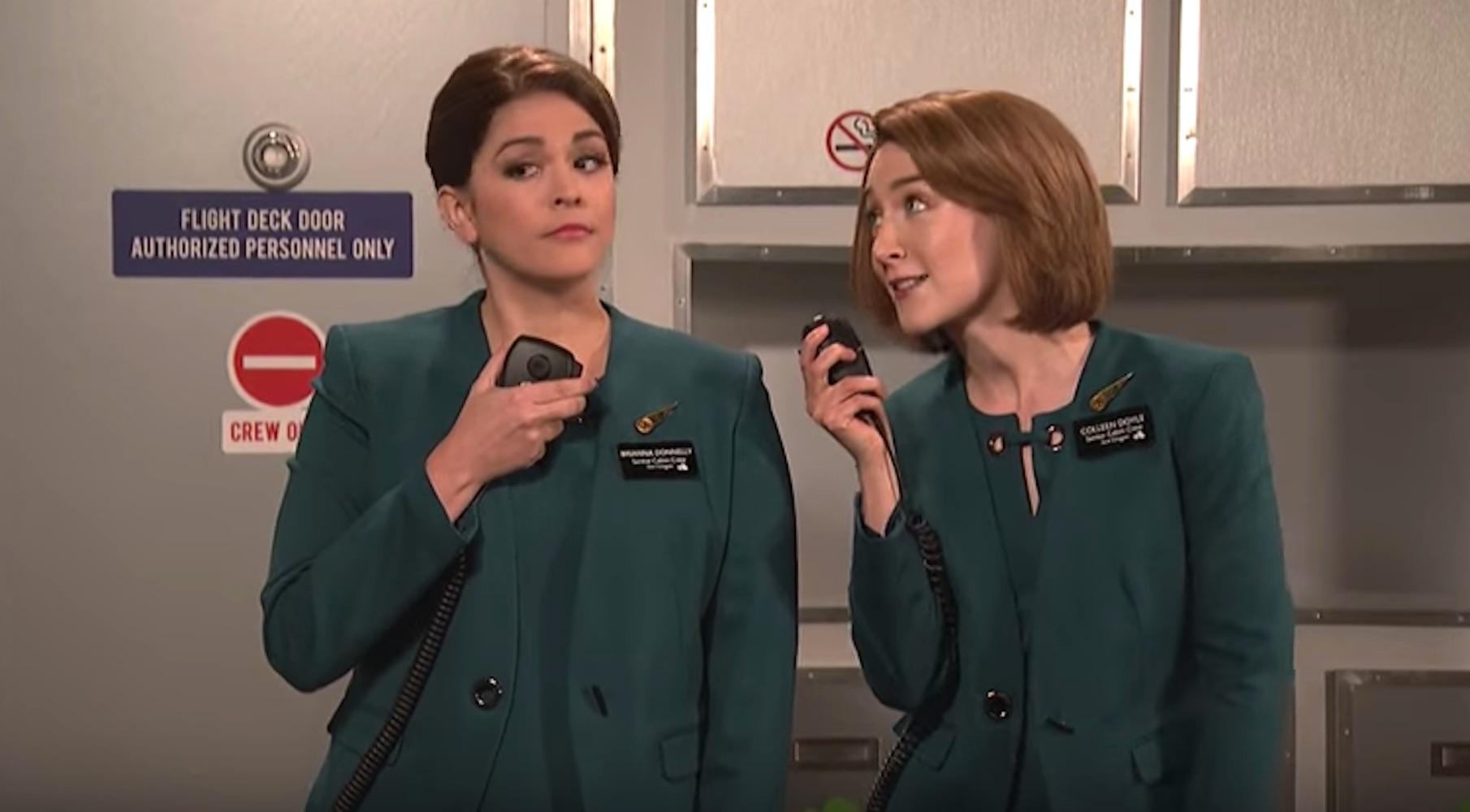 That Aer Lingus SNL Sketch Didn't Go Over So Well In Ireland — And They Sounded Off On Twitter
By Aimee Lutkin
Actress Saoirse Ronan appeared on Saturday Night Live over the weekend, and not all of their sketches went over so great. Ronan is Irish-American, and the show seemed to want to talk a bit about her cultural background, but chose a very weird angle to do it. It's basically 4 minutes of them making fun of the Irish via Aer Lingus, the country's popular airline.
Cecily Strong also starred in the sketch, and we have to admire her bravery for putting on her Irish accent right next to an actual Irish person. But Cecily's accent wasn't really the main topic of discussion amongst Twitter users in Ireland who viewed the sketch.
Most of them just felt the humor was lazy. The main punchlines are that Irish people love dogs (who doesn't like dogs, though?) and only eat potatoes. While that isn't the most wildly offensive thing I've ever heard, it's still not particularly funny or interesting.
The response from Irish people has still been pretty negative. They kind of just can't believe how stupid it is.
Rebel Dublin tweeted: "Aer Here: Last night. Saturday Night Live on NBC. SNL guest host Saoirse Ronan plays an Aer Lingus cabin member on a dog-filled flight from Dublin to New York via Cork…with only potatoes on the menu. You'll laugh. You'll Howl."
Howl with laughter they didn't. The responses were actually a bit savage.
"Can you die of secondhand embarrassment?" one person asked. Ouch.
Hey, at least they didn't rely on some really offensive Irish insults like casts in past years might have. I wonder what Saoirse thought of the sketch?
Even Aer Lingus chimed in with a negative tweet:
But they were actually spoofing our American president:
Guess the airline, at least, has a sense of humor!