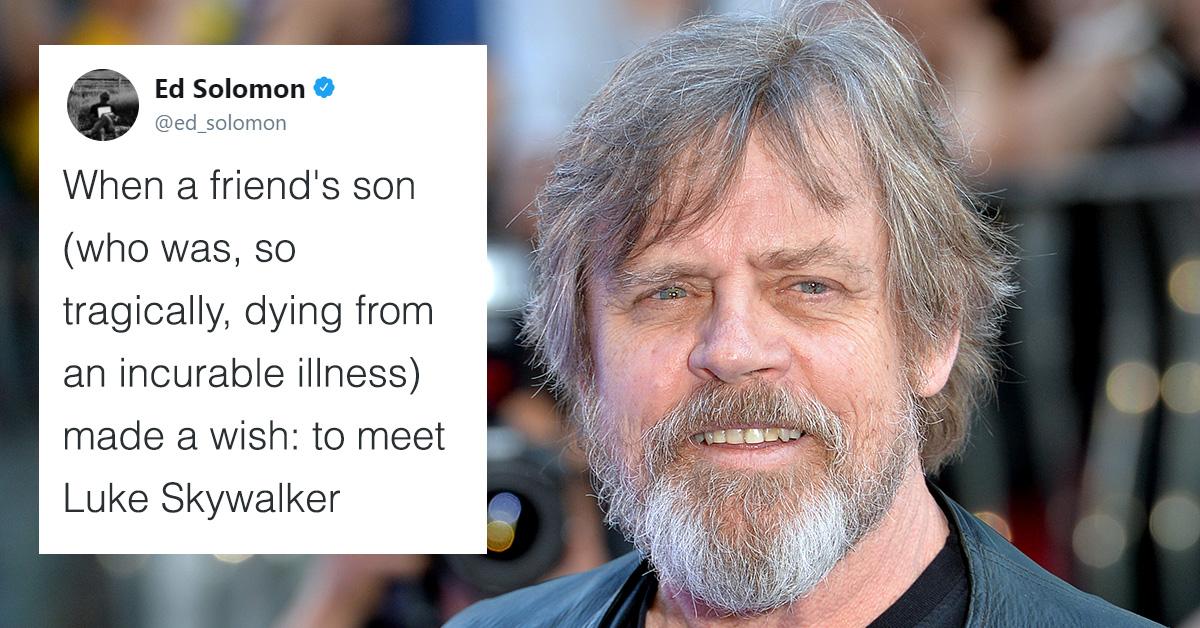 Man Shares Touching Story About What Mark Hamill Did For A Terminally Ill Child
By Mark Pygas
Star Wars: The Last Jedi is just around the corner. And with it comes the return of everyone's favorite Jedi, Luke Skywalker. And of course, the return of everyone's favorite actor, Mark Hamill. Hamill seems like a pretty nice guy, and a story that writer Ed Solomon recently recounted all but confirmed it.
Solomon, who worked on Men In Black and Bill & Ted's Excellent Adventure, explained how Hamill rushed to the side of a dying boy in character.
Here's the story from Twitter: "When a friend's son (who was, so tragically, dying from an incurable illness) made a wish: to meet Luke Skywalker, it fell on me -- the only person the dad knew who worked in the film business -- to make a call."
"Not knowing Mark, I called his agent and explained that this lovely boy watched Star Wars every day and wanted to meet NOT Mark Hamill, but, rather, the actual CHARACTER that he played (the boy's own mental state had devolved past the point of being able to grok that Luke was fictional). The agent begrudgingly said he'd call Mark, but also said not to get my hopes up. 90 seconds later I got a call from @HamillHimself, who immediately said yes and gave me his home address.
"He not only met with the boy, but spent hours answering question after question (sometimes the same ones repeatedly), AS "Luke." Even posting this now makes me teary. He was compassionate, kind, and patient. And it literally meant the world to this kid and his family."
I'm not crying, YOU ARE. Seriously, what a Jedi Knight.
Mark Hamill is the best. Unsurprisingly, people were pretty teary eyed at the story.
For others, the story reassured them that not everyone in Hollywood is bad.
And of course, the story validated the thousands of teenage crushes people had for Mark Hamill.