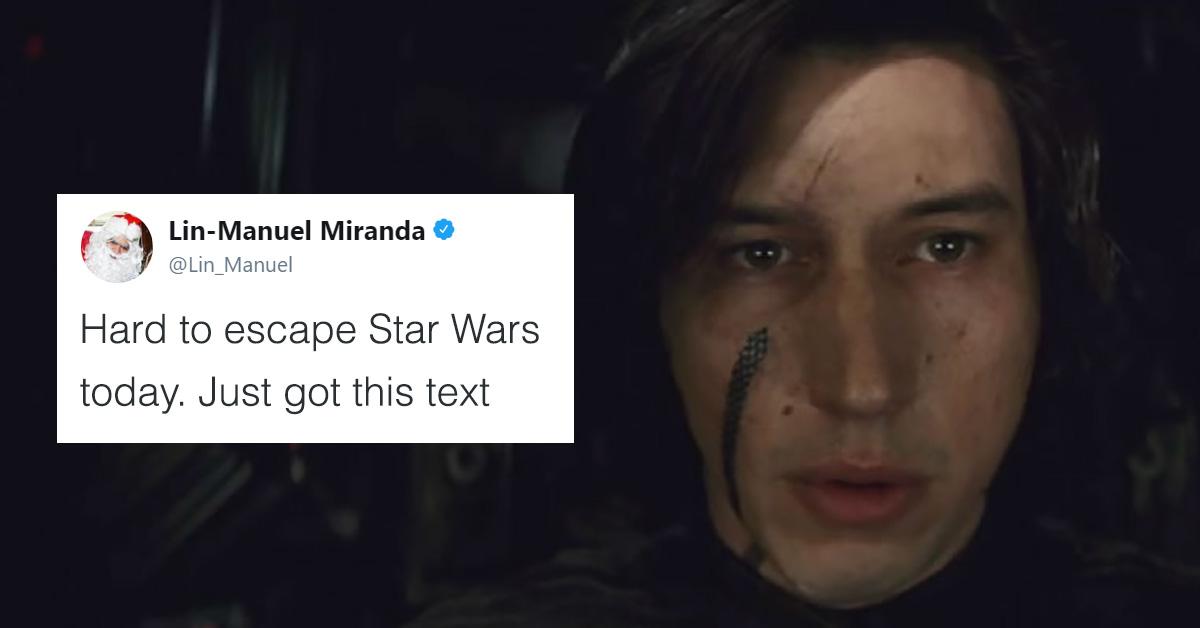 Someone Accidentally Texted Lin-Manuel Miranda A Shirtless Picture Of Kylo Ren
By Mark Pygas
Kylo Ren from Star Wars is everyone's favorite bad boy this holiday season. The Supreme Leader of the First Order may be responsible for countless atrocities, and the whole Han Solo thing, but have you seen his abs recently? Because the Internet sure has...
And now, thanks to a wrong number text, playwright Lin-Manuel Miranda, responsible for Hamilton, has as well. Which bring us to our next point: How come we never get anyone cool when we accidentally text the wrong number?! I have texted the wrong number before — for sure — and I don't even get an answer... So not even once have I texted the wrong number and gotten someone that I greatly admired!
And evidently the person who accidentally texted him also happens to follow him on Twitter... Which means she understood exactly how dope this entire interaction is, as evidenced by the next message the the Hamilton creator sent.
Twitter found the exchange hilarious, of course. As one LMM fan put it, "Imagine accidentally texting Tony Award--winning lyrical genius Lin-Manuel Miranda a shirtless pic of Kyle Ren and realizing it after he tweets a screenshot. I'd lose my mind." I would, too, for the record... But I'd also feel super relieved that it was a picture because I'd be too damn stressed out about spelling and grammar while texting someone who literally win awards for their writing had it been a written text.
Another tweeter suggested another tactic: Blindly texting every number in existence in hopes that one of them is Lin-Manuel Miranda; this one is extra cool because, if you just go down every consecutive number, you'll probably reach several celebrities! Pretty cool!
Someone out there knows Lin-Manuel Miranda's number. And if it were me there's only one thing I'd do: Ask for Hamilton tickets. You can't make it that far and throw away your shot!