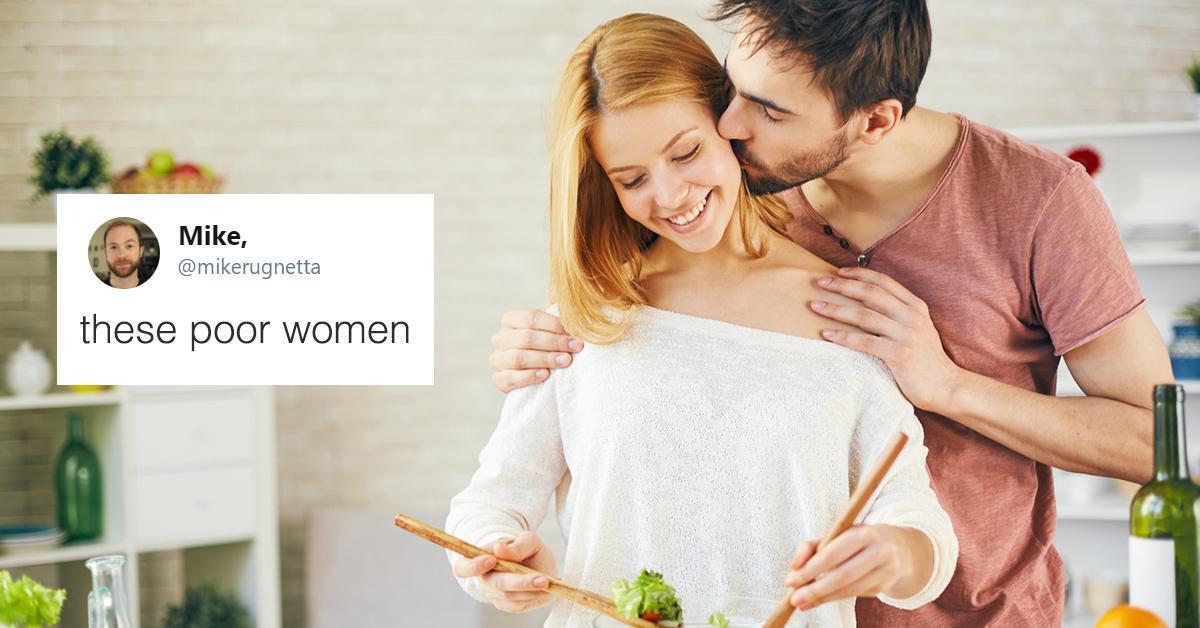 Twitter Noticed Something Hilarious About Men On The Covers Of Cook Books
By Mark Pygas
When you buy a cookbook, the chances are you don't spend much time looking at the cover compared with the recipes inside. But while browsing Amazon, a few Twitter users noticed just how weird cook book covers are. Specifically, the covers for a series of books called 'Instant Pot For Now.' Which appear to be a series of recipe books to go alongside a pressure cooker.
I don't think you're helping much, stock-photo husband.
"What in the ever living hell do you think she didn't know about this pepper?" asked one woman on Twitter.
And yes, there are literally dozens of these out there...
Here's a breakdown by one Twitter user, who posits the following hypotheses for these questionable shoots:
"A) 'We're so in love, we have to do EVERYTHING together'
B) Hapless lass needs to be taught how to cut a pepper.
C) Demo of the most awkward way to assist in pepper-cutting.
D) Supposed to make me want to buy the book."
Two is a crowd.
"Oh thank goodness. There's loving help to cut cucumbers too! Cuz y'know — the firs thting I'd wanna cook in a freaking pressure cooker is a dang cucumber," writes Suzanne on Twitter.
Cutting peppers is hard, we guess.
"I had no idea that cutting bell peppers was such a couples' activity," she writes. We didn't know either but now we have the perfect plan for date night.
Now's not the time.
"Hrm. I thin this dude has some kind of pressure of his own building," she adds later.
Just let her cut vegetables in peace!
This one is surprisingly normal...
This one is like an optical illusion.
Does it really take two people to make a salad?
Unsurprisingly, social media was in hysterics.