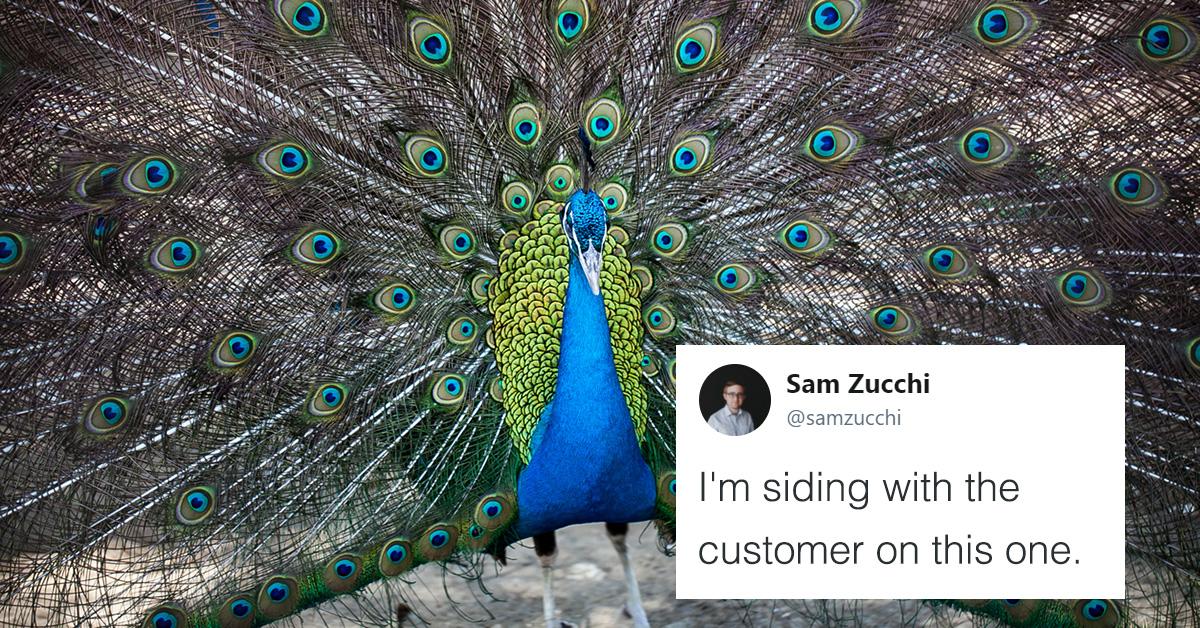 Emotional Support Peacock Denied Boarding By United And People Are Confused
By Mark Pygas
Earlier this month, Delta airlines announced that they'd be toughening their rules when it comes to emotional support animals. Delta says that since 2016, there has been an 84% increase in animal incidents on Delta planes, ranging from urinating to biting.
Jessica Rock, an animal welfare attorney, believes that people are abusing current airline rules and passing their animals off as emotional support animals, despite having no training.
"You are seeing a major increase in not only the abuse of people passing off animals of this nature when they're not in fact service animals or emotional support animals," Rock told Fox News. "You're also seeing an increase in the amount of incidents that are taking place on airplanes."
And now United Airlines, who are also reviewing their service animal guidelines, has denied one woman's request to bring her emotional support peacock on a flight leaving Newark Liberty International Airport.
Live and Let Fly reports that the peacock had its own seat, but was denied boarding.
According to The Telegraph, the peacock is named Dexter and belongs to New York City-based performance artist Ventiko. "Spent 6 hours trying to get on my flight to LA," a post on Dexter's Instagram account reads. The post goes on to claim that the two had followed "all required protocol."
Ventiko originally purchased Dexter for an art installation and he's been living in her New York City loft ever since. "The universe put us together and he really changed my life in a positive way," she told Bedford and Bowery prior to this fiasco. "Dexter disarms anybody he meets."
Fox News confirmed with a spokesperson for United that the incident took place.
"This animal did not meet guidelines for a number of reasons, including its weight and size. We explained this to the customers on three separate occasions before they arrived at the airport," United said in a statement.
"United is dedicated to providing convenient and comfortable service to all of our customers. We know that some customers require an emotional support animal to assist them through their journey. In order to ensure we provide the best service to everyone onboard our flights, consistent with government rules we currently require these customers to provide documentation from a medical professional and at least 48 hours advance notice."
From March 1, Delta will require that all those flying with an emotional support animal submit a veterinarian health form and immunization record at least two days before departure.
A doctor's note, signed veterinarian health form and proof of animal training will be required at the boarding gate, and certain exotic animals will no longer be allowed in the cabin of Delta planes.
Unsurprisingly, the peacock stirred up quite a reaction on social media.
Some sided with the passengers.
But most seemed to believe that the whole thing was pretty absurd.