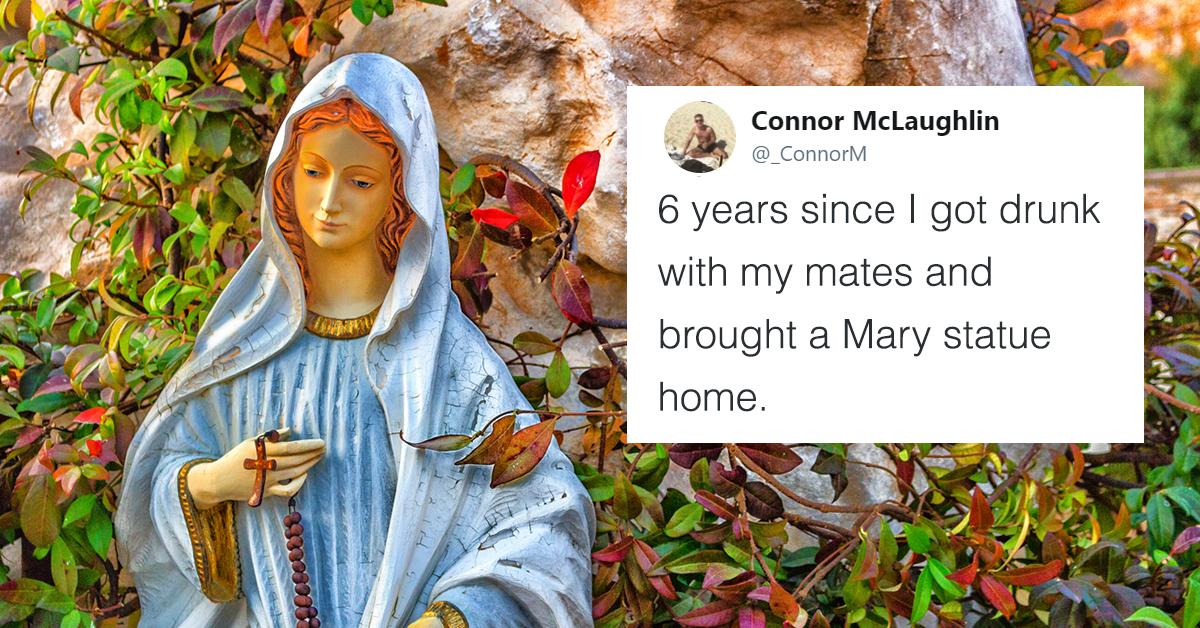 Guy Steals Virgin Mary From Church While Drunk And Starts Hilarious 6-Year Cover Up
By Mark Pygas

Updated
What would you do if while out drunk with your friends, you stole a statue of the Virgin Mary from a church and left it in the garden for your father to find? Confess your sins? Well, if you're Connor McLaughlin from Clayton-le-Moors in the United Kingdom, you start a cover up that lasts six years. 
Connor recently took to Twitter to confess that in 2009, he took a statue of the Virgin Mary home with him one drunken night. When his dad discovered it in the morning, he lied and pretended to have no idea where it came from. Then the local paper got involved. 
6 years since I got drunk with my mates. Brought a Mary statue home and left it in the garden. Forgot about it and had to pretend I had no idea about it and the newspaper came to take a photo to find out where it came from. look at my Dad😂😂😂😂 pic.twitter.com/6Al3qlWlTN

— Connor McLaughlin (@_ConnorM) February 5, 2018
According to a 2009 article in the Accrington Observer, Connor's dad, Tim, enlisted their help to find the owner after the statue 'magically appeared' in his garden. 
The paper quotes Tim as saying: 
"I got up on Monday morning and discovered she had just been left in my garden. My son saw it first. When I opened the curtains she was just stood there at the bottom of the garden facing the house.' 
Connor denied all knowledge, of course. Leading Tim to pay a visit to the police station. 
"I went to the police station but they said they hadn't had any reports of it being stolen. I went to St Mary's Church in Clayton and the priest said he would ring around." 
"There's a bus stop right in front of our house and I've had a few funny looks. I think someone took it after a few drinks and got sick of carrying her. I have brought her inside now out of the cold and she's sitting in the front room near the television." 
Two weeks later, the original owner was located.  
Father Peter Birmingham is quoted as saying at the time: 
"One of the parishioners noticed that she had gone missing and we had no idea where to. This has happened before when a statue was found in a bush in the grounds."
"We looked this time but we couldn't find her anywhere. It was probably a drunk playing a prank as he was walking down the street. We're right across from the pub and I'm sure they didn't have any wrong intentions. The statue has no cash value but it means a lot to the church."
What a cover up. Twitter users were equally as impressed. 
Took me years to admit the truth to him 😂

— Connor McLaughlin (@_ConnorM) February 5, 2018
How do you get away with this for six years? 
You didn't find Mary...SHE found YOU. 🙏🏻

— Fr. Paul Stone (@FrPaulStone) February 5, 2018
Somehow, this is a very relatable series of events to some people. 
Would this happen to you on a night out?