People Are Swearing Off Hand Dryers After This Woman's Photo Went Viral
This woman proves why people should never use public hand dryers and it's grosser than you think.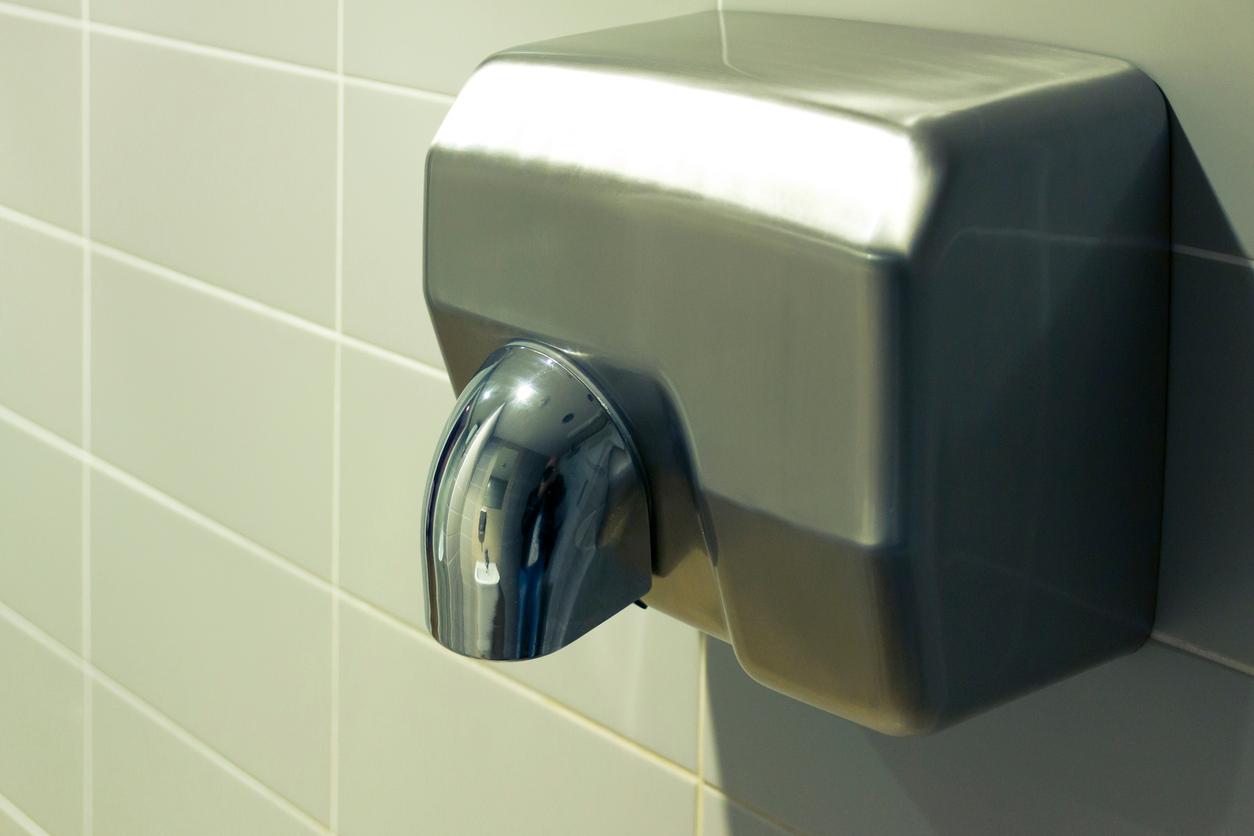 Those hand dryers in public bathrooms may be great for saving paper, but they're probably not great for your health. A study published in 2016 in the Journal of Applied Microbiology found that jet air dryers spread 1,300 times more viral plaques than paper towels do. And thanks to the ferocity of the air, the viruses can be spread about 10 feet.
Article continues below advertisement
Just in case you need that number visualized, Nichole Ward of Carlsbad, California, claims to have placed an open petri dish in a dyson airblade for three minutes to collect samples.
After letting the dish sit on a table for a further three days, here's what grew...
Article continues below advertisement
In a caption alongside the photo, Ward wrote:
Article continues below advertisement
"Ok guys.. ready to have your mind blown?!"
"This here, Is what grew in a Petri dish after just a few days. I stuck the open plate in an enclosed hand dryer of a public bathroom for a total of 3 minutes. Yes 3 only."
Article continues below advertisement
"DO NOT EVER dry your hands in those things again. This is the several strains of possible pathogenic fungi and bacteria that you're swirling around your hands, and you think you're walking out with clean hands. You're welcome."
"This post is simply for awareness, not to instill fear."
Article continues below advertisement
The post has since been shared more than half a million times and received over 150,000 likes.
In a statement to ABC Action News, Dyson said they were shocked by the image.
Article continues below advertisement
"We're very surprised to see these results, and unclear on the methodology employed. All Dyson Airblade hand dryers have HEPA filters that capture particles as small as bacteria from the washroom air before it leaves the machine."
"Dyson Airblade hand dryers are proven hygienic by university research and are trusted by hospitals, food manufacturers and businesses worldwide."
Article continues below advertisement
After a 2014 study by the same researchers as the 2016 study, Dyson attacked the methodology. A spokesperson said that the participants' hands were more covered with viruses than they would be in a real-world scenario, and adding that paper towels can also be covered with germs from previous users.
Another Dyson spokesman has accused scientists of "scaremongering" and accusing the research of being funded by the paper towel industry.
Article continues below advertisement
When ABC Action News checked Dyson hand dryers in restaurants around Philadelphia, they found plenty of nasty bacteria.
Article continues below advertisement
"Those are organisms that are found in stool specimens; they can make you very sick," explained Dr. Amity Roberts. "I would not want to be placing my hands or a child's hands in these particular dryers."
Ward responded to criticism of her post by stating:
Article continues below advertisement
"I just got my results last night. This was MY OWN experiment. You have to know a little bit about microbiology and the agar that is in the Petri dish to start this all off. Nothing false here. This is literally what grows once incubated. But it's the very contaminates that you're drying your hands with but you cannot see with the naked eye until it's incubated."
She also provided some advice for using hand dryers, including keeping your mouth shut.
Article continues below advertisement
"The mucous of our nostrils help keep particles out from being fully inhaled. So if you keep your mouth closed, most likely you'll never contract anything. Our hands however do not have a defense mechanism. So keep those away from the dryers."
The vast majority of responses to Ward's post seem to be of disgust. With one writing:
Article continues below advertisement
"Ahhh!!!! I just used one of those today, and on it it says 'the most hygienic and all I could wonder is what about the air it blows into your face which is the contaminated air in the bathroom. Gross."
Another Facebook user added:
Article continues below advertisement
"I never trusted those things and always dry my hands on my clothes if they have them in public restrooms. Now I know why my gut said don't trust them! Thanks for sharing my sexy witty scientist friend!"
It's fair to say that people were pretty freaked out.
Article continues below advertisement
I never use them!!! But I have found out that a lot of schools have taken out paper towels in the kids restrooms due to budget savings!!! And they wonder why there is so much sickness/superbugs in schools!!!"