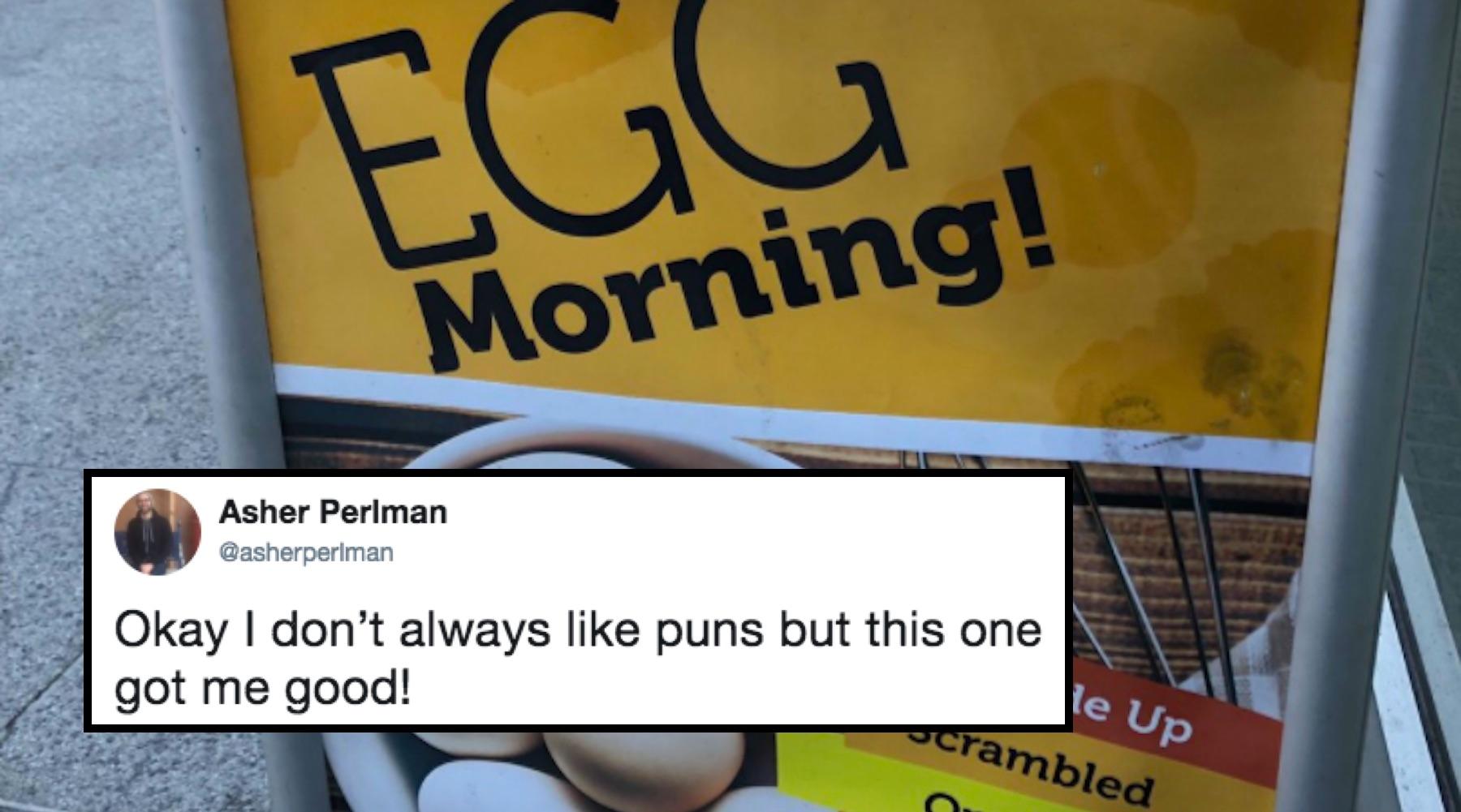 This Pun Was So Confusing People Got Hysterical Over It
By Aimee Lutkin
Fans of puns will be pulling their hair out over this one, and people who hate puns will finally feel vindicated.
Writer for The Opposition with Jordan Klepper on Comedy Central, Asher Perlman, shared a photo of an advertisement for what I assume is eggs. Since he's a writer for a comedy show, let's also assume he was being sarcastic when he joked this sign was a great pun: "Okay I don't always like puns but this one got me good!" he wrote on Twitter.
But pun aficionados are treating it seriously, asking "What does that even mean?," "Am I getting this right... the joke is just that there is no actual pun? Learning English to the level that I get puns was hard enough, non puns might kill me" and "I'm not sure that the American word pun & the English word pun must mean the same thing."
You're not alone, confused people. This pun is truly perplexing and we can't seem to make heads or tales out of it. Have a bacon morning? Can you just put any non-adjectival noun in the place of "good"? I kind of feel like these arbitrary rules might end up making communication more difficult, but what do I know? I'm just a measly writer.
A few people graciously explained that this "pun" is just replacing a word with another word, but they don't sound the same nor mean the same thing. It's more like Mad Libs than a pun, if you think about it.
Apparently, this isn't a rare problem in advertising:
My personal theory is that "Egg morning!" isn't a greeting—it's a directive. Have an egg morning by buying our eggs and shoving them in your face. Or else. Egg morning!