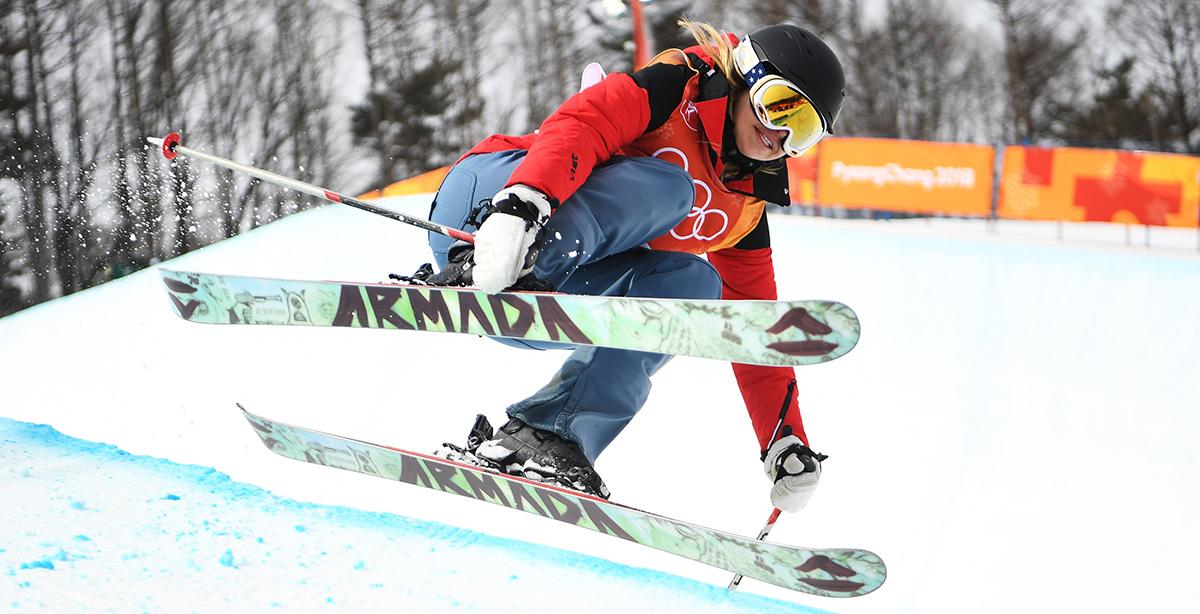 Average Skier Gets Into Winter Olympics Through Loophole And People Are Applauding
By Mark Pygas
People dedicate themselves to their sport for years, and even decades, just to get a shot at competing in the Summer and Winter Olympics. Expect for American Elizabeth Swaney, apparently. Through a series of elaborate loopholes, she was able to get a spot at the PyeongChang games in South Korea.
Her performance in the freeski halfpipe qualifying rounds? Distinctly average...
Unsurprisingly, the 33-year-old from California didn't quality for a spot in the finals. Her score of 31.40 was more than 40 points behind France's Anais Caradeux, who scraped into the finals in 12th place with a score of 72.80. But how did she even end up at the Olympics?
As NBC explains, Swaney likes taking on big challenges. She's run for governor of California as a 19-year-old student at Berkeley, tried out for the Oakland Raiders cheerleading team and even tried to get into the Summer Olympics as a skeleton racer for Venezuela.
To get into the Winter Olympics this year, Swaney joined team Hungary, using her Hungarian maternal grandfather to qualify for a spot. Considering that the halfpipe event is making its second Olympic appearance this year, Swaney didn't have much competition from Hungarians and easily made it onto team Hungary.
From there, Swaney then flew to 13 World Cup halfpipe events on her own dime and simply didn't fall over. She finished last or close to last at every event, but because there were only around 25 women at each event, Swaney was able to secure the minimum number of top-30 finishes to qualify for the Olympics.
Halfpipe and slopestyle judge Steele Spence explained to the Denver Post:
"The field is not that deep in the women's pipe and she went to every world cup, where there were only 24, 25, or 28 women."
"She would compete in them consistently over the last couple years and sometimes girls would crash so she would not end up dead last. There are going to be changes to world cup quotas and qualifying to be eligible for the Olympics. Those things are in the works so technically you need to qualify up through the system."
According to Philippe Belanger, the head judge at freeskiing competitions at Pyeongchang, there was so little competition that all Swaney had to do was attend events and not fall over to get a spot at the Olympics. That's a loophole they now want to fix...
"In that case you are going to need a better placement in each world cup, to not just make it to the Games but to stay on the world cup circuit."
Swaney swears this isn't a publicity stunt, and that this has always been a childhood dream, which was well worth the amount of money she spent.
"I'm trying to soak in the Olympic experience but also focusing on the halfpipe here and trying to go higher each time and getting more spins in," she told NBC before her Olympic debut.
Afterwards, she told press she wanted to aspire more people to get into a sport.
"I want to inspire others in Hungary and the world to become involved in freestyle skiing. Maybe perhaps I'm the bridge to those who want to get started in the life of freestyle skiing and I want to show people that, yeah, it's possible to get involved in freestyle skiing through a variety of backgrounds."
"I still want to inspire people to get involved with athletics or a new sport or a new challenge at any age in life."
Unsurprisingly, social media had a hard time wrapping their heads around this one.
Finally, an Olympian we can all relate to.