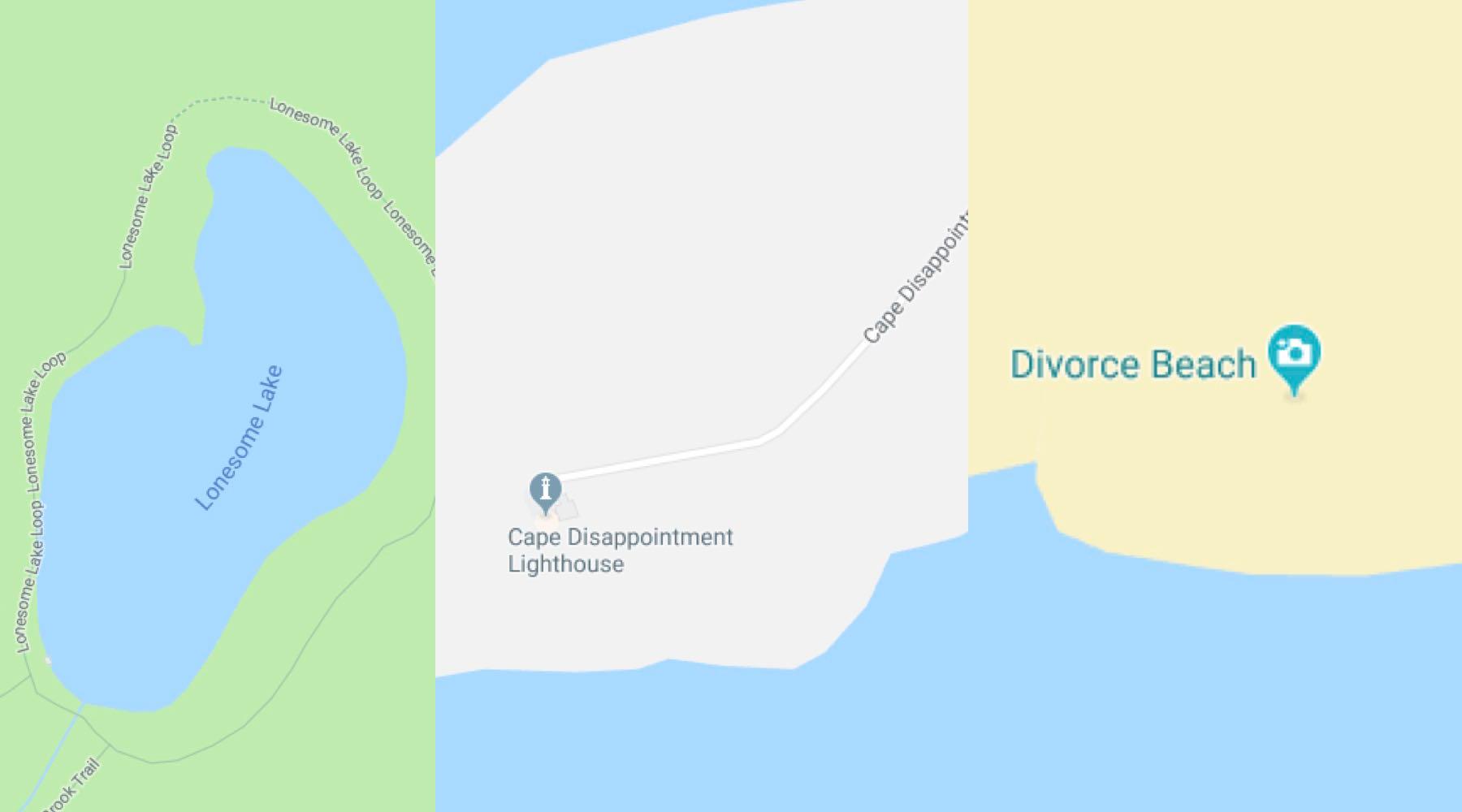 This Guy Is Tracking All The Most Miserable Places In The World According To Their Names
By Aimee Lutkin

Updated
Damien Rudd runs an Instagram account called "Sad Topographies" which has recently been turned into a book. Rudd's genius idea, according to Bored Panda, is to simply look up sad words on Google Maps and snap a screenshot.
"After more than two years of work, the Sad Topographies book will go on sale November 9! Strange histories of misadventure and melancholy, this is a travel guide to some of the saddest places around. Written by Damien Rudd, illustrated by Kate Didyk and published by Simon & Schuster," announced the account. 
Apparently, all of America was settled by extremely depressed, anxious, and lonely people. There are lakes, highways, mountains and peninsulas everywhere dedicated to humanity's most painful emotion.
Never ending loneliness, abandon, disappointment, mistakes and broken hearts.
Lots of mistakes and disappointment were made, and then commemorated on the map:
Just general bad feelings all around, like Grandmother's Hole (Goa, India), Calamity Lake (in Crystal Bay here in the good old U S of A), Dead Dog Island (in Killarney, Canada), Point No Point (Hansville, U.S.), Hopeless Road (Dandrige, U.S.), Terrible Mountain (Vermont, U.S.), Spiteful Geyser (in Wyoming, U.S., because of course it is), the intersection where Hearts' Desire meets Broken Heart Street (in Las Vegas, Nevada, U.S. — where else?!)
The grimness kind of starts funny, gets sad, and then comes around to funny again. Sort of like walking the loop around Lonely Lake. Beautiful in summer!
Imagine if you could tell all your friends you went to summer camp on Desperation Creek?! Sounds like incredibly fun times for adolescents, don't you think? Or being born there! Oof!