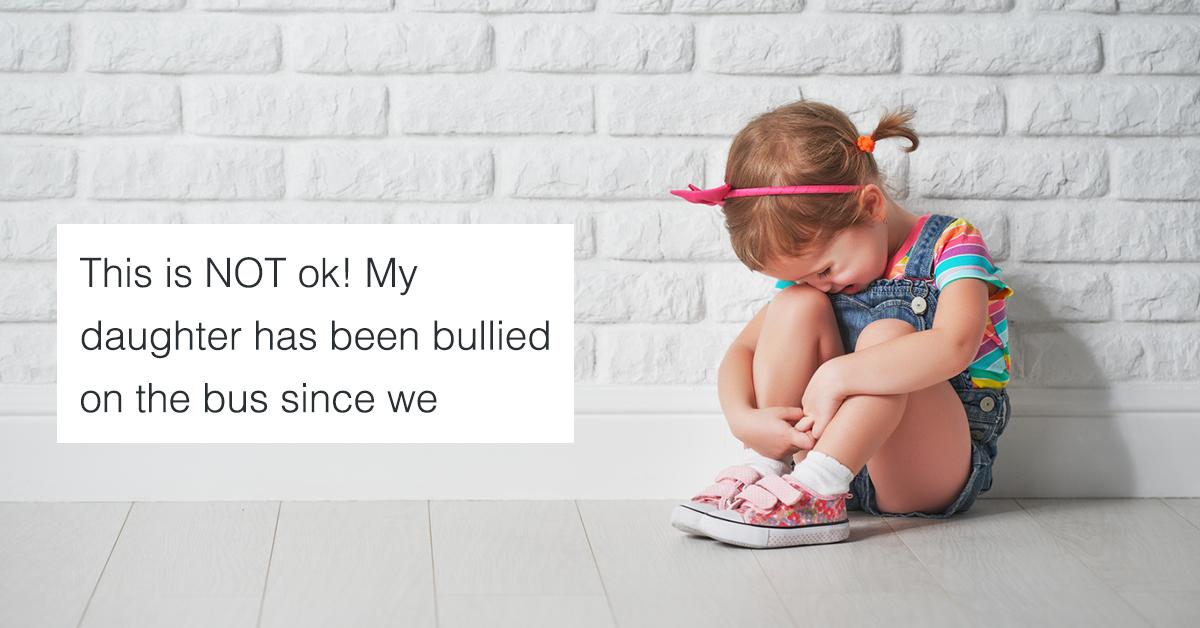 Mom Posts Heartbreaking Photos Of Bullied Daughter Crying To Raise Awareness
By Mark Pygas

Updated
A Louisberg, North Carolina, mother has taken to Twitter to share three photos showing her daughter distraught over repeated bullying by the same three boys that she claims isn't being acted upon by her daughter's principal. 
Aimee Johnson claims her daughter has been physically and mentally bullied on the bus three times since the family moved to the area, and alleges that although the bus department and the principal were informed, no action has been taken. 
"This is NOT ok," Johnson started the lengthy and emotional post with. 
The rest of the post reads: 
"My daughter has been bullied on the bus since we moved to Louisburg, continuously by the same 3 little boys. This is the 3rd time physical violence has happened to her in 4 months. I'm done!"
"This time her water bottle was taken from her and they hit her upside the head with it! Called her "ugly" and 'dumb.'" 
"The first two times I was told that the cameras were pulled and the act was seen by the bus department and the principal and that action by the principal would be taken.. never was! I was told by the child who did this to her it wasn't."  
"This is the 3rd time! I contacted the bus department extremely angry, and told them that action WILL be taken this time! They went on to tell me that it was the last time! Lies! I was told it wasn't! My daughter does not deserve this at 9 years old by 4th and 5th grade boys! Teach your sons not to hit women! Done!" 
"This right here is the reason we see so many young girls committing suicide! They are bullied! I'm not going to let this happen to my child again! Louisburg needs to step up and stop this right now! If not, I'm contacting the local news channels and will make sure my daughter gets Justice!"
Johnson told Fox 4 that the school bus bullying began on Dec. 13 and has only escalated since. The kids call her daughter names, steal things, and even hit her. 
"She doesn't want to go to school, she doesn't want to get on the bus, she wants to move. It's been pretty hard on her." 
"We were just trying to let our friends and family going on and then the next thing we know it's viral. We're just trying to get the awareness out there that hey this needs to be stopped, this is not cool and it should not happen." 
Aimee told the local news outlet that she contacted school administrators and the school's transportation department to try and get surveillance footage from the bus. After she was unable to obtain it, she contacted the local police. 
While the investigation is carried out, Johnson has been trying to teach her kids about self worth and standing up for themselves. 
"What we have been trying to tell her is that she's amazing, don't listen to what these people say about you. But even with us saying that I feel like this is going to scar her forever."
Fox 4 contacted the local school superintendent, but did not yet receive a reply. 
Johnson's post has received more than 8,000 shares and 6,000 comments since it was posted, with hundreds of people offering their support. 
"The bullies obviously feel threatened by, and inferior to, this beautiful young lady," one user wrote. "A great big hug from the other side of the world sweetheart, and strength to your parents in pursuing justice against these future potential thugs!"
"I'm so sorry this happened to your daughter. The parents need contacted and the boys need discipline or they will grow up to be abusers. Keep going momma." 
"Aimee you need to stay strong and continue to demand justice from the school please. This is for all kids that are bullied. You have it in black and white. God bless you, your family and your beautiful daughter."
Another user replied with a similar issue...
"This goes on in Bradley county schools also they say they have no tolerance for bulling hahaha nothing gets done and it is so sad I bet if someone in the school systems child was being done this way something would already be done she is very pretty tell her not to let anyone tell her any different."
"I'm in Louisburg and my boys go to the high school. If there is anything we can do to help please let us know."
What do you think of the post?